I haven't had the best experiences with fitness trackers.
I started with a watch that tracked my calories burned via my heart rate which just tapped into my exercise obsession at the time. Then I tried a Fitbit that told me how little sleep and movement I was getting with a newborn!
After those experiences I couldn't really see why I would ever use any kind of tracker again. But then came along the Bellabeat.
Bellabeat is the first health tracker that's been designed for women. In fact it doesn't even look like a tracker, it looks more like a piece of jewellery. Unlike fitness trackers, Bellabeat has been designed to track your health and wellbeing in a more holistic way. It easily syncs with an app on your phone.
I'd seen the Bellabeat featured in the US so was quite excited to give it a try when it became available in the UK!
A few of the things I really like about the Bellabeat:
It looks really pretty – I've had so many comments from people who have seen me wearing in. I also love that you can get it in different colours and metallics and that it can be worn as a bracelet, a necklace and a clip
It doesn't require charging, it uses a long lasting battery
It tracks your menstrual cycle as well as activity, water consumption, sleep and meditation and then gives you a stress tracking level based on what you've been doing
I loved that the Bellabeat app has meditations right within it that are really lovely to do. It was the first time in a while I meditated with any consistency!
A few of the things I'd love to see Bellabeat improve:
The length of the bracelet is made for women with tiny wrists! This frustrated the hell out of me as I wouldn't have chosen to wear it as a necklace as it's not my style. I love the look of the double wrap leather strap, but even though I wouldn't say my wrists are that large (maybe slightly larger than average) it wouldn't fit any wear near. I was really disappointed that they didn't offer larger straps like some other trackers.
My main gripe with trackers back when I was in the fourth trimester of pregnancy was that seeing how little sleep I was getting was super stressful. There was an excellent thread on Twitter a few months ago that highlighted how little most fitness trackers take into consideration female life experience and have options that make it work for us. I would have liked to see Bellabeat really capitalising on this and maybe having the option to turn off menstrual tracking and sleep tracking or other options depending what phase of life we're in.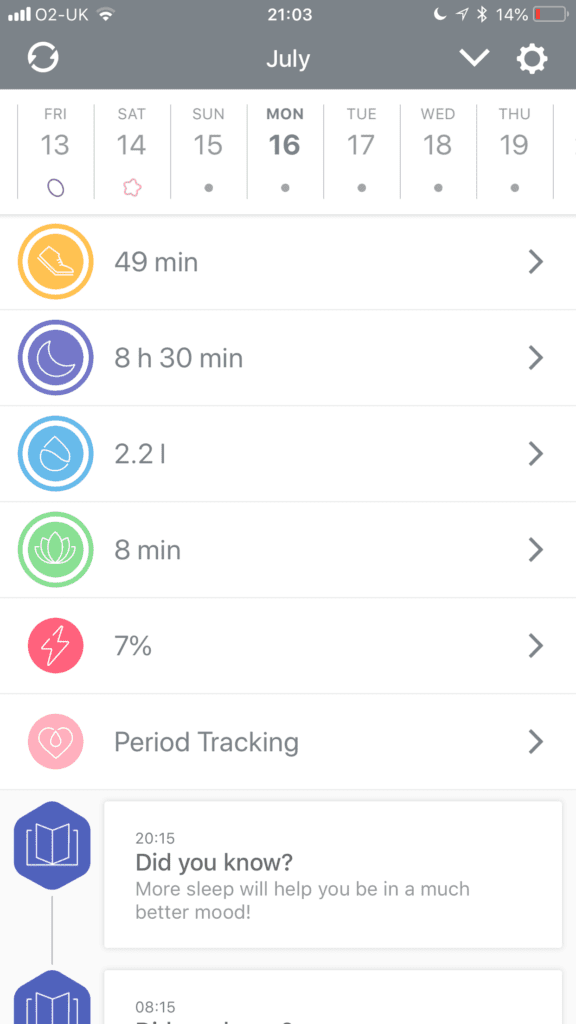 Overall I really love my Bellabeat – I was able to hack the strap so it would fit, but I have to admit how much I wear it has been affected by the fact that the strap doesn't fit correctly. It's really exciting to see products like this with such lovely designs and features coming out – especially ones that are build for women.
I've also heard they're bringing out a version that includes a crystal which is right up my street! Will be looking out for those!
Bellabeat is available in the UK from John Lewis, Selfridges, Amazon, ASOS and OutdoorGB.
Have you tried the Bellabeat or any other health trackers? What are your thoughts?
*I was gifted a Bellabeat for review purposes