Cooking without sticking with Bacofoil®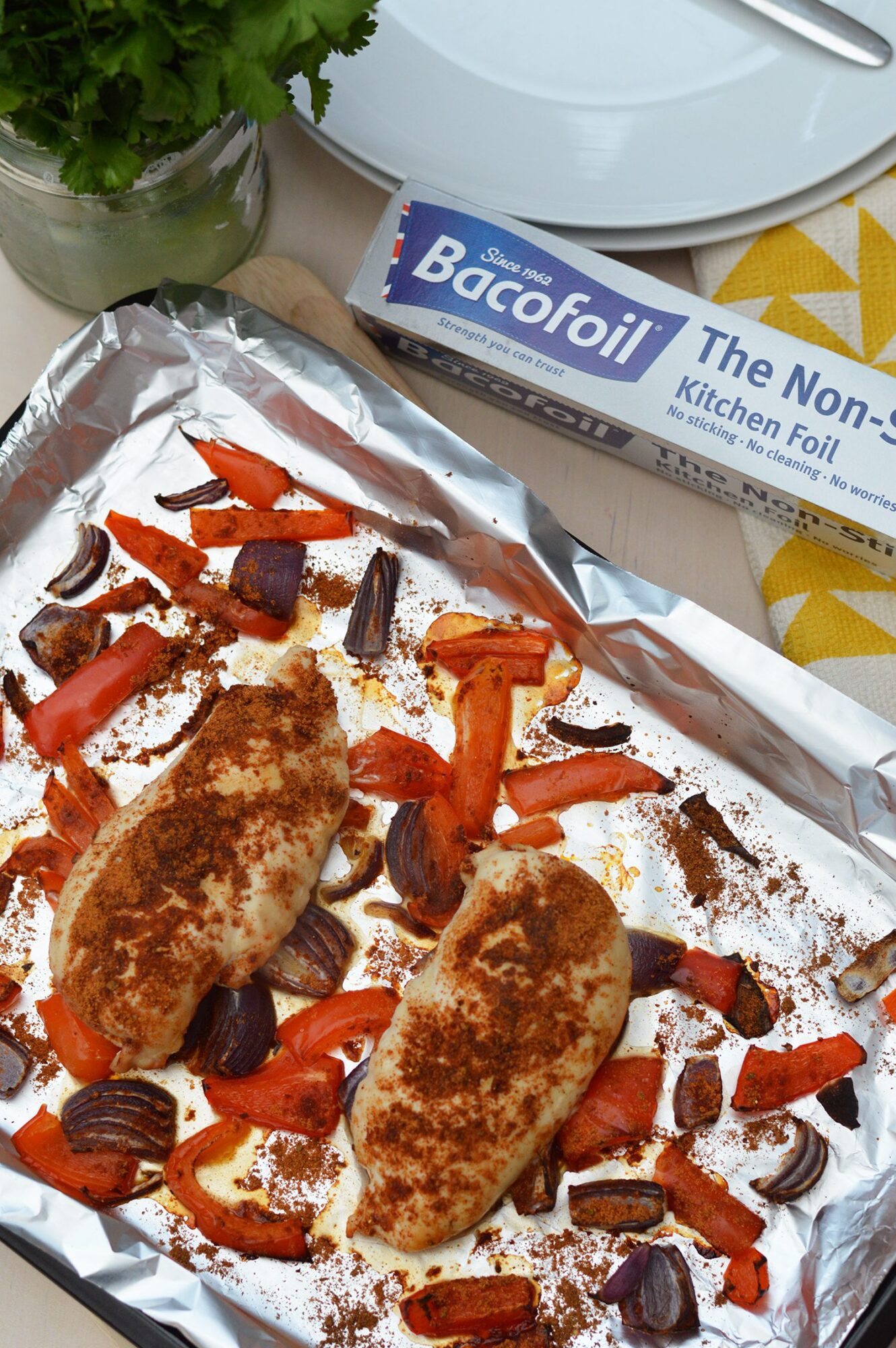 One of my most hated tasks in the kitchen is washing up sticky baked on food from the baking tins I use in the oven.
It's not great when you're cooking something and it gets stuck to the bottom of the tray so all you end up with is a broken up mess on your plate and a very dirty tray.
When I was asked to swap cooking with oil for Bacofoil® The Non-Stick Kitchen Foil, I was honestly wondering if it would live up to the name as even when I've tired regular foil in the past, I've been disappointed. I'd still usually end up shovelling roast veg or sausages from the bottom of the foil ripping it in the process – so frustrating!
So, I thought I'd put it to the test with a number of our regular family meals over the week.
The first thing I tried was some baked salmon, which I always seem to have an issue with if I don't oil the tray. I baked it plain on the foil with the non–shiny side facing upwards. This side has the unique BacoLift® surface which has been especially developed stop food from sticking.
I was really impressed with the results, the salmon didn't stick at all, in fact there was no residue left on the foil at all.
The baked salmon made a really delicious dish served with some homemade salsa and avocado.
The second meal I tested the foil with was some chicken sausages, roast baby potatoes with garlic that we served with steamed green veggies.
I was a little concerned about the chicken sausages sticking because they have a much lower oil content than regular pork sausages, but again, we had no issues, no sticking at all.
For the roast potatoes we did use a little oil to help them roast properly, but because of the non-stick quality of the foil I didn't need to use anywhere near as much oil as I would usually use which made the potatoes far more crispy, and again they didn't stick.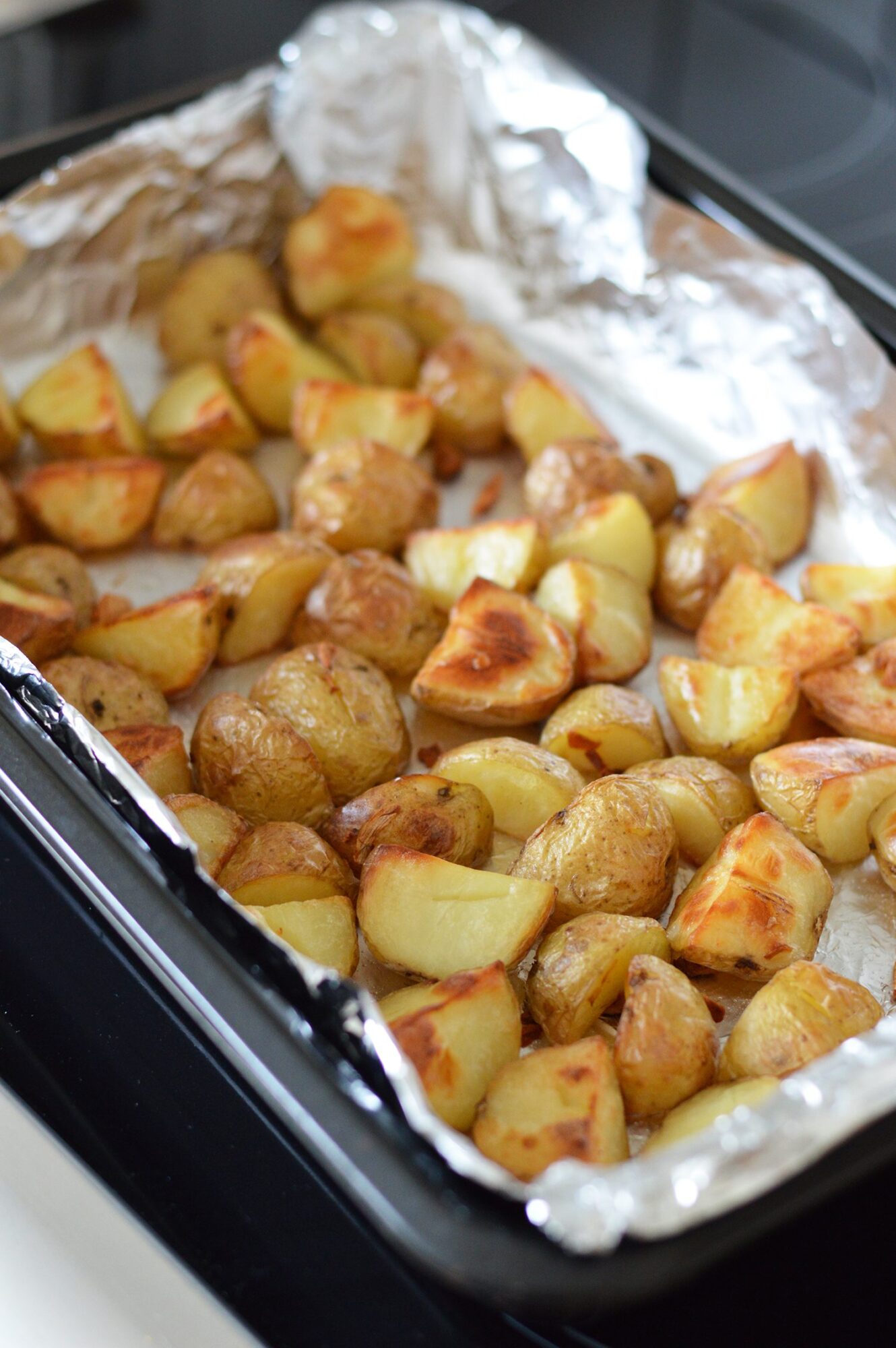 Finally, I made one of my easy weeknight dishes, baked fajita chicken with peppers and onions which we serve with rice, veggies, lots of coriander and avocado.
Again, this dish cooked perfectly. I didn't use any oil on this, and the veggies and chicken didn't stick at all.
As it happens when I made this meal we ended up having to go out, so another thing I found helpful was being able to just wrap up the foil straight off the pan and pop it in the fridge to have the next day.
I've found that using the Bacofoil® Non-Stick Kitchen Foil has enabled me to save time on cleaning up, use less oil and be infinitely less frustrated with sticky messy food and foil that breaks up when you try and remove the food!
To sum up my experiences with using it:
Make sure you

cook food on

the non

–

shiny

side, as this is the side with the unique

BacoLift® surface which

stops food from sticking

It's fantastic for saving you having to clean messy trays

Really loved that I didn't have to shovel food off the foil – it just slid straight off

It's also recyclable which is fab too

I found I didn't need to use anywhere near as much oil as usual

I can see how I would use this as an everyday essential in my kitchen going forward
If you'd like to find out more about Bacofoil® The Non-Stick Kitchen Foil, check out the Bacofoil website here.
I'd love to know your thoughts, would you give Bacofoil® The Non-Stick Kitchen Foil a try? Let me know in the comments!
*post sponsored by Bacofoil®