Vegan Nut Butter Curry Recipe
*post contains affiliate links
It's been a long time since I posted a recipe! To be honest, after writing two recipe books (1,2) I found myself totally reciped out. Add that to being a new mum for the last few years and I have to admit, my passion and interest in food just disappeared.
But over the last few months (minus the last 3 months when I've been in the first trimester pregnant with number 2!) I've been enjoying getting creative in the kitchen again. Food really is amazing, it can do so much to heal our bodies and even our emotional health too. After being at war with food for such a long time, I found a lot of peace in actually not caring all that much about food at all.
As I said however, I am finding my love of food (all food, not just 'healthy' food) coming back and I'm excited to share some new recipes here on the blog as and when I feel called.
I do have quite an extensive library of recipes I've posted over the last few years all of which can be found in my recipes index here.
But today I have something special for you! This isn't a brand new recipe, I'd shared this in one of my journals and an older membership I ran a little while ago, but since it's such a regular in my kitchen, and a favourite for most people who have tried it, I felt like the time had come to set it free in a blog post!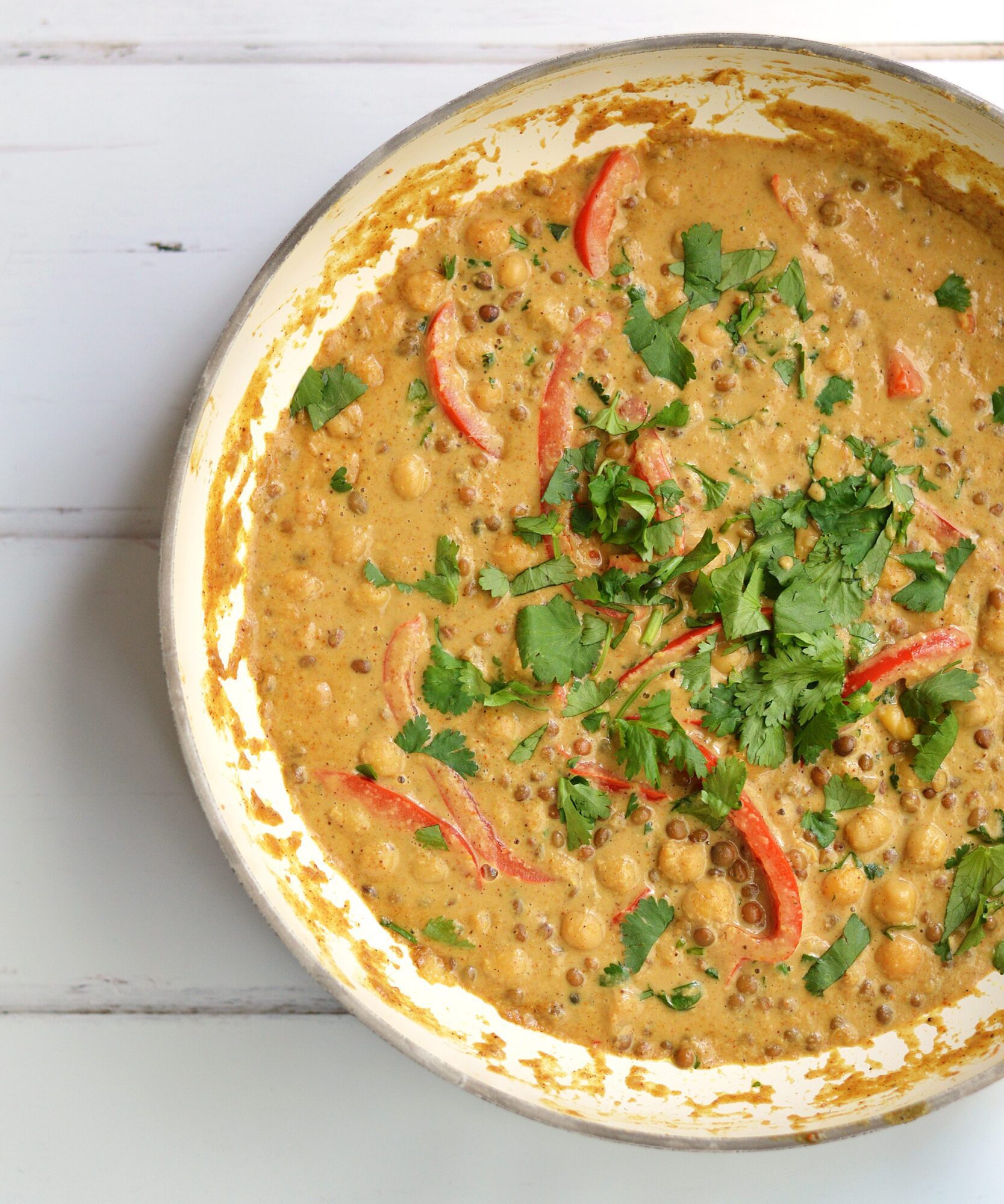 This is a vegan recipe, not because I'm vegan, but simply because this is actually the kind of food I love to eat the most. You could replace the chickpeas and lentils with chicken if you really wanted to.
I've also called this a Nut Butter Curry because I've made it with both peanut butter and almond butter – I can imagine it would also taste great with cashew butter too (in which case hold the maple syrup as I think cashew butter would be sweet enough).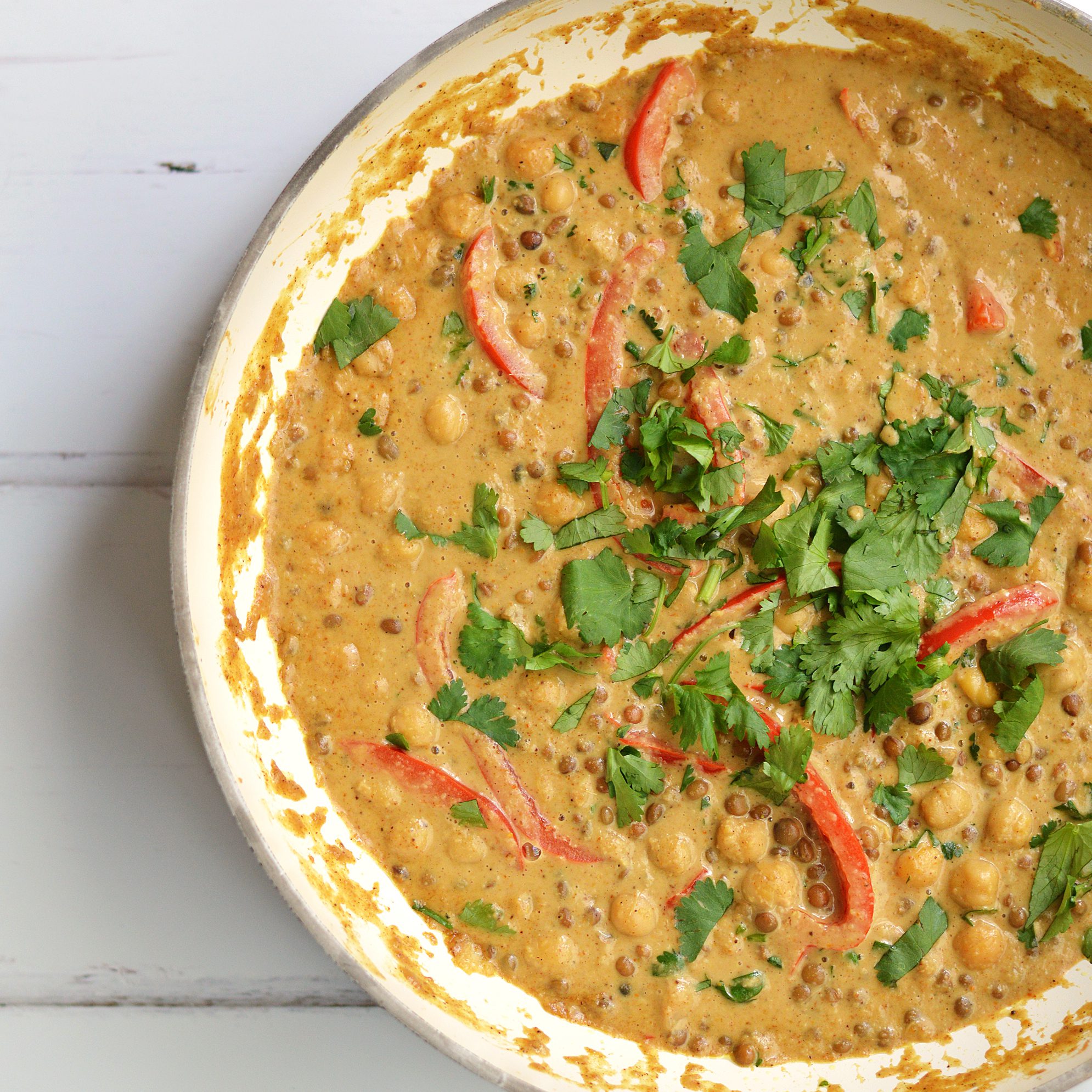 Vegan Nut Butter Curry
2019-08-05 11:34:19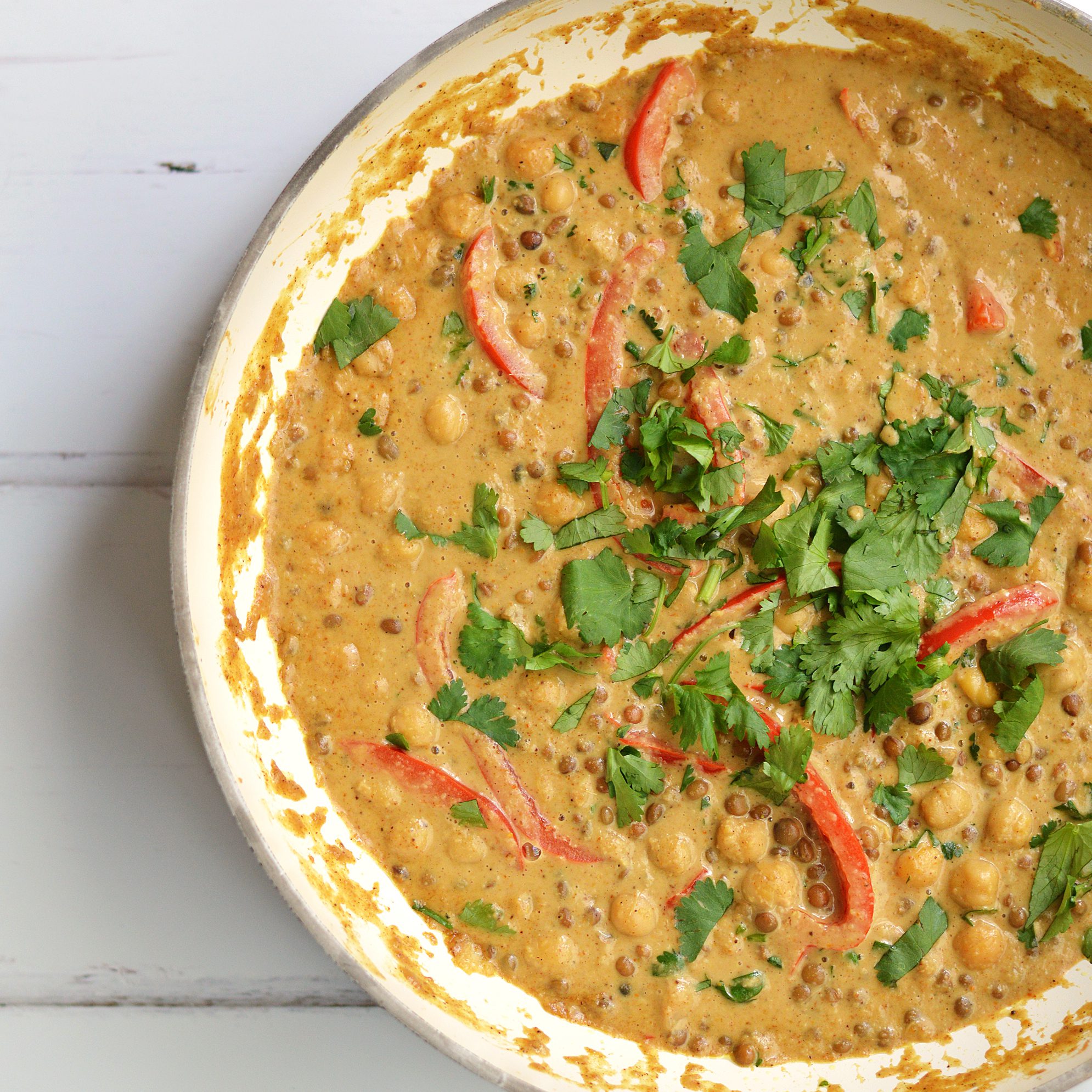 Serves 2
Ingredients
1 onion
4 cloves of garlic
1 inch piece of ginger
2 tablespoons garam masala
1/4 cup / 4 Tbsp of nut butter of your choice
1 can of coconut milk (refrigerated for an hour)
1 red pepper
1 400g tin chickpeas
1 400g tin of cooked green lentils
1 Tbsp soy sauce
1 Tbsp maple syrup (or honey if not concerned with keeping it vegan)
Fresh coriander
Instructions
Peel the onion, garlic and ginger and blitz together in a small food processor or nutri bullet type blender (alternatively finely chop)
Heat 1 Tbsp of oil over a medium heat in a large pan. Add the garam masala and stir while it toasts for 3-4 minutes. Then add the onion, garlic and ginger paste and continue cooking for a further 5 minutes.
Open the can of coconut milk without shaking it. Add the peanut butter to the pan followed by the thick coconut milk from the top of the can, and just a splash of the water left in the can.
Combine and let in simmer while you finely slice the pepper and drain the beans and lentils.
Add the pepper to the pan, followed by the beans 5 minutes later.
Add the soy, honey and a large bunch of fresh chopped coriander
Serve with rice, more veg or naans.
Wholeheartedly Laura https://wholeheartedlylaura.com/
I'd love to know what you think! Are you a curry fan? Would you give this recipe a try? Which nut butter would you use?