I'm a huge fan of falafel, so when Great Food challenged me to come up with a special recipe using their gorgeous falafel I was very excited! Falafel seems to be traditionally served in a pitta bread or with salad, and Great Food were looking for something a bit different and a way of making falafel more of a special meal.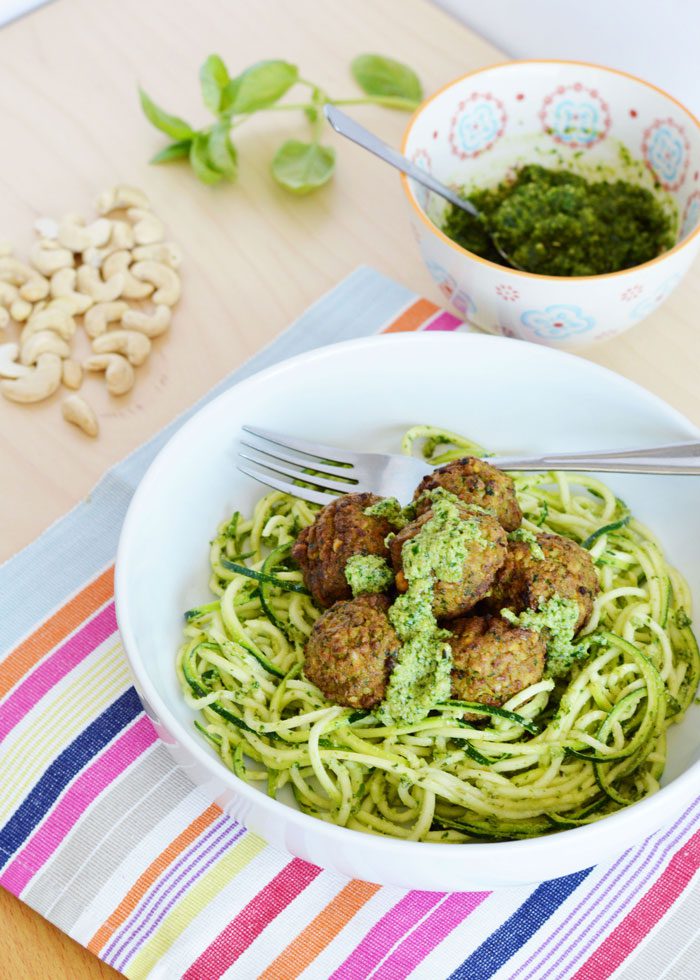 I had a bit of a brain storm but kept coming back to the idea of falafel being used almost like meatballs along with pasta. I think they work wonderfully like this, and for a fresher version than the traditional pasta and tomato based sauce, I thought I'd go with some delicious courgette pasta and an extra special vegan pesto.
I used cashews in the pesto which due to their taste and texture make a great replacement for any parmesan. Packed with basil, kale, extra virgin olive oil and garlic and it's a superfood filled pesto too. If you don't have a spiraliser to make courgette pasta like this, it can still easily be made using a vegetable peeler to create ribbons almost like tagliatelle.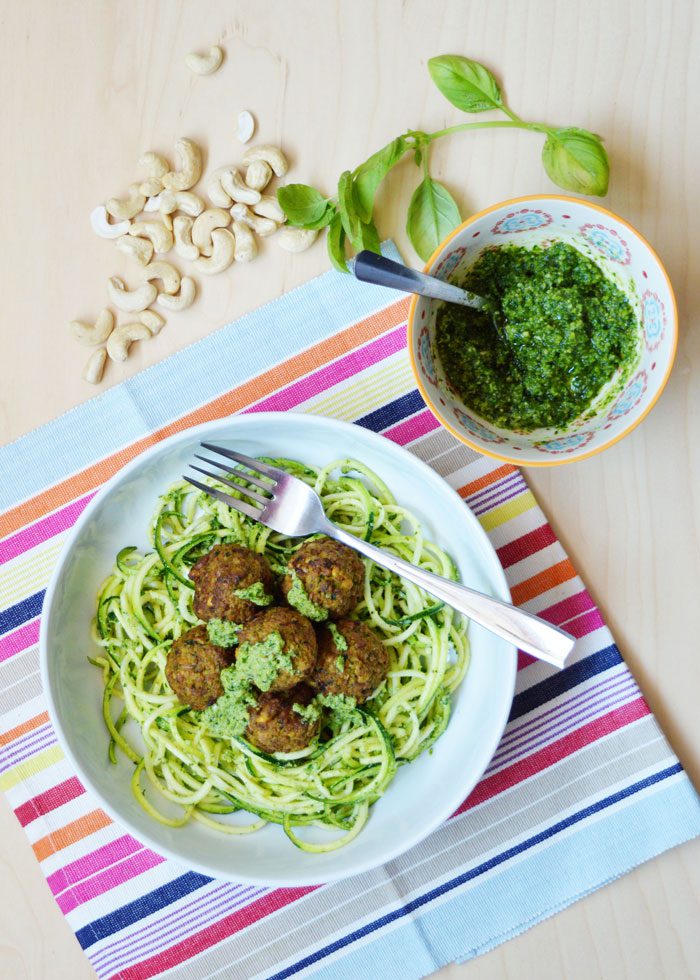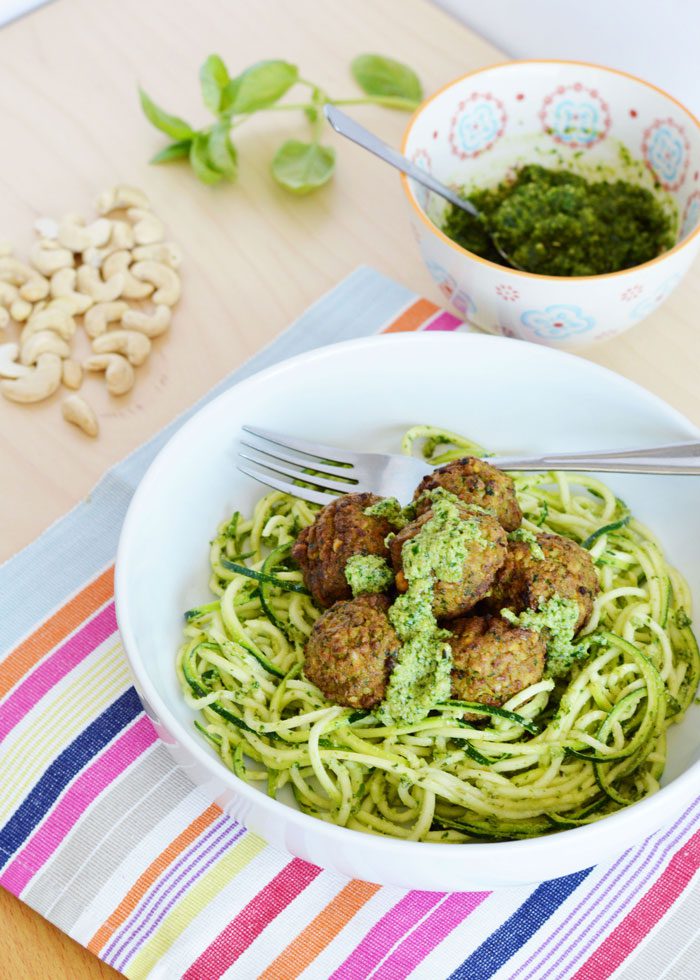 Great Food Falafel Meat Balls with Courgette Pasta and Superfood Pesto
2014-08-16 14:38:50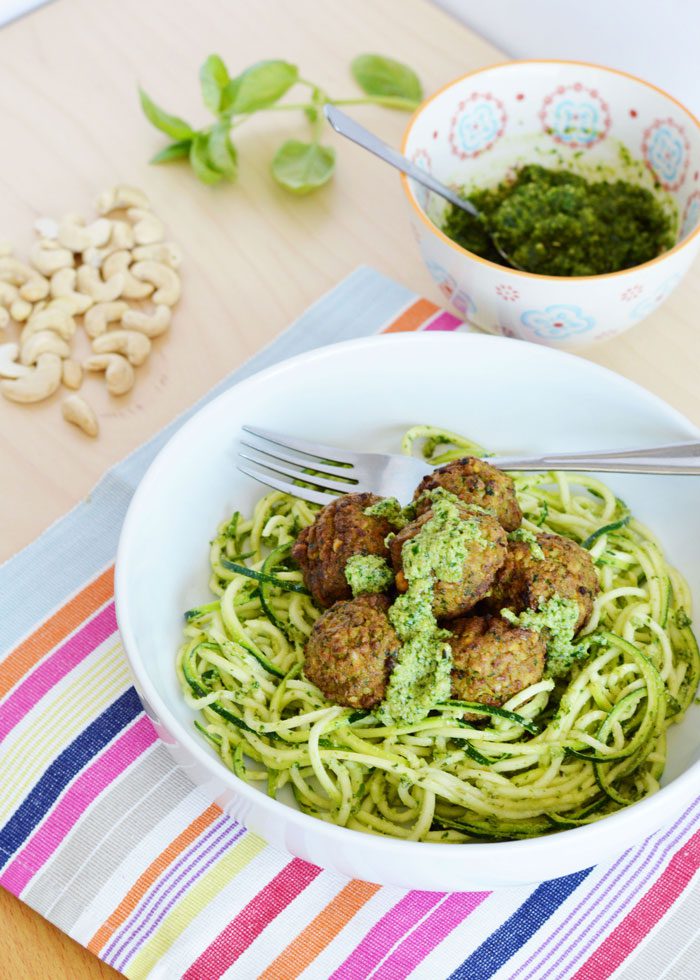 Serves 4
Ingredients
1 pack of Great Food Spinach and Pine Nut Falafel
2 medium courgettes
For the pesto
60g cashew nuts
10g basil
20g kale
2 cloves garlic
6 tbsp. extra virgin olive oil
Good pinch of salt
Instructions
Wash and trim the ends from the courgette. Make into pasta using a spiraliser cutter, or into tagliatelle style ribbons by cutting long strips of courgette using a vegetable peeler.
Place a frying pan over a medium high heat. Add the cashew nuts to the pan and toast for 3-5 minutes until they are hot and starting to turn golden brown in places.
Add the cashews to a food processor along with the basil, garlic, salt and olive oil. Remove any tough stems from the kale and add the leaves to the processor. Blitz everything together until finely chopped and well incorporated.
Place all the courgette pasta in a large bowl and pour the pesto over the top (reserving about 4 tbsp. worth). Mix together well so that the courgette is all coated in the pesto.
Divide the courgette pasta between 4 plates or shallow bowls and top with the spinach and pine nut falafel, either warm or cold depending on your preference.
Drizzle with the remaining pesto sauce (you can add a little water to make it a more pourable consistency) over the top of the falafel and serve!
Wholeheartedly Laura https://wholeheartedlylaura.com/
Now that the weather is cooling off, you could still use these falafel in a rich tomato sauce instead of the pesto for a more warming meal.
You can purchase Great Food Falafel from Ocado and Costco and in selected Morrisons, Sainsbury's, Tesco, Asda and Makro stores across the UK. Great Food products are gluten and dairy free, with a number of products also being suitable for vegans. Check them out on their website, Facebook and Twitter.
Are you a falafel fan? How would you serve them in a non traditional way?
*sponsored post