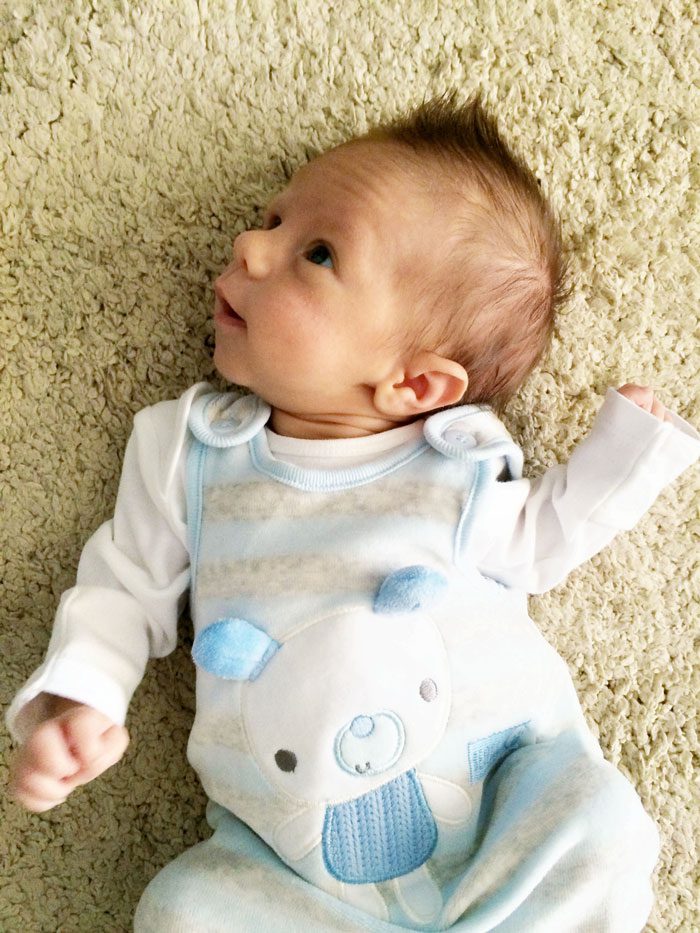 I can hardly believe it's almost 8 weeks since Finley arrived! It has been tough at times with his health challenges as I'll talk more about in a moment, but other than that it's just been wonderful! He seems to be developing more every day, a little smile or smirk, lifting his head up, a funny new sound and despite his heart problem he has gained weight pretty well. He's gone up a clothing size which is awesome! Thanks to a comment from a lovely reader, we got a Babymoov Cosysleep which has been fabulous for helping him to feel snug in his moses basket. It also works wonderfully for co-sleeping as he can't roll out of it.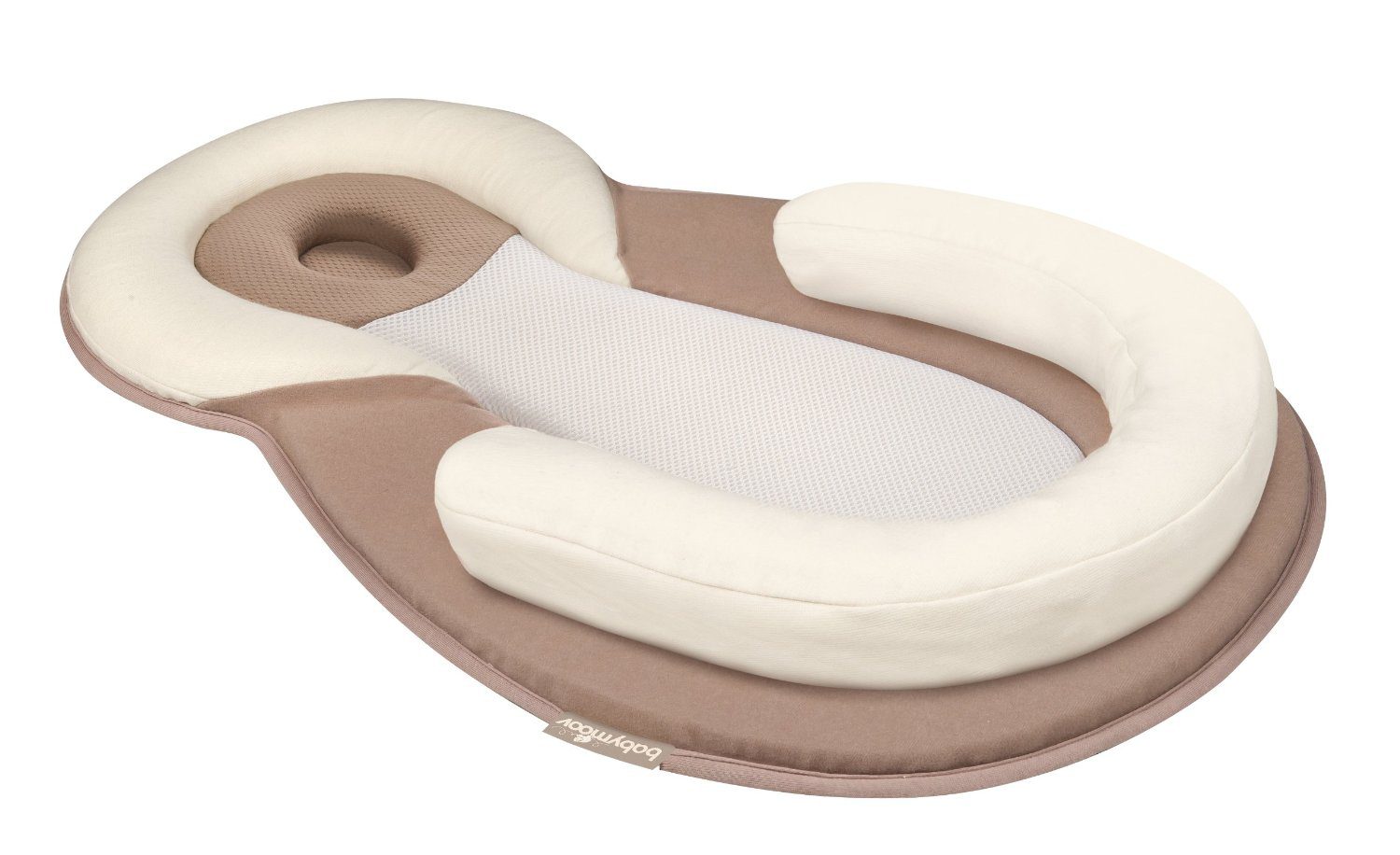 Last week I started reading Mayim Bialik's Beyond the Sling which I'm really enjoying. It's certainly reminding me to continue to trust my instincts in how I take care of Finley. I'd definitely recommend it to other parents of young children.
I often just look at Finley and can't believe James and I created such a stunning little boy. Every where we go he gets comments on how adorable he is. He loves taking baths with his daddy and snuggling into my chest after a feed then falling asleep in my arms. Breast feeding is something I absolutely love, which I'll be blogging about next week too. We are so blessed to have him and it feels like he's always been here with us. I can't wait to see him grow and develop more and more as he gets older!
As I've blogged about before, Finley has congenital heart disease in the form of a VSD (Ventricular Septal Defect) basically a hole in the heart, and lucky for us, a treatable and fully curable defect. Last week the cardiac nurse visited us and felt that Finley was ready for his op so we were admitted to the Childrens Heart Unit at the Freeman Hospital. The plan was to top up Finley's breast feeds with high calorie formula via a feeding tube to bolster him up ready for his surgery. As his heart and lungs work harder than a normal baby, he struggles to gain weight as he should. On Monday morning we were understandably extremely emotional as we got Finley prepared for his op that was scheduled for 8.30. He was nil by mouth and in his little theatre gown when the op was put back due to the NHS strike. Then, 40 minutes before he was due for surgery again, it was cancelled because his 1-2-1 nurse in the ICU has been sent home sick.
We were so angry and disappointed. As much as we were obviously worried about him going through surgery it had also felt like there was a light at the end of the tunnel. Later that afternoon we had a meeting with one of the lead consultants who had a different view to his treatment. The op is very low risk, but that small risk can be minimised even further the more weight the baby gains. The higher weight the baby, the better the recovery as well. Since Finley had been started on some medication and formula top ups via bottle, his weight gain had improved, however with the feeding tube it was really going up and he was also in otherwise good shape, so the consultant put it to us that we could take him home with the feeding tube in and top him up at home so he gains more weight. It was a very hard decision to make (and to be honest one I don't think we should have had to make ourselves) as he was scheduled in again for surgery the next day. As much as James and I just want to get our baby fixed, I also felt that we'd ever forgive ourselves if something did go wrong that could have been avoided if he had been given the time to gain more weight, therefore we agreed to go home and mix breast and tube feed him. I learned how to administer tube feeds and we were discharged yet again to try and get even more weight on him. It was crazy to go from imminent surgery to being told to go home within a day!
I had really resisted tube feeding at home as part of me just doesn't want people to see him with the tube down. I didn't want any photos taken of him like that either, however we are looking at anywhere from two weeks to two months before he goes back in for the op, and what I've come to realise is that this whole thing is part of his story. It's part of his life and will no doubt be a tremendous source of strength in the future when he realises what he has gone through. Who am I to deny him understanding that part of himself by seeing photos in the future?
He still looks cute as hell with the tube in anyway of course!
Our short stay at the Childrens Heart Unit reminded me how lucky we are yet again as a few children there were awaiting heart transplants and several are facing a multitude of operations, some families coming from all over Europe given the excellent reputation of the unit. James got to stay in the brand new Scott House which are apartments for the parents of the children. Some children's conditions have seen their parents living in the hospital for months on end so the brand new accommodation is amazing for them. It was very swish, all kited out in stuff donated from Next and the communal kitchen was like something out of Masterchef! It had only been open a week so James was one of it's first residents. Fellow North Easterners look out on the local news tomorrow evening and you might see the grand opening being covered, rumour has it that Ant and Dec and Alan Shearer are opening it.
If any of you are ever looking for a good cause to support, the Children's Heart Unit Fund is well worth it take it from me! Watch this video with Ant and Dec, I was totally crying watching this as I recognise the rooms we've stayed in and Paddy is Finley's nurse. This week I signed up to do the Great North Run 2015 for them and I can't wait to raise money for such a great cause, in fact raising money for them is going to be a lifelong thing for me now.
There's no denying that this whole situation is incredibly hard for us, but without sounding like a Pinterest quote, you can either hide from the storm or learn to dance in the rain. All of this has strengthened us as a family unit, made me realise just how much I can handle and reassess what is important in life. When Finley is older I have no doubt that this experience, despite him not remembering any of it, will be a source of strength to him. He's absolutely perfect :-)