I'm a firm believer that eating healthily can be affordable, so when Gocompare.com challenged me to create a healthy recipe suitable for a family of four I was more than happy to oblige! One of the biggest aims of Gocompare.com is to help save people money so they wanted to ensure the recipe was cheaper than £20 for four, and included at least one of your five-a-day, as well as being convenient and easy to make.
I think I've managed and exceeded that task with this delicious Thai Green Chickpea, Sweet Potato and Spinach Curry! I adore curries and love how healthy they can be. So much cheaper and healthier than the take-away or ready meal versions, this recipe uses whole food ingredients, takes on longer than 30 minutes to make and most importantly tastes amazing! It also contains 3 of your 5-a-day!
As promised, this is also very cheap. Including all ingredients for the recipe, side and garnish it comes in at under £12. Many of the ingredients such as the curry paste, sweet potatoes, brown rice and flaked almonds could be used for several meals too.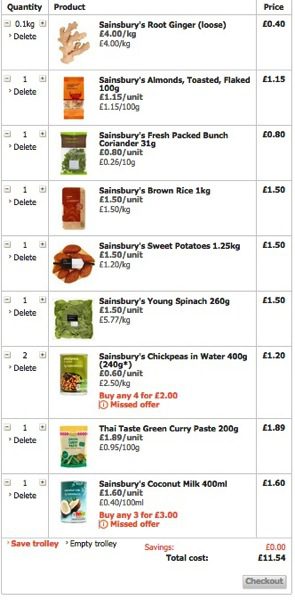 Thai Green Chickpea, Sweet Potato and Spinach Curry
2015-01-25 14:16:28
Serves 4
Ingredients
1 tbsp oil (coconut oil for preference)
3 tbsp Thai Green Curry Paste
1 thumb size piece of root ginger
2 tins of chickpeas
2 medium sweet potatoes
1 tin of coconut milk
2 large handfuls of spinach
2 tbsp fresh chopped coriander
To serve
1 cup of brown rice
1/4 cup of flaked almonds
4 tbsp fresh chopped coriander
Instructions
1. Soak the brown rice in water overnight or for 8 hours. Drain and rinse the rice, cover with 2 cups of water and a pinch of salt and bring to the boil. Simmer until the rice is tender and fluffy (30 mins - 1 hour depending on soak time) and set aside.
2. Heat the oil over a medium heat in a large pan or wok.
3. Grate the ginger and add to the pan along with the curry paste. Lightly fry for 2-3 minutes.
4. Peel and chop the sweet potatoes into bite size pieces. Drain the chickpeas and add to the pan. Stir to coat in the curry paste.
5. Add the can of coconut milk and bring to a simmer. Cook uncovered for 20 minutes or until the sweet potato is tender and the curry has thickened.
6. Add the spinach and stir into the curry until it has wilted.
7. Chop the coriander and mix into the rice along with the flaked almonds
8. Serve the curry topped with the remaining coriander and the nutty rice, enjoy!
Wholeheartedly Laura https://wholeheartedlylaura.com/
If you wanted to skip having to soak and cook the brown rice, you could use two packets of microwavable brown rice and still be well under that £20 budget. This recipe also freezes very well so any spare portions can be kept for a quick and easy dinner.
You can find all of the other Gocompare.com healthy recipes here.
To inspire more of you to cook cheap and healthy meals Gocompare.com are offering a £20 voucher for Waterstones, which you could of course spend on purchasing a new cook book! Enter below:
For UK residents only. Please see terms and conditions here. Good Luck!
*post sponsored by Gocompare.com