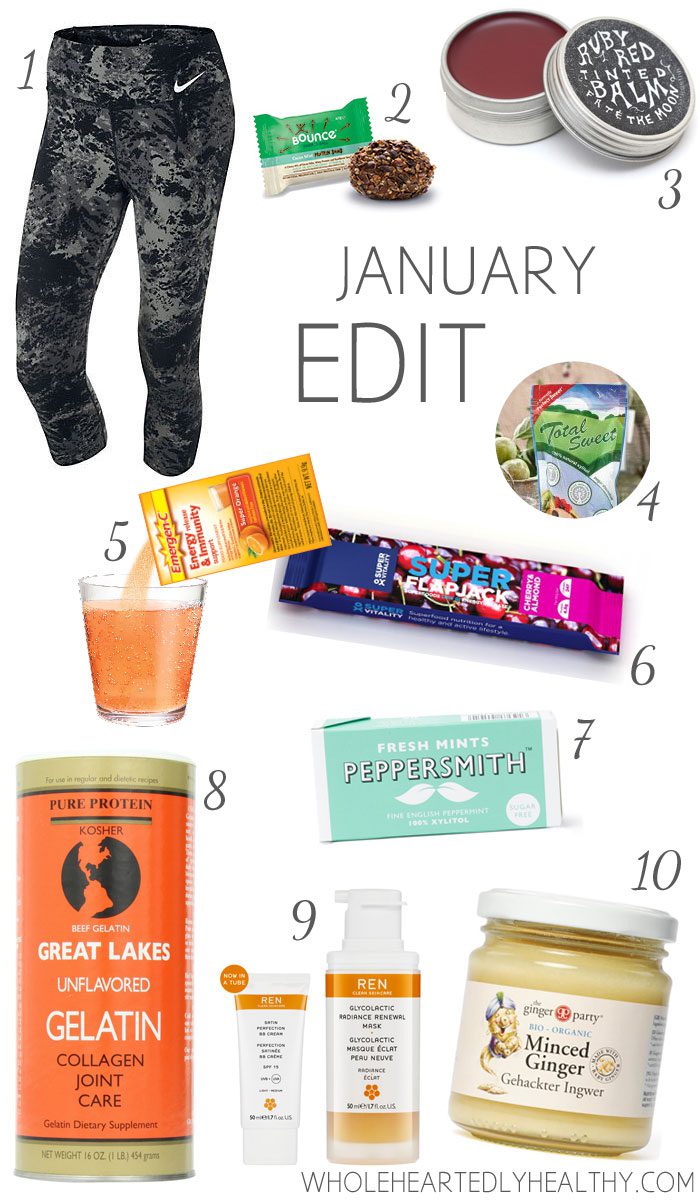 Hey everyone, I thought I would start a new monthly feature here on Wholeheartedly Healthy, the Edit. In place of my usual review posts, I wanted to pull something together that was a bit broader and more fun! Each Edit will feature some of my favourite products from that month, both PR samples and things I have purchased myself. Items that are PR samples will be marked as such with a*.
What have I been loving in January?
1. Nike Legendary Tight Training Capri Trousers* John Lewis – I am IN LOVE with funky printed leggings and these are just the bomb! Unfortunately I can't find the link on the John Lewis website so they may be sold out. I just love the fit and feel of these.
2. Bounce Balls* – I was already a fan of these when I was sent some samples to try. They are great for a protein based snack when you are out and about. As I've been blogging about recently, I am trying to eat more protein and these are perfect for keeping my energy levels more balanced.
3. Fat and the Moon Ruby Red Lip balm – The Future Kept – I bought this before Christmas last year but only got around to using it this month. I haven't tried a lot of tinted lip balms that actually give a good colour but this is an exception. It also leaves my lips silky soft.
4. Total Sweet Xylitol* – as far as alternative sweeteners go, I don't mind this at all. After I read Chris Kressers opinion I'm happy to use it as a low calorie sweetener especially in baking.
5. Emergen C* – I was sent this by a friend before it was fully available in the UK a few years ago and I found it really helpful when I had a cold, so I was super chuffed when it was launched here properly. I have been using the Super Orange to help keep my immune system in tip top shape, but lemon and strawberry (yum!) flavours are also available. My favourite way to take it at the moment is added to smoothies, see below for my go to recipe!
6. Super Vitality Cherry Almond Flapjack* – these are so delicious! They would be perfect for any runners for refuelling after a race as they have plenty of low GI carbohydrates in them.
7. Peppersmith Mints* – tasty sugar free mints made with Xylitol, I've been keeping these in my handbag for on the go
8. Great Lakes Gelatin – I am currently a bit obsessed with this stuff. I've read a lot about the benefits of gelatin over the past few years, particularly for skin and gut health. This stuff isn't cheap, but it goes a long way. I've been using it to make various gummy style 'sweets' this month which are great for snacking on.
9. REN Skincare – I'm in love with REN products right now. I decided to treat myself to a few things including their BB cream and radiance renewal mask. Now that I'm well into my thirties I'm trying to take extra good care of my skin and REN products seem to be doing the job.
10. Ginger People Organic Minced Ginger* – I am so guilty of buying fresh root ginger and leaving it to go bad in the fridge. I know you can freeze the fresh root, but I'm a bit lazy and do like to be able to use the ready to go versions of herbs and spices sometimes. This is a great product as it doesn't contain any added ingredients and it's organic. Ideal for adding to stir fries, curries and soups.
Emergen C immune boosting smoothie
2 handfuls of spinach
1 cup of frozen blueberries
1 scoop of vanilla protein powder
1 sachet of Emergen C Super Orange
1 -2 cups of unsweetened almond milk
Pop everything in a blender and blend till smooth. Enjoy the sweet sherbet like tasty of this immune boosting smoothie!
Have you tried any of these products? What would be part of your January Edit?