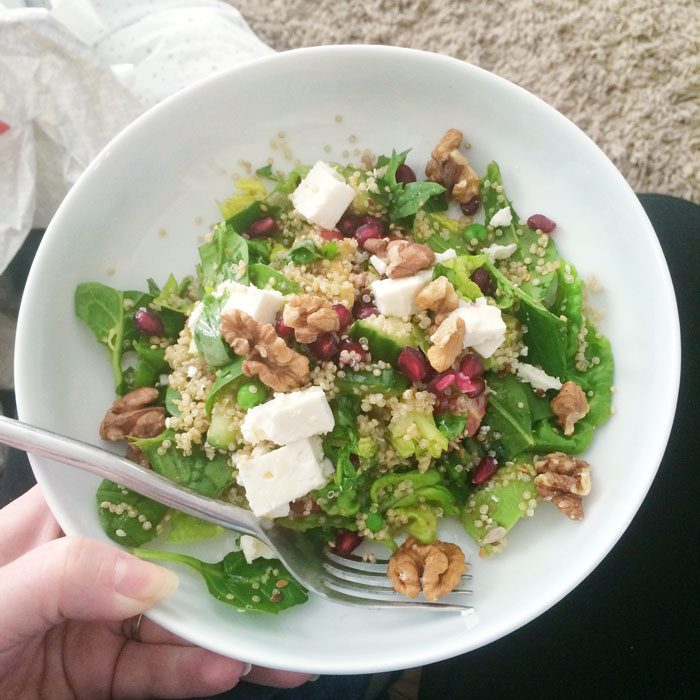 Hey lovelies, happy Sunday! This last week seems to have flown over and I feel like I haven't stopped. We got our flat on the market, had a viewing (still waiting to get feedback on it), I had a meeting with my accountant and put in my accounts to be done, I've been to baby group and tiny talkers and James and I had a date night. I also delivered a community group session and had calls with a couple of clients, all on top of taking care of Finley. Non bloody stop but all good and all needed. The weekend has been packed as well so I'm looking forward to some relaxation next week! Last weekend I visited a good friend and she made me that delicious quinoa salad pictured above, she knows me so well!
Eat
Harrissa chicken, avocado and lemon tahini salad
Roast cauliflower and kale hash with two fried eggs
Sainsbury's My Goodness Pulled Pork and Sweet Potato mash meal with roast sprouts
Amaze Rebel Kitchen Chai milk!
Cowboy Quinoa Chilli with avocado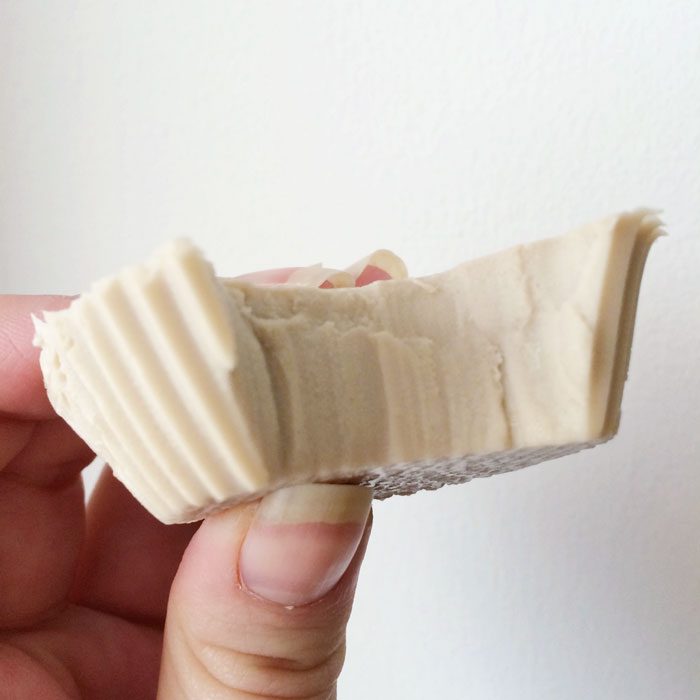 Grass fed girls Cafe latte gelatin gummies
Hummus and sugar snaps as a snack
Super Green Juice from Wagamama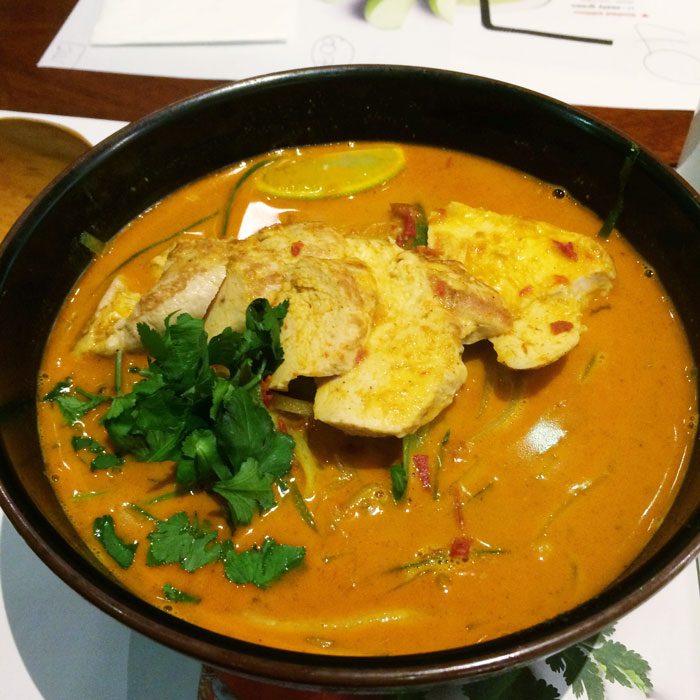 Chicken Kare Lomen from Wagamama
My parents watched Finley for a few hours while James and I went to see The Hobbit. We had dinner at Wagamama for the first time and I loved it! As well as the juice I had (free!) green tea and as well as the lomen I had duck goyza, all of which was delicious. To snack on in the cinema I treated myself to a Holland and Barrett pick n mix too!
Move
Monday – plank a day
Tuesday – plank a day + gym workout: 10 mins step machine, 10 minutes jog / walk treadmill, 10 mins bike, strength exercises including squats, deadlifts etc
Wednesday – plank a day
Thursday – plank a day + Jillian Michaels Shred it with weights level 1 via You Tube
Friday – plank a day
Saturday – plank a day
Sunday – plank a day + gym or Davina DVD or walk / run!
I enjoyed a great workout at the gym on Tuesday as usual and managed to fit in Jillian during one of Finley's naps on Thursday. Last Sunday I'd ended up doing a couple of the 7 minute fit workouts from Davina which I really enjoyed. I'm not sure what I'll do today but I will definitely be doing something! Well done again to everyone that is still planking it out! I'm so over the moon at the number of people that have joined in my challenge. The idea of a challenge a month went down really well with you guys so for February I was thinking of slowing down the pace with a daily Yoga challenge. Who's up for it?
Wear
Ok so I'm using the 'wear' heading loosely this week. My hair is desperate for something, anything, to be done to it. I haven't had it cut since well before I had Finley, nor have I coloured it. It's such a mess it's actually putting me off posting an outfit pic! I'm trying to figure out time to get it done which is tricky with the little one, but hopefully the first week in Feb I'll be able to get booked into a fancy pants salon in Newcastle for a much needed make over. I'm thinking of getting something similar to these styles, going back to my natural brunette rather than colouring it reddish as I have done the last few years, and getting some blonde bits / ombre done to it. Hopefully I will then feel a bit more 'together'!
Love
A got an advance copy of the recipe book I co wrote! It's pretty surreal to have an actual book in my hands with my name on the front cover and my details on the inside. Seeing all my recipes so beautifully presented is just amazing, and trust me there are some fantastic recipes in here! It's due out on 2nd March and keep an eye on the blog for some sneak peek recipes! Pre order it on Amazon here. Also…
Painting my nails, bliss! // our first Tiny Talkers class where we sing and dance and learn baby sign language // my best friends reaction when she saw I'd acknowledged her in the book // my nutella muffins // my Dad doing a 2min 20 plank! // buying some new food photography props // my baby turning 5 months!
Link
Whew, like I said this has been a bit of a crazy week, I'm in need of some down time!
How has your week been? What do you think of my hair style ideas? How often do you change styles? Have you eaten at Wagamama?
P.S – please send us any good positive vibes you have spare for that flat viewing we had, so hopeful we might get an offer as they seemed really interested!