Happy Sunday everyone, hope you are enjoying your weekends! This week has been such a strange one. James has been off which has been awesome, but we've had so much to do it's felt quite rushed. We've had bank appointments, dentists and nursery visits and we've needed to have things fixed around the flat. We've decluttered on an epic scale to try and make our space more attractive to potential buyers, which on one hand is great, but on the other leaves me feeling quite unsettled without my 'things' around! My mood has been all over the place as well depending on the amount of sleep Finley has allowed me to get, luckily he's been having a few good nights to make up for the really bad ones. In general it has just been one of those weeks where I've felt like life is throwing a lot of lessons at me, I've had a lot of deep thoughts put it that way!
It was also James Birthday so we enjoyed another interesting date night. I've also had some great news about the blog and Grains and Mains being featured in some newspapers this weekend and next. Phew! With all that going on I've been enjoying my superfood packed smoothie bowls to keep my energy levels up!
Eat
porridge with blueberries, cashew butter, goji berries, seeds, cacao nibs and raw almond 'cream'
pear porridge with cashew butter and gojis
homemade muesli with a mix of oats, granola and gojis
Pret treat lunch!
Great Food Tuscan Vegetable bites with salad, red onion and tahini dressing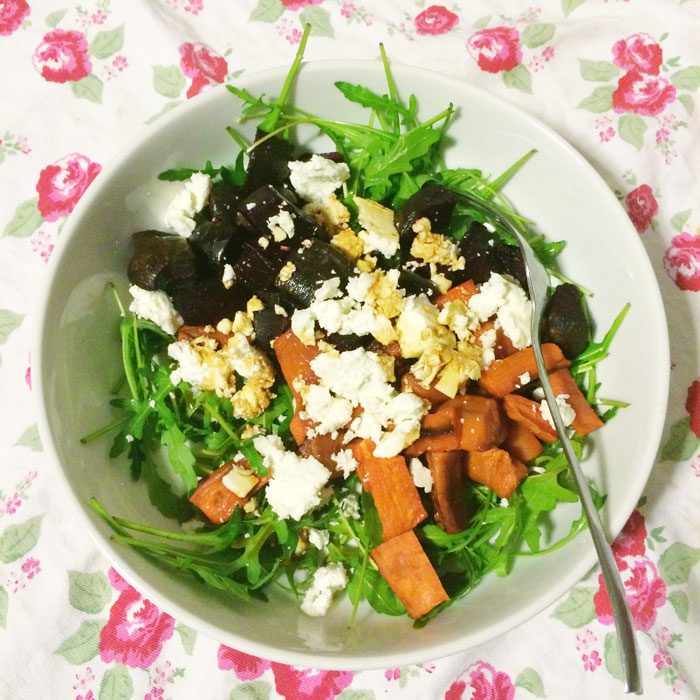 roast carrots and beets with rocket and feta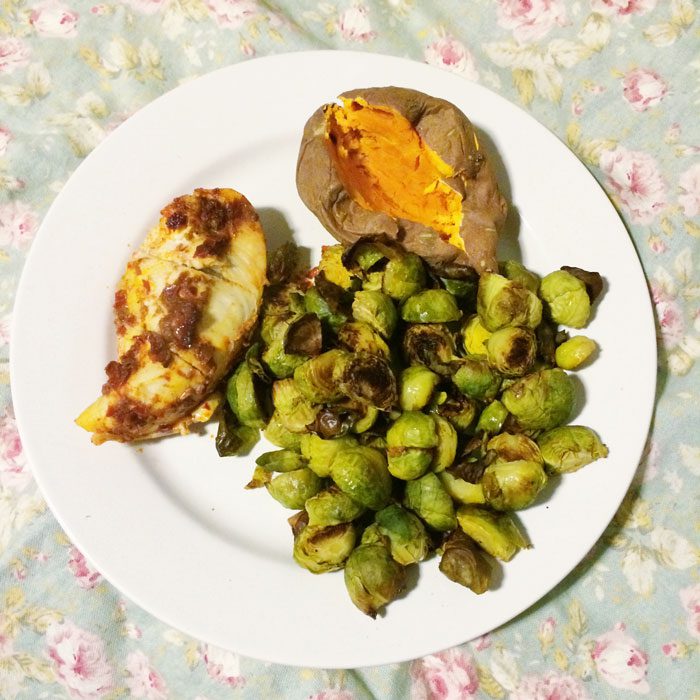 Harissa baked chicken with sweet potato and roast brussels sprouts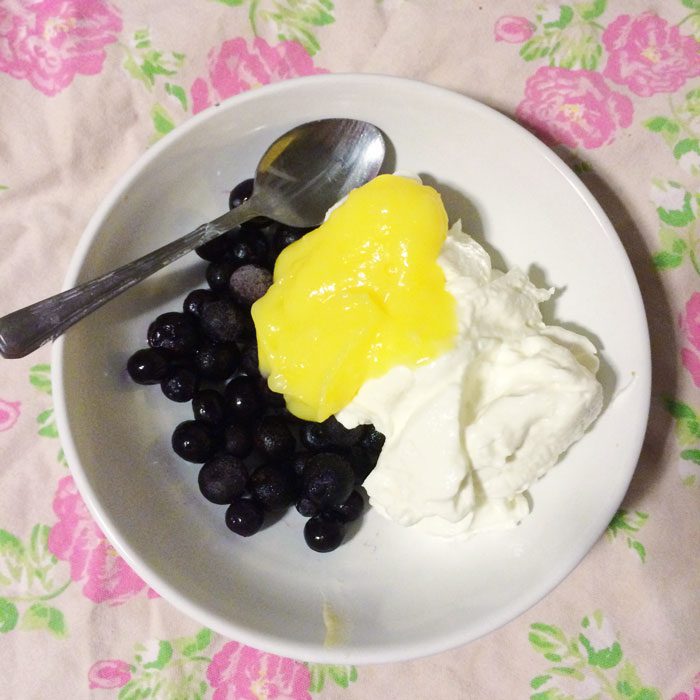 Blueberries, greek yoghurt and homemade lemon curd
Homemade cacao mint bounce balls! These are vegan as well, will share recipe soon!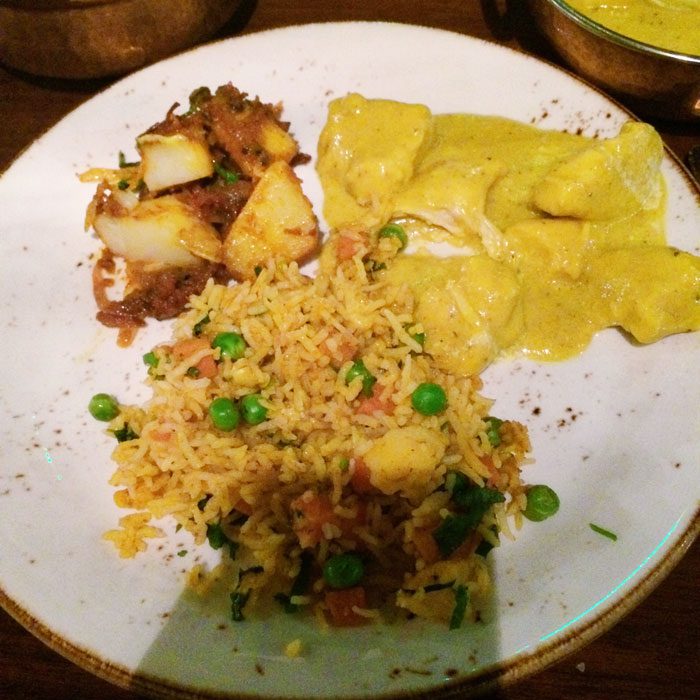 On Thursday night we headed out to the Jesmond area of Newcastle for James birthday. We visited Dabbawal, our favourite Indian street food restaurant where I enjoyed a delicious chicken korma with vegetable rice and bombay potatoes. After that we grabbed a Starbucks and went in search of a random street address for our first Sofar Sounds gig. James lives and breathes independent music, so this was perfect for his birthday! We enjoyed listening to three musicians unplugged from our cushions on the living room floor of the host. It was an unique live music experience indeed!
Move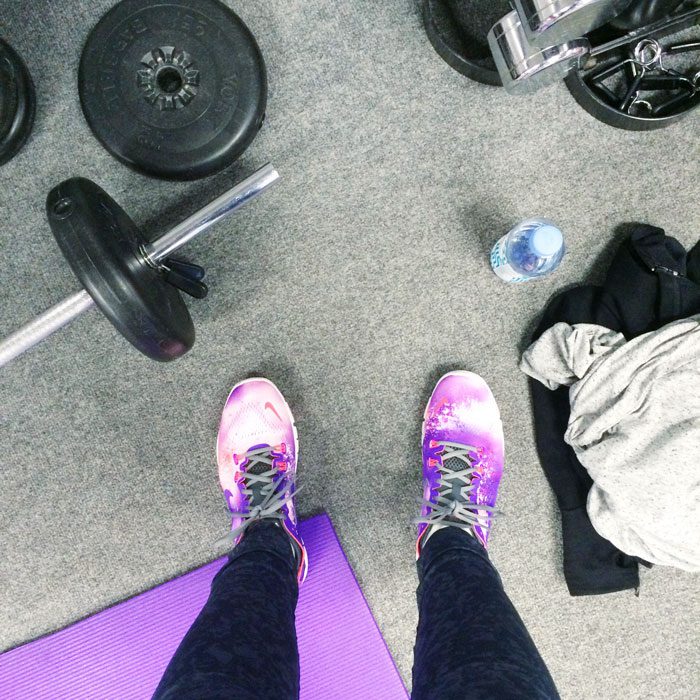 Monday – yoga challenge 5 minutes
Tuesday – yoga challenge 5 minutes + gym workout: 10 minutes cross trainer, bike and step machine, core exercises
Wednesday – yoga challenge 5 minutes + gym workout 10 minutes cross trainer and step machine, squats and deadlifts
Thursday – yoga challenge 5 minutes
Friday – yoga challenge 5 minutes
Saturday – yoga challenge 10 minutes
Sunday – planning on a little run later this morning!
I had planned to get to the gym more with James being off (so I had someone to take care of Finley) but that didn't really come off! I was going to go bright and early on Monday but I was SO exhausted I knew it wouldn't be a good idea. I dragged myself there on the Wednesday after a hard night and actually felt a lot better for it. Still loving the yoga challenge, I'm generally doing a few minutes before bed to relax which is lovely, next week I might try more mama and baby yoga from You Tube.
This week I also agreed to sign up for the Newcastle Stampede 10K with my cousin and a few others to raise funds for The British Heart Foundation. I must be nuts!
Wear
I did a bit of shopping this week and picked up this striped blazer and top from New Look. I was going through one of those 'I have nothing to wear' moments after I did a declutter on my wardrobe filling a huge charity bag. I felt much better after that though, although I'm looking forward to spring fashion now!
Love
I treated myself to a Share the Love Lifebox for Valentines Day! I think these are pretty amazing value when you look at what it would cost to purchase these snacks alone. I thought it was the perfect healthy treat for my body! Also…
Finley's first 'meal'! I pureed some avocado with breast milk for his lunch and he enjoyed a couple of spoonfuls // getting my business accounts done and seeing that I'd actually trebled my profit from last year, whoop! // James surprising me with a bar of salted caramel Lindt for v-day // signing up for a business mentoring programme // making homemade almond milk // Wholeheartedly Healthy being featured in the Mail on Sunday!
Link
So yes, it's been one of those up and down weeks, but mostly up it has to be said :-)
How has your week been? Did you do anything to mark Valentines Day, even for yourself? When was the last time you decluttered?