Before I lost weight, pasta was one of my favourite foods. I would quite happily eat a giant bowl of pasta with tomato sauce for dinner most nights, and ready meal vegetable lasagnes were one of my most loved treats. Pasta was one of the foods I vastly reduced to help me lose weight. For my body, pasta is generally just too much carbohydrate. I still love a good bowl of pasta when I'm out at an Italian restaurant, but in general day to day eating it's certainly a missing ingredient.
However, I don't miss it one bit! Once I discovered courgetti and purchased my spiraliser I never looked back. Now I eat courgette spaghetti with beef ragu sauce fairly often to get that comforting pasta hit. One thing I was missing though, was lasagne and hence this easy recipe was born! Instead of pasta sheets I use thinly sliced courgette.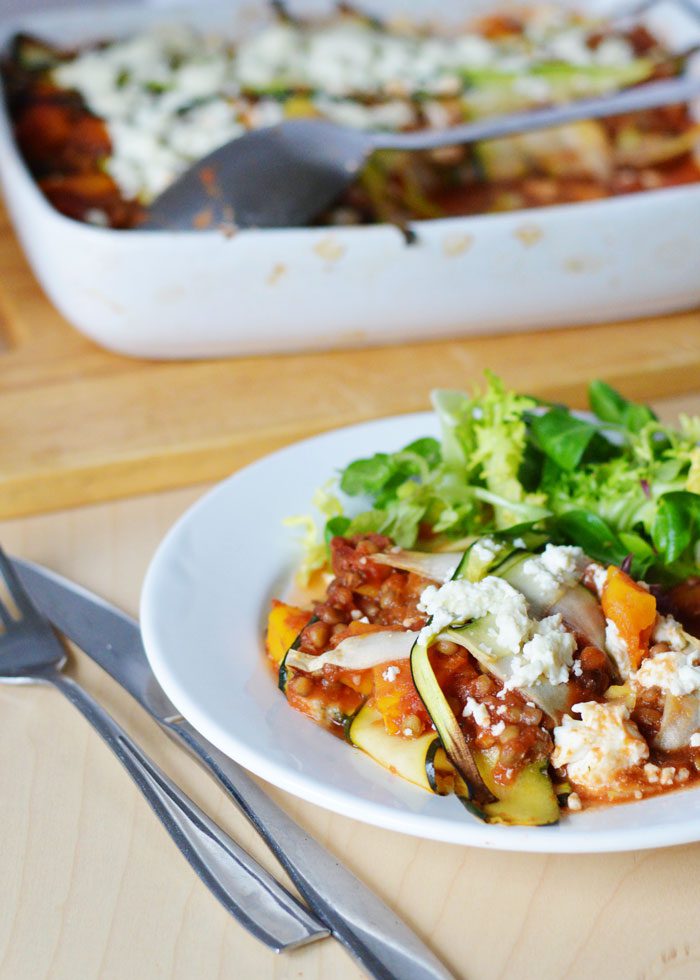 I know a lot of courgette 'pasta' lasagne recipes are around, but this is my simple vegetarian version. Without the use of minced beef it's also very light on calories. You could of course use minced beef or even minced turkey, but I love how light yet filling this version is. Sweet butternut squash is paired with earthy lentils and salty feta cheese for a really tasty healthy meal that would even be detox friendly!
Butternut, Lentil and Feta (Pasta Free) Lasagne
2015-01-31 15:52:34
Serves 4
Ingredients
1 medium butternut squash
1 tbsp oil (I like coconut oil for roasting)
1-2 large courgettes
1 tin of green lentils
1 tin of chopped tomatoes (or use tomato passata)
1 tsp Italian seasoning
100g feta cheese
Instructions
1. Pre heat the oven to 200c. Peel and de seed the squash, chop into chunks and place into a baking tray. Add the coconut oil and bake for 40 - 45 minutes till soft. Set aside but leave the oven on.
2. Add the lentils, chopped tomatoes and Italian seasoning to a large pan. Add the butternut squash and simmer.
3. Prepare a large baking dish. Thinly slice the courgette length ways. You could also use a vegetable peeler to create long wide ribbons or use a mandolin.
4. Layer the courgette slices to cover the bottom of the dish. Follow with half the lentil mixture. Cover with another layer of courgette slices. Add the rest of the lentil mixture, and if you like, add a few more slices of courgette in a criss cross pattern over the top.
5. Turn the oven down to 180 and bake for 30 minutes. Take out of the oven and crumble over the feta cheese. Turn the heat up to 220 and bake for a further 5-10 minutes until the feta is a bit melty.
6. Serve with a fresh green salad.
Notes
The lasagne will keep well in the fridge for 4 days (I ate all of mine for dinner one week!)
This method does result in a slightly watery but not unpleasant lasagne. To create a thicker sauce use passata and 'salt' your courgette to remove excess liquid (place courgette slices in a colander, sprinkle with salt and place a heavy bowl on top. Leave for 10 minutes so the liquid can drain off)
Wholeheartedly Laura https://wholeheartedlylaura.com/
Are you a pasta lover? Have you tried a recipe with a veggie pasta replacement? Do you prefer veggie or meaty lasagne?