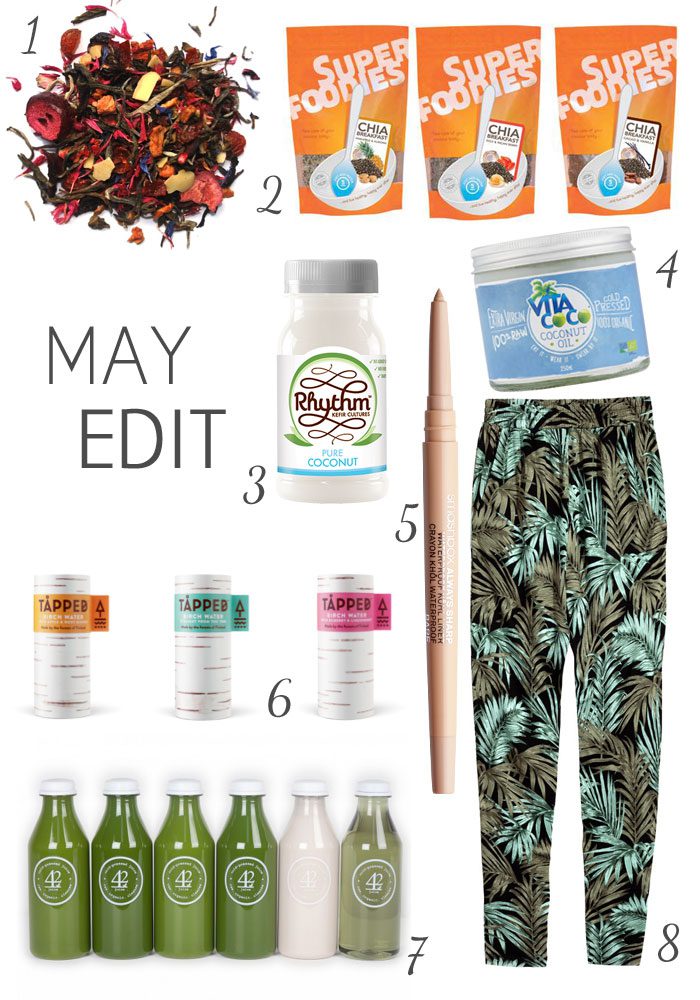 May has been busy but fabulous for me and I've had a lot of fun with new healthy living products and more! Here is my usual monthly edit of my faves…
1. Cherry Bakewell Tea – I am in love with the 'treat' of making fresh loose leaf tea. Along with my new tea pot and other teas from Bluebird, this cherry bakewell tea smells and tastes wonderful.
2. Super foodies chia breakfast* – these are such a good idea, basically a chia pudding mix all ready to just combine with liquid. The ingredients are awesome and it tastes great too.
3. Rhythm Coconut Kefir – I had a few of these when I was in Brighton for some gut TLC. I've reviewed these before and I just love them, so much better than the sugar and dairy filled probiotic drinks you get in regular supermarkets!
4. Vita Coco Coconut Oil* – a beautifully pure raw coconut oil. I have a tub in the kitchen and one in the bathroom! I use coconut oil for everything and add it to lots of Finley's meals too.
5. Smashbox eyeliner in nude – I've been reassessing my make up products recently and after watching a few You Tube videos on how to make up small eyes I thought it was time I tried a nude liner to help them appear bigger and brighter. This eyeliner does the job well!
6. Tapped Birch Water* – it's official, birch water is the new coconut water (well, kind of). Birch water from birch trees is high in manganese and naturally low in sugar. I really enjoyed these flavoured drinks, plus the packaging is amazing and the company also included a birch tree sapling in the box! Tapped Birch Water is available at WholeFoods and Selfridges.
7. 42 Juice – yep I was obsessed with their juices and nut milks in Brighton, in fact I've been re-inspired to make more of my own nut milks again
8. Relaxed fit patterned pants – I am loving the loose fit, printed pants at the moment
Have you tried any of these products? What's would be in your Edit this month?
Items marked * are PR samples which I received with no obligation to feature

Enjoy this? Get me in your inbox! >>>
[mc4wp_form]