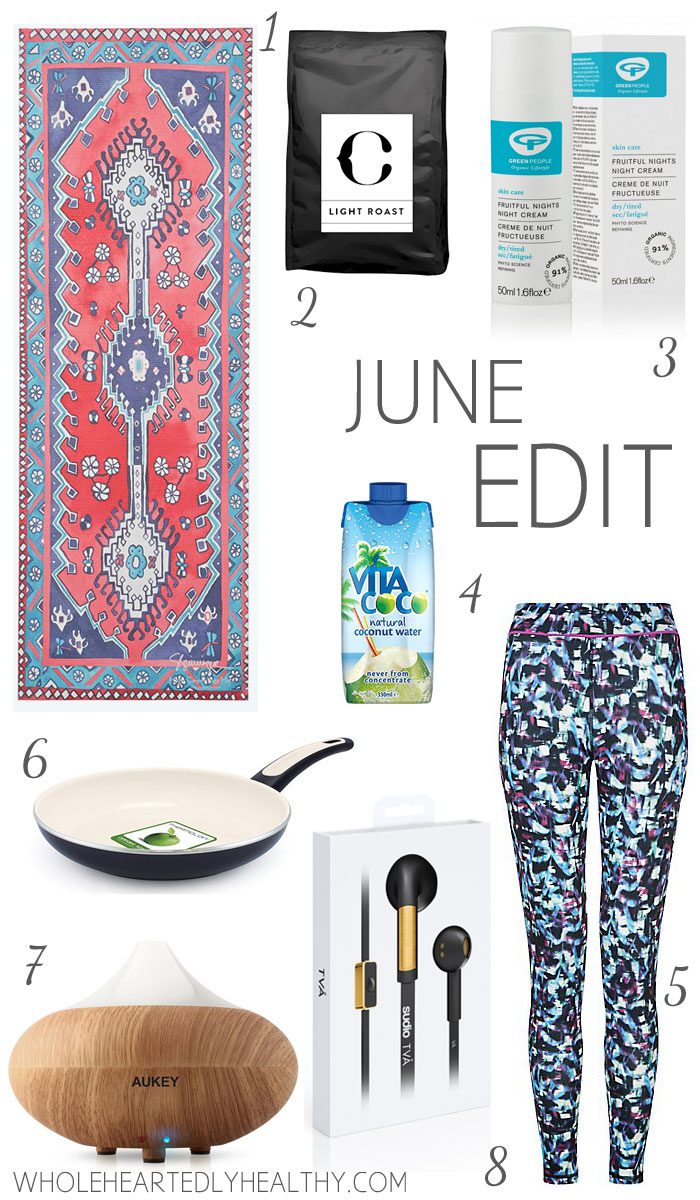 This month I've enjoyed some fabulous healthy living products! Here is my June Edit…
1. Magic Carpet Yoga Mat – £££ but oh so worth it. The best yoga mat ever! Not only good looking but is so comfortable to use. It unrolls really easily and doesn't get that still half rolled up thing. Love it!
2. CRU Kafe* – Really good coffee. I made some of this into home made cold brew and it was delicious. I'm thinking of using one of their subscriptions as I do run out of coffee pretty fast, even when I only have one cup a day!
3. Green People Fruitful Nights – I needed a new night cream and because I always love Green People products I decided to give their Fruitful Nights a try. It's a lovely rich, deliciously scented lotion that isn't greasy and makes my skin feel lovely and soft.
4. Vita Coco Coconut Water* – I have been living off coconut water this last month! It was on offer in Sainsbury's and then I was kindly sent a few cartons. So perfect for the warmer weather!
5. New Look Sport Printed Leggings – I mentioned these on one of my Eat, Move, Wear, Love, Link posts but had to include them here as they have been awesome. The fit is ideal and great for different types of exercise. At £17.99 I think they are great value.
6. Vita Verde Non Toxic Cookware – I've been looking for some non toxic non stick cookware for ages so I was chuffed when I saw some Vita Verde Ceramic Coated Pans in Asda on special offer. They have been fantastic! Really good quality and live up to the non stick promise.
7. Aukey Diffuser – I'd been thinking about getting a diffuser for my essential oils for a while and finally ordered this one from Amazon. It is brilliant, I love that it can change colour and can puff out scented steam. It's a fun way to use essential oils!
8. Sudio Headphones* – These headphones are so good! Generally I thought headphones were headphones, but you can really tell the difference with these. The sound quality is fantastic and they look awesome too. You can get different colours and ear bud designs depending on what you prefer and they also come with a lovely case to keep them clean and tidy. Sudio offer free world wide shipping and Wholeheartedly Healthy readers can get 15% off with code Wholeheartedlyhealthy. Make sure you check them out!
Have you tried any of these products? What's would be in your Edit this month?
Items marked * are PR samples which I received with no obligation to feature.

Enjoy this? Get me in your inbox! >>>
[mc4wp_form]