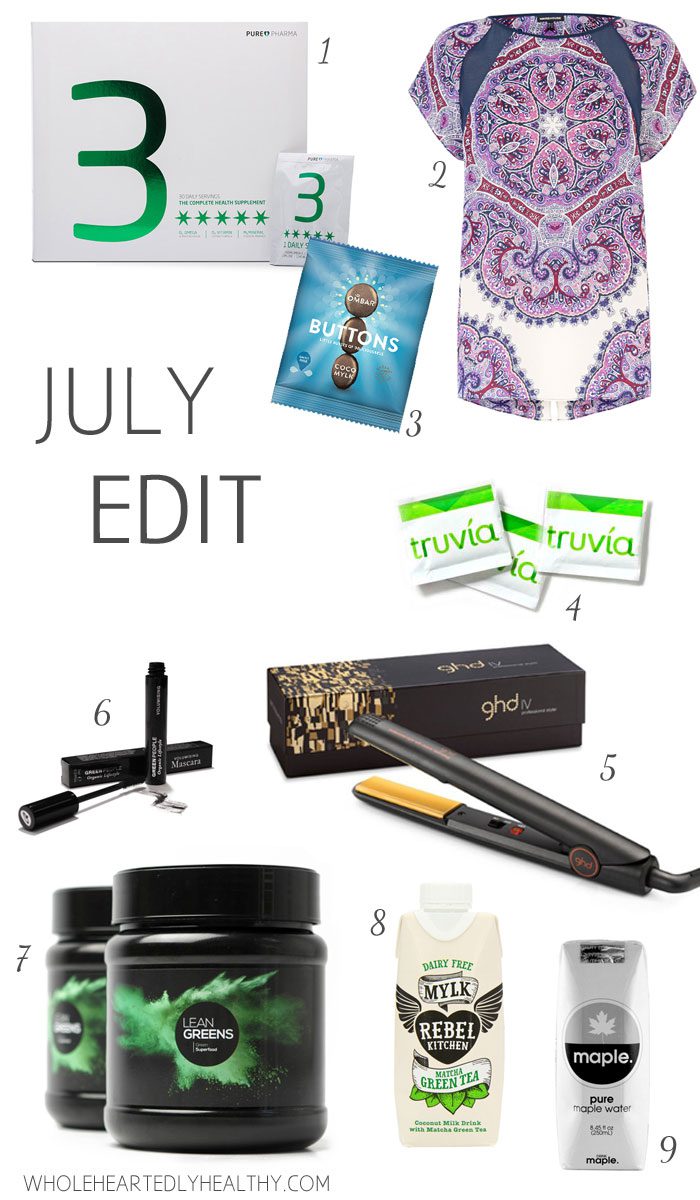 As usual, it's almost the end of the month and time to share some of my favourite things from this month!
1. PurePharma 3 – The Complete Package* – I love PurePharma's approach to supplementation and their complete package which includes daily sachets of the most needed nutrients including pure fish oil, coconut based Vitamin D and essential minerals, all produced and formulated to ensure maximum bio availability. Such a convenient and effective way to get what you need daily.
2. Warehouse Paisley Print Split Back Top – I bought this earlier in the month and I love it, it's such a gorgeous pattern and colour.
3. Om Bar Buttons* – These are SO good! Dairy and refined sugar free as well as raw and packed with good bacteria, they are a treat for adults and kids alike! They actually taste creamy like milk chocolate too, yum!
4. Truvia* – Earlier in the month I was sent a lovely package of Truvia to try, as well as an actual stevia plant! I try and vary the sugar alternatives I use, and Truvia is definitely a good one for the mix when it comes to baking.
5. GHD Straighteners – why oh why did I not get these sooner? A total upgrade and investment and completely worth it. I use them for both straightening and (attempting) to do waves.
6. Green People Volumising Mascara – my favourite mascara full stop. I have yet to try another mascara, natural or otherwise that is as good as this. My old one needed replacing as it was older than 6 months. A pleasure to get a new one!
7. Lean Greens* – I reviewed Lean Greens here, I am such a fan I had to include it again here. It seems to be making a big difference in my immunity and energy levels and from a mind set point of view I really do feel healthier starting my day like that!
8. Rebel Kitchen Matcha Mylk – I bought a case load of this and their coffee mylk in the Amazon Prime sale, it is bloody lush. I love having a few bottles of this in the fridge when I need a little treat! Seriously tempted by their subscribe and save offer!
9. Maple Water* – yep, a couple of months ago I was reviewing Birch Water and now Maple Water, it seems that good old coconut water has competition! I did enjoy this, obviously anything maple syrup flavoured is a no-brainer! It's a very mild taste, and the idea behind it is that it's low in sugar and calories but has the same rehydrating properties of coconut water.
Have you tried any of these products? What's would be in your Edit this month?
Items marked * are PR samples which I received with no obligation to feature.