I am such a Mexican food fan at this time of year, well to be honest I am at any time of year. There is something about the cuisine that suits the warmer months just as well as the cooler months. While chilli is great in the winter, this particular recipe feels light enough for the summer, although to be fair it's a great comfort food for the British summer, which is currently bucketing it down outside my window as I type!
Alongside being a fan of Mexican food I'm obviously a fan of healthy food that tastes delicious and is also incredibly easy to make. This recipe is so utterly simple, just dump a few ingredients into a slow cooker, add a couple more things at the end of cooking and then serve! No endless pots and pans to wash, just a bit of organisation needed in the morning to ensure you have a delicious meal ready for you at the end of the day.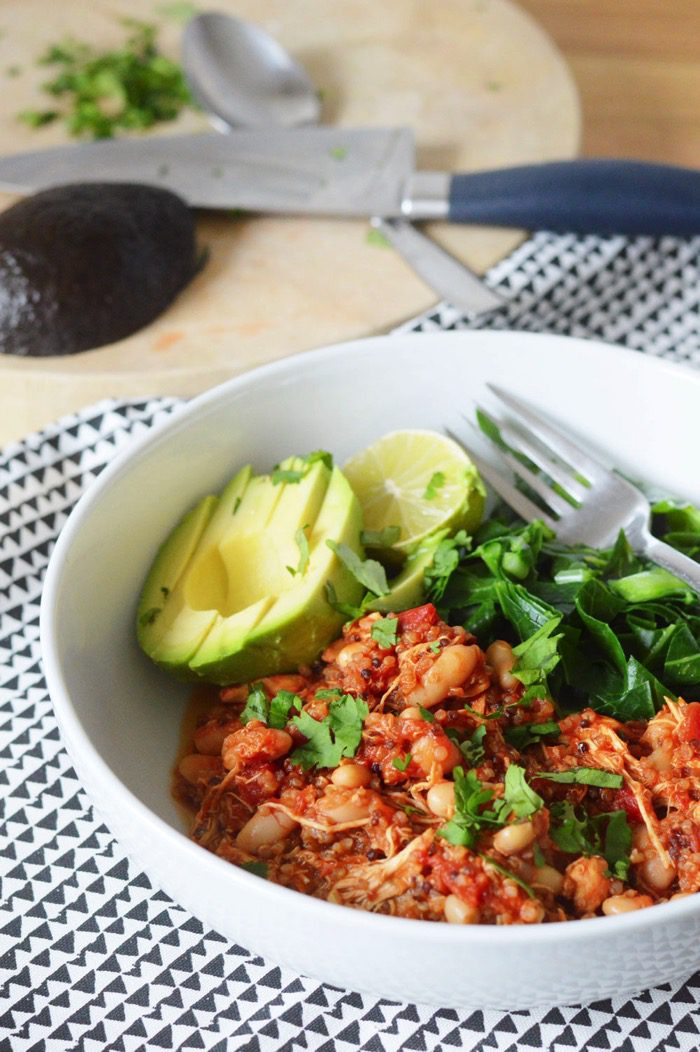 Due to the mix of protein-packed chicken, cannellini beans and quinoa, this recipe is also very filling. It's the perfect weight loss meal!
The chilli is completed with some avocado, a squeeze of lime juice and some fresh coriander and while it's perfectly delicious without these things I urge you to include them as the lime juice especially enhances the taste.

Chicken Quinoa and White Bean Chilli
2015-07-27 12:06:58
Serves 4
Ingredients
2 chicken breasts
1 carton of chopped tomatoes
1 jar of salsa (mild or hot depending on your preference)
1/2 packet of pre-cooked quinoa (I use Merchant Gourmet brand)
OR 1/2 cup of dry quinoa + 1 cup of veg or chicken stock)
1 tin of cannellini beans, drained
To serve
Avocado
Fresh coriander
Limes
Instructions
1. Place the chicken breasts, chopped tomatoes and salsa into a slow cooker (I use a medium size one) - if using dry quinoa, rinse well under running water in a sieve and then add to the slow cooker along with the stock.
2. Set to cook for 6-8 hours on low or 4-6 hours on high.
3. 30 minutes before serving, remove the chicken breasts and shred with forks then add back to the mix. Also add the pre-cooked quinoa if using and the drained beans.
4. Serve with salad or steamed veggies along with a squeeze of fresh lime juice, fresh chopped coriander and avocado.
Wholeheartedly Laura https://wholeheartedlylaura.com/
Do you get much use out of your slow cooker at this time of year? What's your favourite Mexican inspired dish?