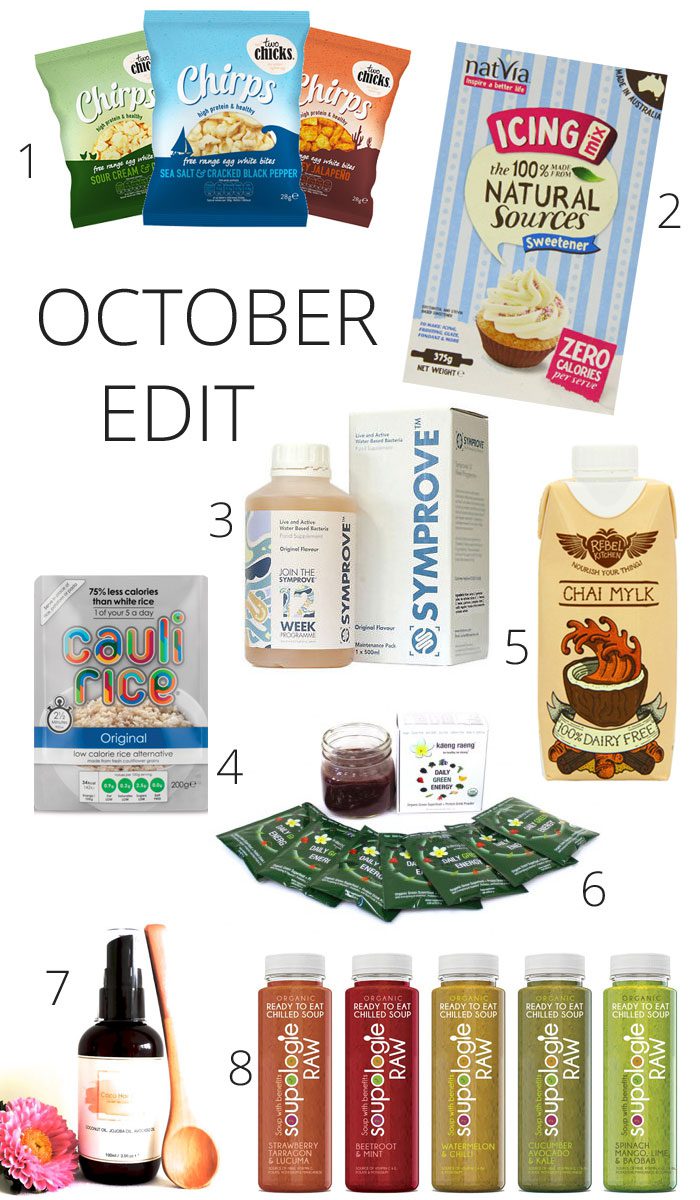 Hey lovelies, time for my usual edit of fab stuff from the month. Here's what I've been loving this October…
1. Chirps High Protein Bites* – These aren't exactly clean eating, but they are certainly a more tasty and more filling alternative to crisps. These bites are made with egg whites from the guys at Two Chicks. The flavours are great too, definitely a good choice if you're craving crisps and need something to keep you fuller for longer.
2. Natvia Icing Sugar Mix – I noticed this when I was getting some things from Amazon and knew I had to try it. I used it in my cinnamon roll recipe earlier in the month and it's a great product. Until now there hasn't been any sugar alternative for icing sugar that I've been aware of. Not something you'd want to be eating all the time, but for the odd healthier cupcake, this is a brilliant product.
3. Symprove* – This is a high quality water-based multi-strain live bacteria supplement, designed to help suffers of IBS and anyone who wants to support their gut health. If taken over 12 weeks it's designed to completely regenerate your gut flora. I've only been taking it a couple of weeks so far, but I can feel the benefits. After having to take some antibiotics a few weeks ago, I feel like this is a great supplement for ensuring my gut is healthy. The company also operate a closed Facebook group to support users with digestive health issues.
4. Cauli Rice* – It was going to happen eventually, a company has taken the faff out of making cauliflower rice! I really wasn't sure how these would work not being fresh, but the cauli rice is well preserved in those packets and microwaves up a treat. Definitely a useful thing to have in the cupboard if you are dialling it up!
5. Rebel Kitchen Chai Mylk – I'm so obsessed with chai flavour at this time of year and I've been drinking plenty of this as well as making my chai porridge with it for cold mornings!
6. Daily Green Energy from Kaeng Raeng* – This is a daily green powder supplement designed to boost your energy and vitality. Safe to use during pregnancy and breastfeeding, it contains fruit and vegetable extracts, ginger, vegan pea protein and probiotics. I've been trying to have one every other day in a non-icy smoothie (I don't like drinking ice cold things at this time of year!) and it's definitely helping to take the edge off my tiredness at the moment!
7. The Hippy Bee Collection Coco Hair Elixir* – All of the Hippy Bee collection is lovely (I especially love the little bamboo spoon for your coconut oil!) but I really love the hair oil which includes coconut, jojoba and avocado oils for really soft hair. I've been putting it on and leaving overnight then washing as normal in the morning for super soft, nourished hair.
8. Soupologie RAW chilled soup* – I was already a big fan of Soupologie's regular soups so was quite intrigued by their chilled soups. They are quite thick in the bottle and definitely have a unique taste, but make a refreshing change to super sweet smoothies. I loved the spinach, mango and lime and even Finley loved the beetroot and mint!
What new products have you enjoyed this month?
Items marked * are PR samples which I received with no obligation to feature.