The humble potato has taken quite a bashing over the last few years. Cast out by carb phobics or sidelined by whole grains, poor potatoes have become a missing ingredient. However, potatoes are making a comeback, and for good reason. Naturally fat, sugar and gluten free and a great source of vitamin C, potassium and fibre, potatoes pack an awesome nutritional punch. They're also affordable, versatile and locally grown, not to mention absolutely delicious! The range of British grown varieties are impressive, there's no limit to the ways you can incorporate them into your diet in a really healthy way.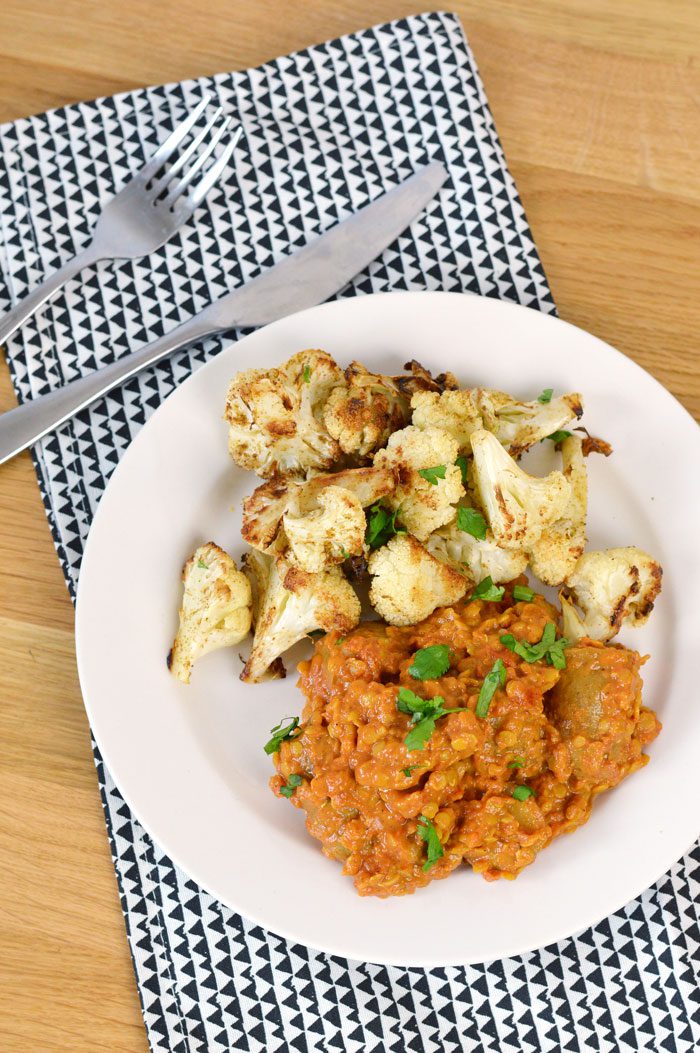 Remember, we do need carbohydrates in our diet, especially those of us that are active. Potatoes are an excellent choice due to their versatility, taste and nutritional profile. Plus, if you have little ones (and sometimes bigger fussy husbands!), you'll find they love potatoes! Rather than pasta, which is a processed food, potatoes are whole and natural and can be a superfood in their own right when prepared healthily. Gone are the days when potatoes just meant chips or baked and slathered in butter.
I was asked to create a delicious recipe using potatoes for the Potatoes: More than a bit on the side campaign. I was spoiled for choice, I love potatoes fried up in a hash and topped with a fried egg, in a thick frittata or in a salad. Recently my favourite way to eat them has been adding them to a curry, which might sound a bit strange, but think of dishes like bombay potatoes. It just works!
This recipe is really straight forward with minimal ingredients and could easily be prepared for a tasty week night meal. I choose lovely little Anya potatoes for this, but any potato would work well, new potatoes and jersey royals would be perfect.
It's very family friendly and brilliant if you're on a budget as well. Any leftovers keep in the fridge well for a few days.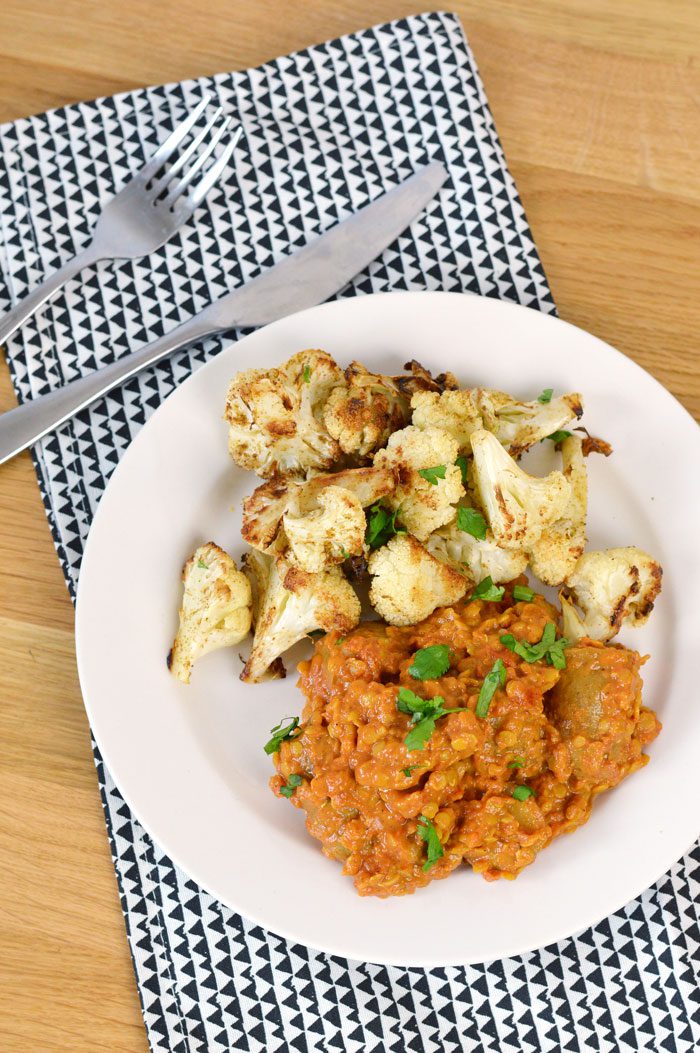 Potato and Lentil Curry (with cumin roasted cauliflower)
2015-10-12 15:47:48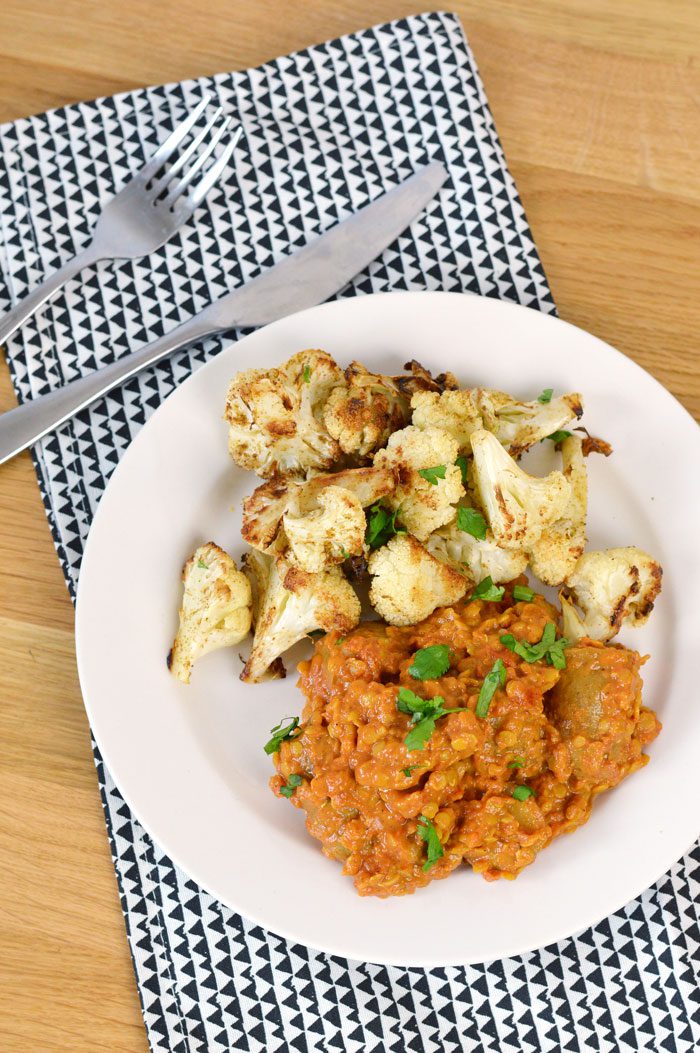 Serves 4
Ingredients
500g of potatoes (I used Anya, new potatoes would also be fine)
1 tbsp of oil
1 medium onion
2 tbsp of mild curry powder
100g / 1/2 cup of dried red lentils
400g carton of chopped tomatoes
250ml / 1 cup of water
4 tbsp of tinned coconut milk
For the cauliflower
1 head of cauliflower
1 tbsp melted coconut oil
1/2 tsp of cumin
Fresh coriander to serve
Instructions
1. Slice the potatoes in half and place in a steamer basket or a pan. Boil or steam until tender, about 30 minutes.
2. Meanwhile, prepare the cauliflower by chopping into small florets. Add to a tray with the oil and sprinkle over the cumin and toss to coat. Roast for 40 minutes at 200c
3. Add the oil to a large pan over a medium heat. Finely chop the onion and add to the pan with the curry powder. Fry for 2 minutes then add the lentils, tomatoes and water. Cover the pan and simmer for 15 minutes.
4. When the potatoes have cooked, add to the curry along with the coconut milk. Cook for a further 10 minutes uncovered until the curry is thick and creamy. Add salt to taste.
5. Serve with the roast cauliflower and a sprinkle of fresh coriander.
Wholeheartedly Laura https://wholeheartedlylaura.com/
The lentils are thick and creamy, and served along with the roast cauliflower, there's no need for additional rice. For a one pot meal, just add the cauliflower straight to the pan with the lentils.
More lovely potato recipes can be found on the Potatoes: More than a bit on the side Great Britain website and the Potatoes: More than a bit on the side Irish website.
Are you a potato fan? Have you ever avoided potatoes? Have I convinced you to give them ago again?