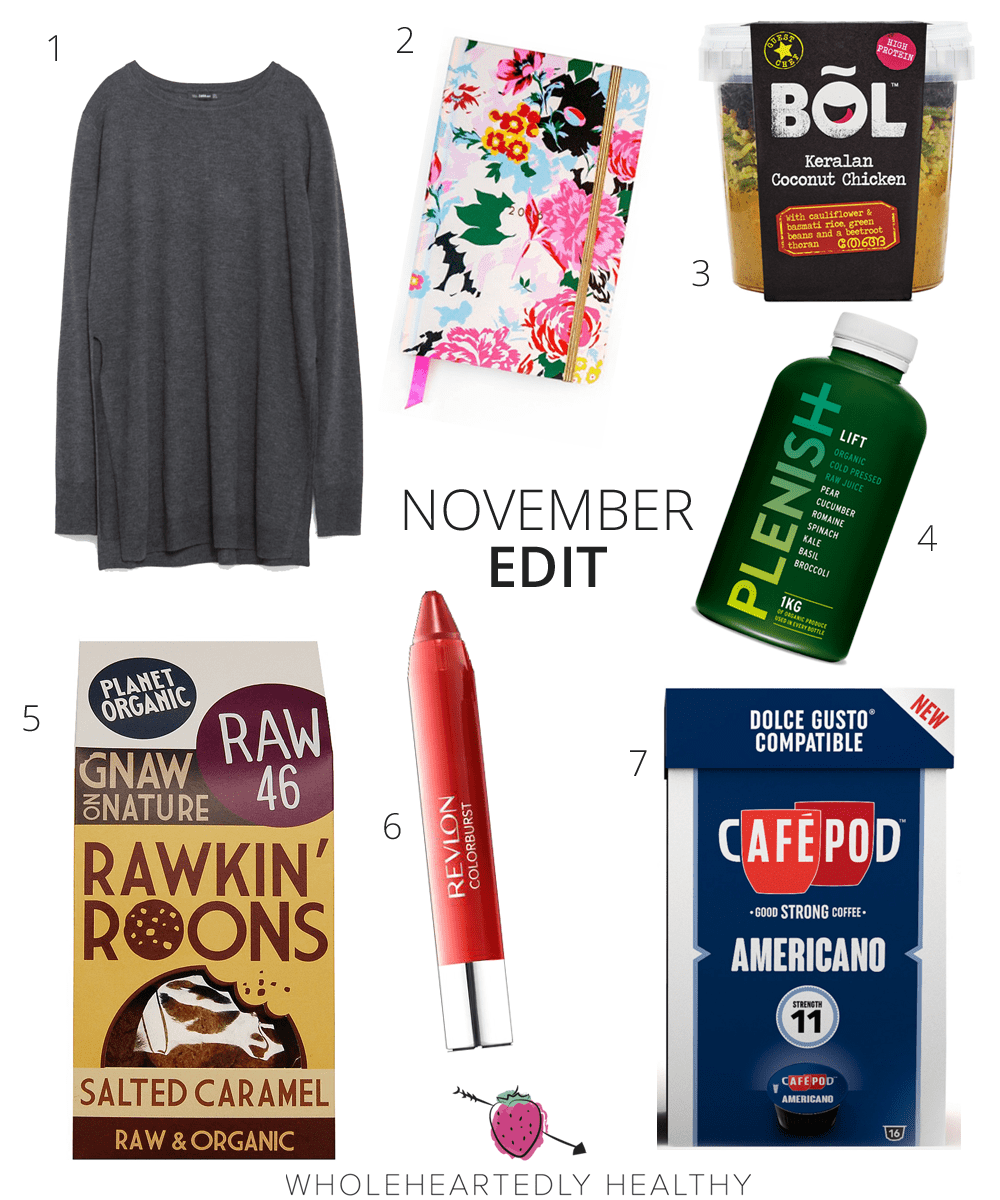 Hey lovelies, time for yet another edit of all my fave stuff from the past month!
1. Zara Oversize Jumper – This jumper and to be honest jumpers in general. I've been loving them for obvious reasons this month. I do love a good oversize one to snuggle up in.
2. Ban.do Agenda – I mentioned this when I shared my top planners for 2016 but it deserves another mention here as I've been really putting it to good use this month getting my planning shizzle on.
3. BOL Chicken Pots* – I've always been a big fan of the BOL (previously known as Innocent) veg pots so was excited to try their more protein rich chicken versions. I really love these, they are so handy for a healthy option in a hurry.
4. Plenish Juices* – Usually I'm not a huge juice person at this time of year, however I've had a major green juice craving and these arrived just in time. They are smaller bottles of Plenish cold pressed juices, now on sale in selected Waitrose Stores. What I like about these is that they are 'proper' green juice, not too sweet and heavy on the fruit content so they feel really light, healthy and cleansing.
5. Rawkin' Roons* – I was very lucky to be sent a box full of Planet Organic goodies (all of which were delicious) but the stand out item was these raw salted caramel macaroons. Talk about yum!
6. Revlon Colour Burst Balm – You guys know that I love my red lipstick, but for everyday wear it's a bit full on. I feel like I have the kind of complexion that really needs a bit of colour so I was chuffed when I finally discovered a balm that gives my lips some red colour and actually stays on longer than 2 minutes. It's not natural at all unfortunately (I'll keep looking for a more natural alternative) but for now this is great.
7. Cafe Pod – One of the best things about staying at my parents is the fact that they have a Dolce Gusto Coffee machine and I have to admit I've become a little addicted. I try and stay away from the sugary lattes and instead I've fallen in love with these plain coffee pods which I drink with an added dash of hot water (I set the machine to the highest settling) and a dash of full fat organic milk. Coffee heaven!
What new products have you enjoyed this month?
Items marked * are PR samples which I received with no obligation to feature.