Ah, good old tasty potatoes! One of my favourite things about spring is seeing small salad potato varieties show up in the supermarket. I've spoken about my love of potatoes before, a good example of which is my Potato and Lentil Curry Recipe.
Potatoes have had a bit of a bad rap over the last few years especially by the carb-avoiders, however potatoes deserve their place as a mainstay in our diets. They're naturally fat, sugar and gluten free and unprocessed. Many different varieties are home-grown which makes them more environmentally sustainable too. They're excellent sources of nutrition being high in vitamin C, potassium and fibre. Plus, they're affordable and readily available. What's not to love?
For those of us that are more active, potatoes are a perfect super food too. Their versatility makes them an ideal ingredient in many dishes. Personally I can't get enough of them mashed with salted butter, mmm!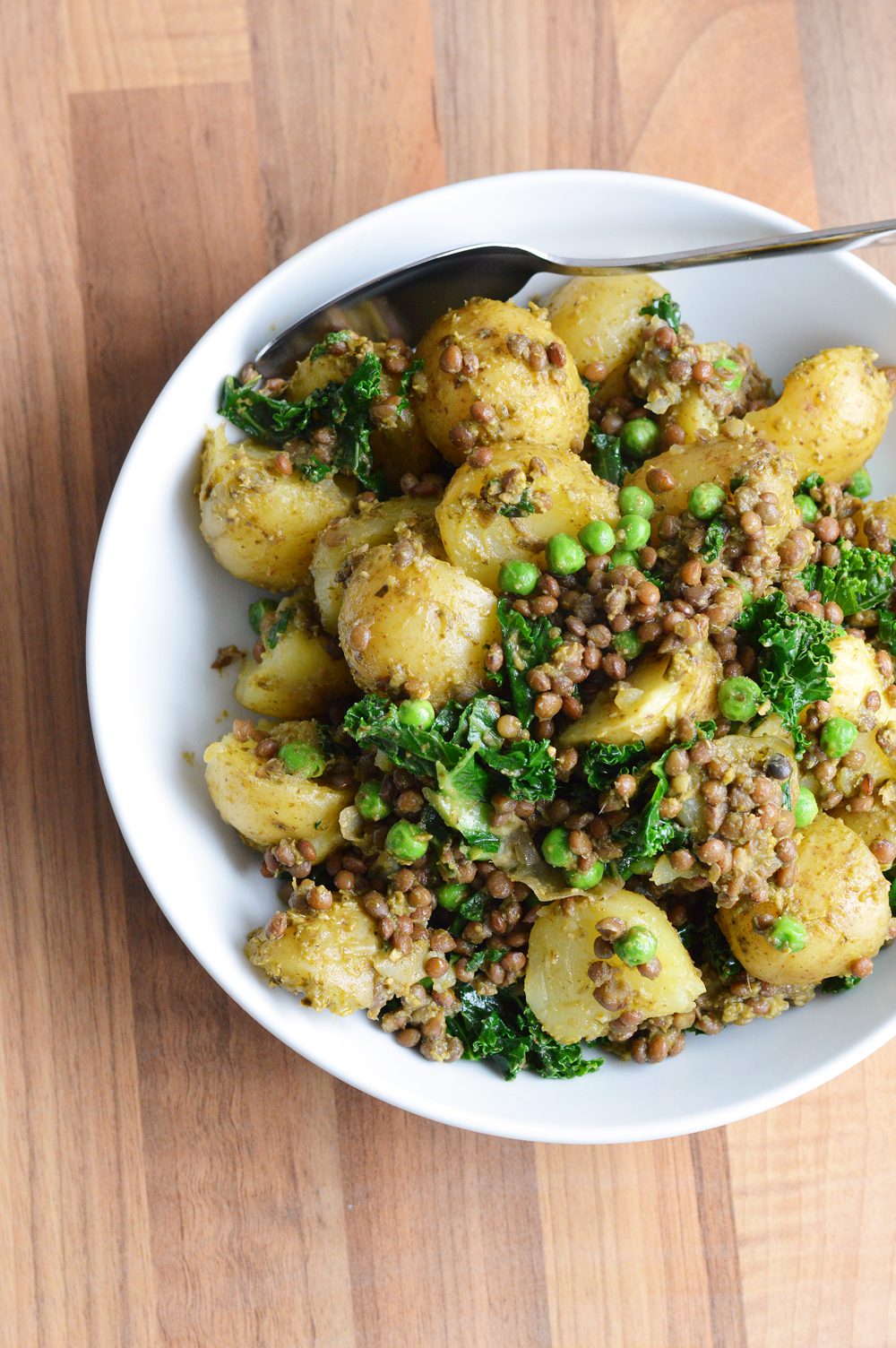 To put potatoes to the taste test, I was asked by the Potatoes: More Than A Bit On The Side campaign to develop a new recipe. With it being spring, I knew I wanted to include some delicious healthy green veggies along with waxy salad potatoes.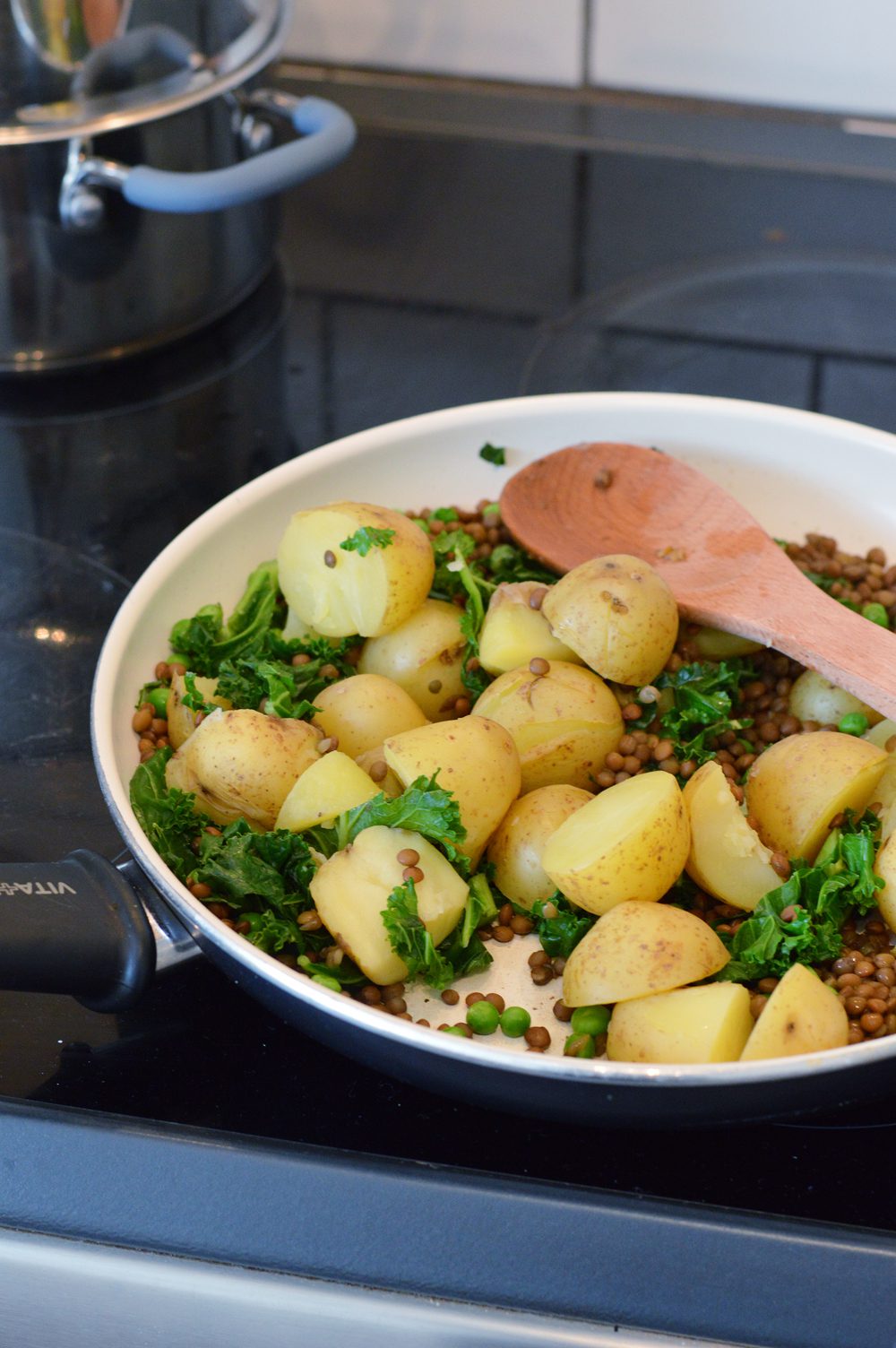 This recipe is so simple and can be whipped together in minutes once the potatoes have been cooked. It's packed with flavour and is vegetarian (vegan if you use a dairy free pesto). It can also be kept in the fridge for a couple of days making it an ideal lunch box treat.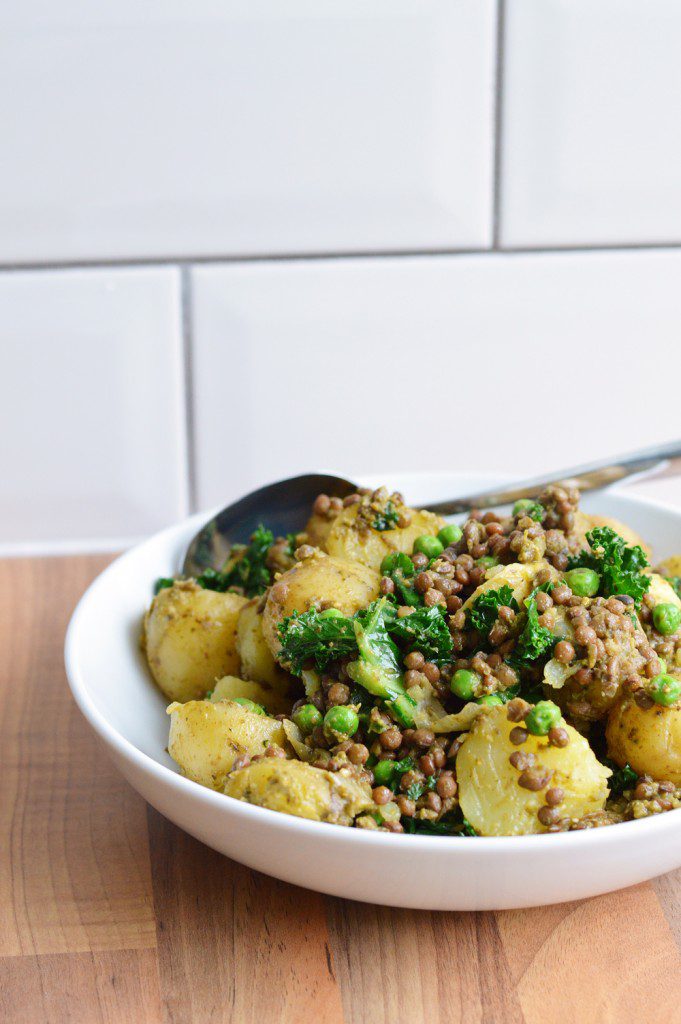 Pesto Potato Salad
2016-04-04 14:50:00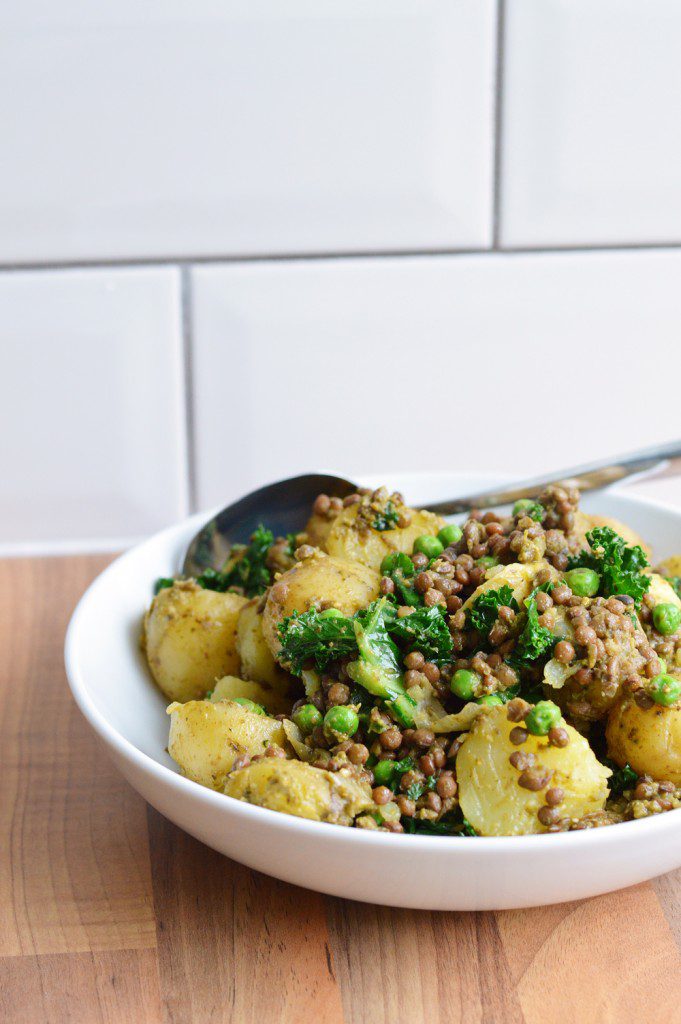 Serves 2
Ingredients
500g of waxy salad potatoes (I used vivaldi)
70g / 1/2 cup of frozen peas
2 large handfuls of kale, or shredded green cabbage
1 400g tin of cooked lentils (optional)
4 tbsp pesto (I used a dairy-free basil pesto)
Instructions
Wash and steam or boil the potatoes until tender (I like to cut the bigger ones in half before steaming)
Place the peas and kale / cabbage into a frying pan over a medium high heat with a couple of tablespoons of water and steam cook until the kale is bright green and wilted and the peas are cooked.
Drain the lentils if using and add to the pan along with the potatoes.
Add the pesto and toss with the rest of the ingredients until the potatoes are well coated.
Serve warm, or chill in the fridge.
Notes
Ideal for lunch boxes, the salad will keep in the fridge for 3-4 days.
Wholeheartedly Laura https://wholeheartedlylaura.com/
I added the lentils to this version to provide some extra filling protein, but feel free to omit the lentils and mix in another kind of legume or even some bits of roast chicken.
To find out more about the Potatoes: More Than A Bit On The Side campaign as well as lots more recipes, check out the Love Potatoes website.
Are you a fan of potatoes? Do you have a favourite variety? How do you enjoy eating them?
*post in collaboration with Potatoes: More Than A Bit On The Side Campaign