I'm a big fan of breakfast, in fact I think it's fair to say it's my favourite meal of the day. Unfortunately since becoming a mama I don't always get to enjoy a relaxed breakfast, sometimes Finley wants to play, breastfeed (still!) or is just in one of those clingy moods. Whilst I'm now talented in making porridge and a cup of coffee with one hand, the other one cradling a toddler on my hip, sometimes I do just want something that I can eat easily with no prep which tastes good, fills me up and has some protein in it.
Having a source of protein in each of my meals is one of my 10 commitments for a healthy balanced life, but most grab and go options tend to be lacking. I could make up a batch of my baked oats and enjoy that cold from the fridge, or opt for a shop bought protein breakfast bar, but I wanted to experiment with creating something different.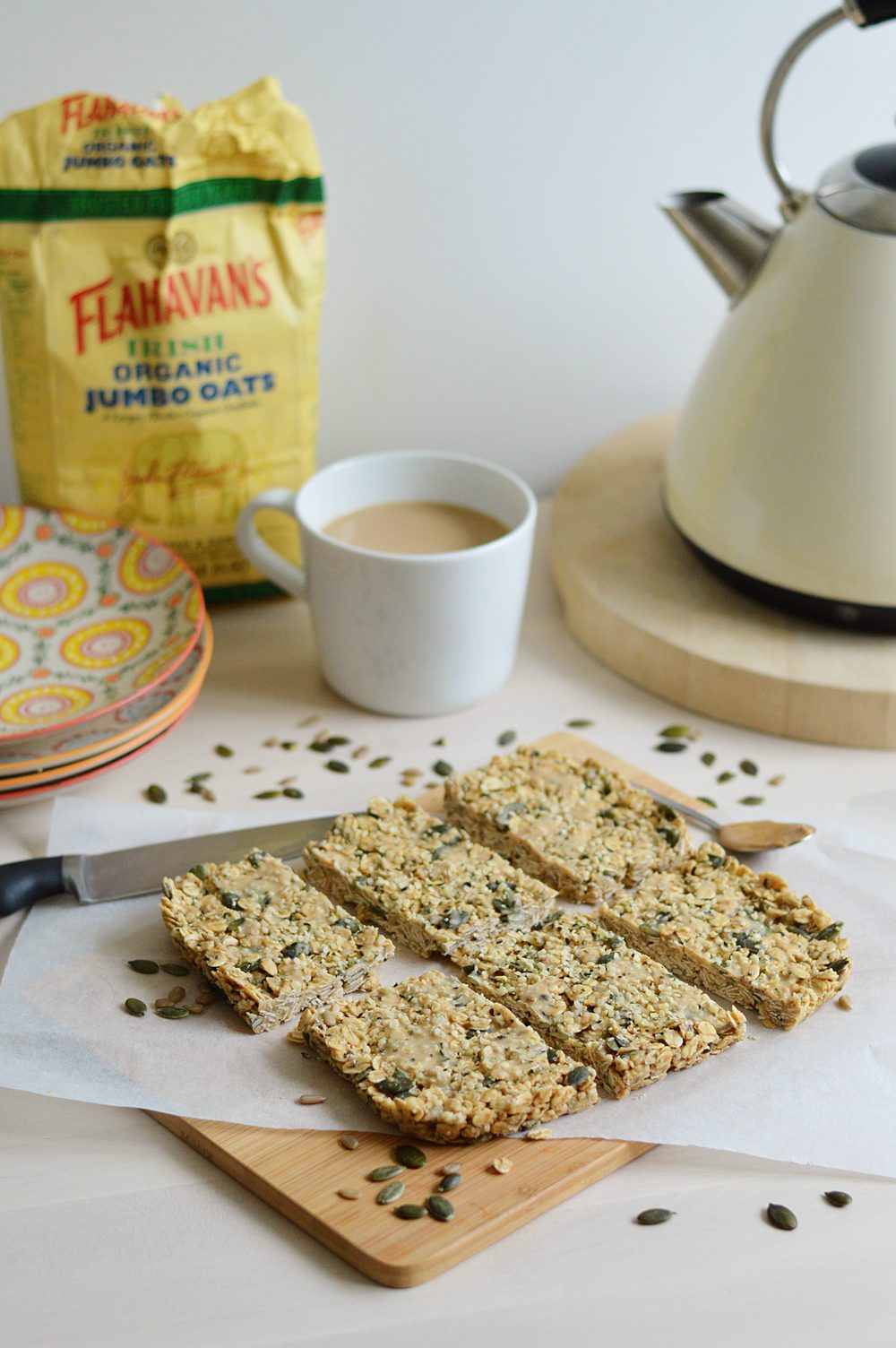 As I have found myself relying on bars in the mornings these last couple of weeks, I thought I'd get to work creating a higher protein breakfast bar option that I could stash in the freezer for when needed. I didn't want to use expensive protein powders either, just more common ingredients. Whilst coconut oil, chia seeds and hemp seeds aren't in everyones cupboard, a trip to any health food shop or large supermarket should see them available.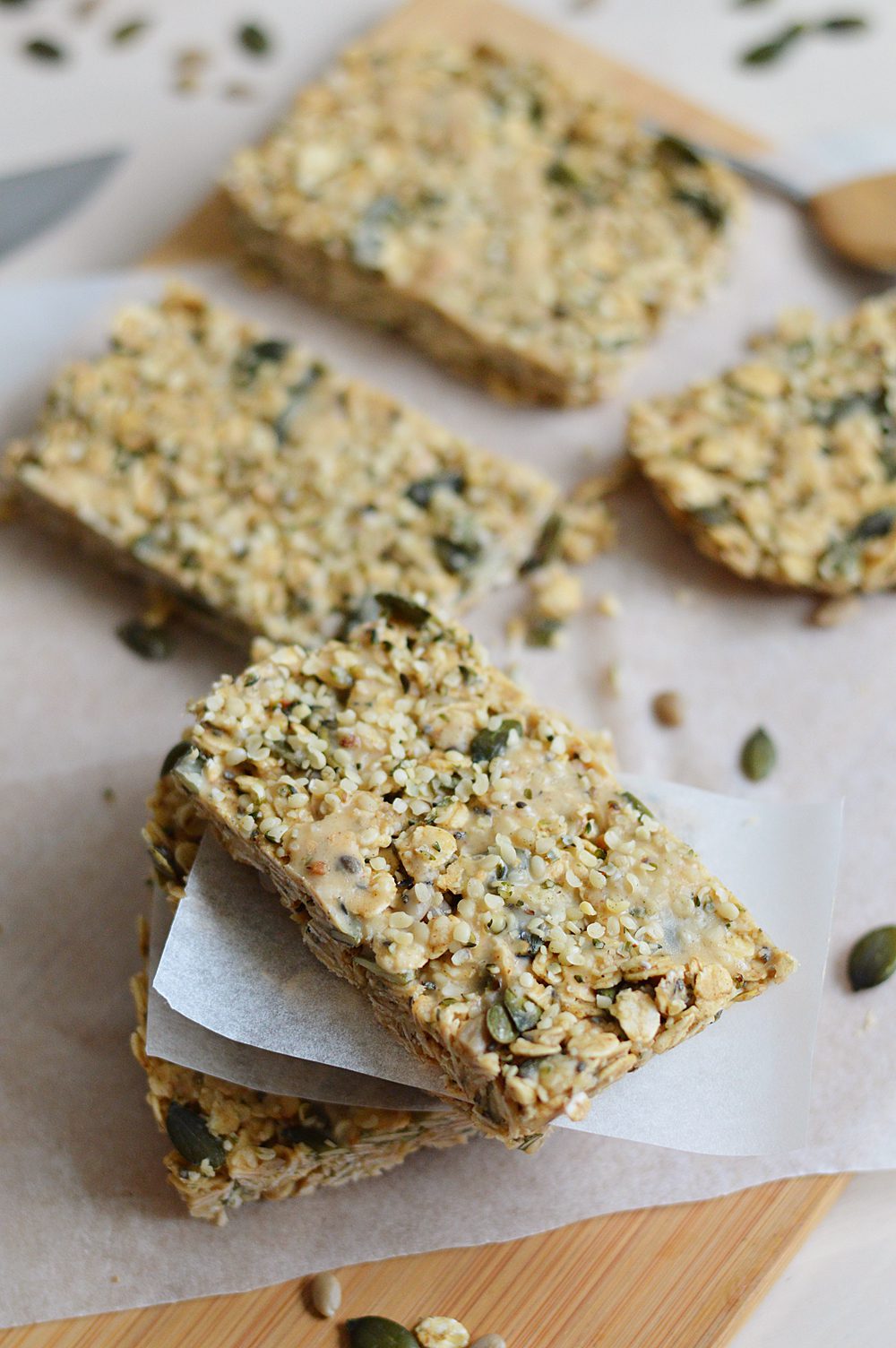 What's also great about these is that they don't require any baking and are nice and simple to make. The recipe is also customisable, try adding different nuts and seeds or even trying a different nut butter in place of the peanut butter. The recipe is totally plant based with the protein coming from the peanut butter, hempseed and chia seeds. Each bar contains 12g of protein which is double a standard date-based snack bar. These aren't a low calorie bar though, they are designed to act as a complete breakfast meal (they're just under 400 calories) but I promise you they'll keep you full for hours!
I make a batch of these and then wrap in foil to keep in the freezer, that way I'm never caught without a decent healthy filling breakfast option!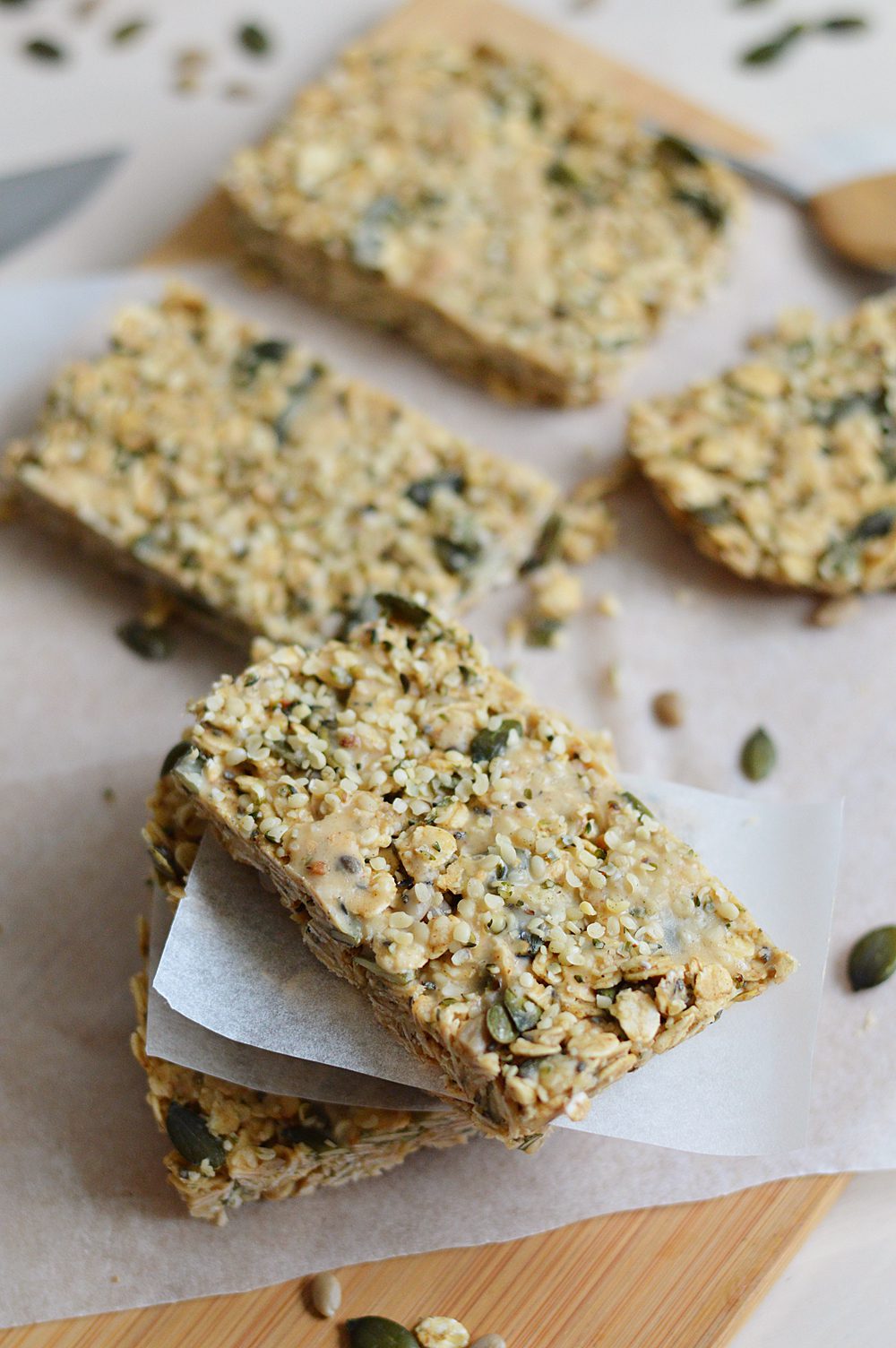 Peanut and Seed Breakfast Bars
2016-07-13 12:59:45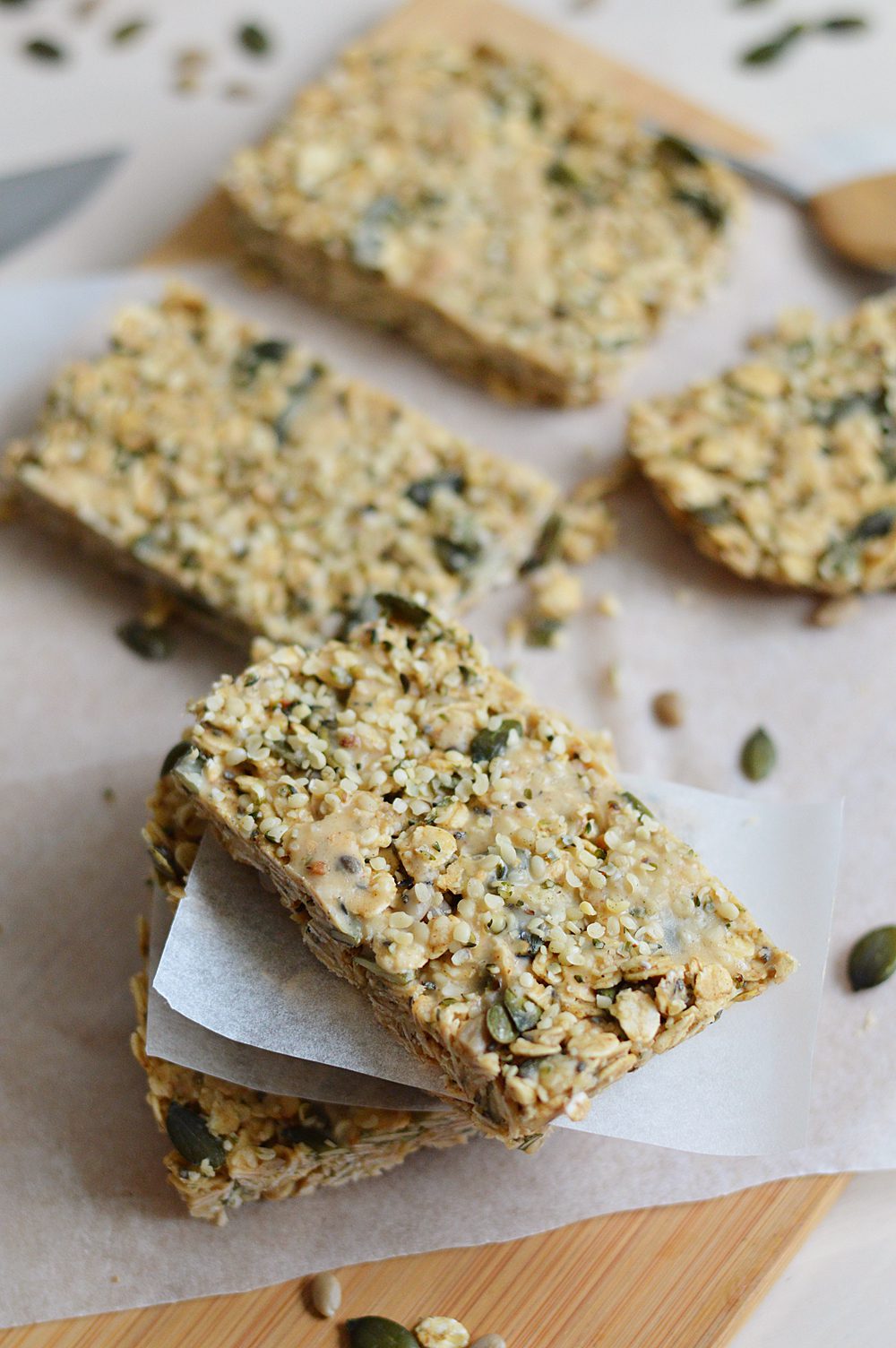 Ingredients
1/4 cup (60g) peanut butter
1/4 cup (60g) rice malt syrup (or honey if you aren't vegan)
1/4 cup (50g) coconut oil
1 1/2 cups (120g) jumbo oats
1/2 cup (60g) shelled hemp seeds
2 tablespoons chia seeds
2 tablespoons pumpkin seeds
2 tablespoons sunflower seeds
Instructions
Prepare a baking tin with a lining of clingfilm (I used an 8x8 brownie pan)
Melt the coconut oil and combine with the peanut butter and honey. Mix well until smooth.
Add the oats, hemp seed, chia seeds, pumpkin seeds and sunflower seeds and mix well to combine.
Transfer to the lined pan and press the mixture down with the back of a large spoon.
Refrigerate (or freeze if you're impatient like me!) until the mix is solid. Remove from the tray and slice into 6 bars.
Notes
Will keep in the fridge for up to a week or the freezer for 6 months, wrap in foil to keep fresh.
Rice malt syrup can be switched for honey or maple syrup.
Wholeheartedly Laura https://wholeheartedlylaura.com/
Do you love a leisurely breakfast or do you have to eat on the go?