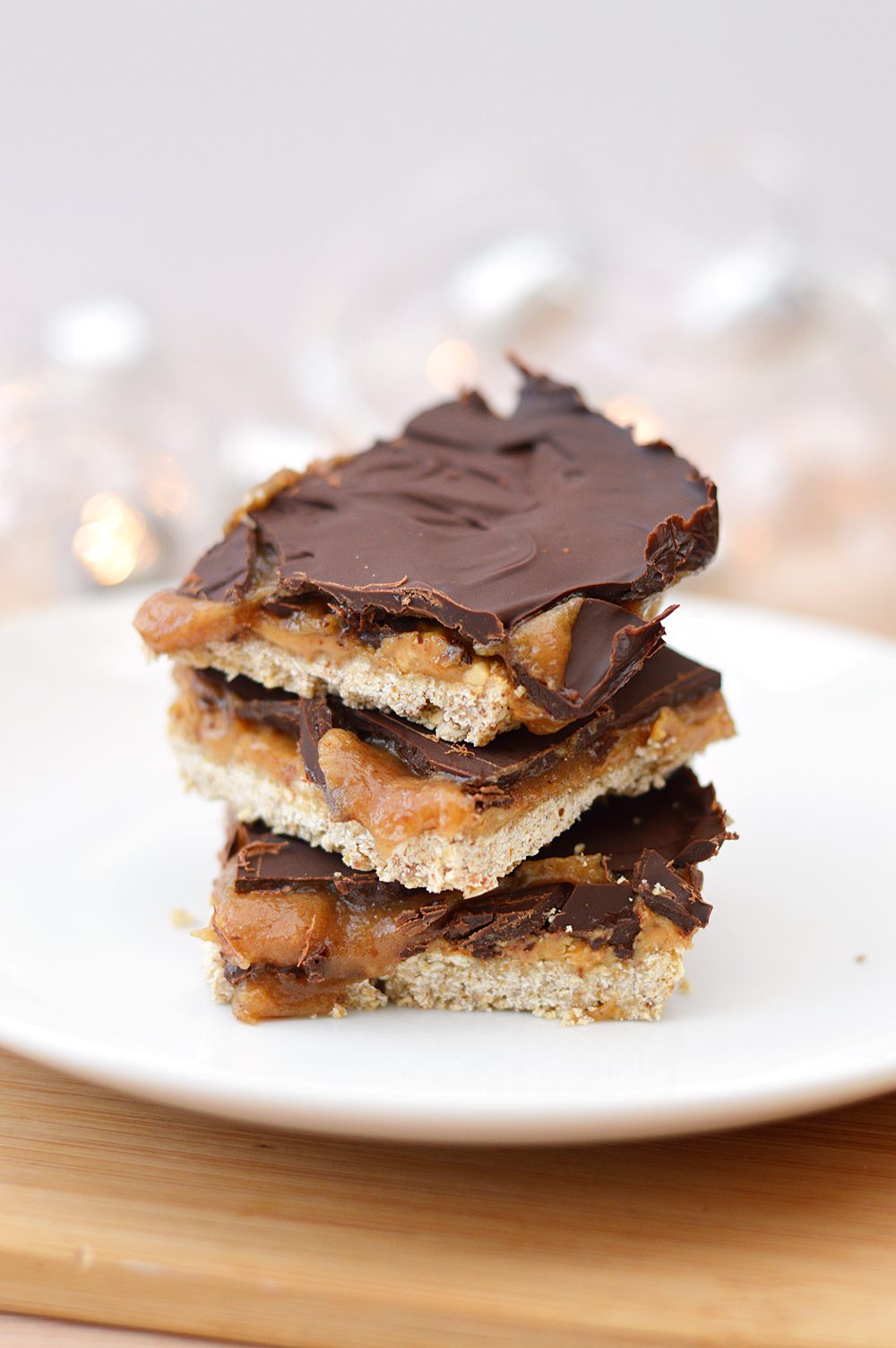 About this time of year I start getting so excited for the festive season and all the amazing food that comes with it. Thankfully I no longer find myself going crazy on it – now that I'm so much more relaxed around food all year round there's no need to stuff myself silly come Christmas.
I really try and stay away from old thought patterns about food 'rules' so if I want a processed, sugar laden cinnamon roll from Starbucks I'll have one. But then again, sometimes I prefer my own homemade version, and while all sugar is sugar, it does feel lighter and more nourishing to eat something homemade – all still in moderation.
This healthy salted caramel slice was inspired by one of my older recipes for Raw Millionaires Shortbread. That recipe is still delicious but looking at the ingredients list tells you everything you need to know about how I've changed my style of eating: no more lucuma and here I'm using good old dark chocolate instead of raw chocolate.
To be honest, most of the time when it comes to foods like this, I'd just choose the full sugar, full dairy version and eat one with absolute glee. However, I eat these with just the same enjoyment – they taste as good as any other caramel shortbread recipe in my opinion, are simpler to make yourself and are higher in fibre as a pleasant side effect.
These are healthier but not for healthier's sake, if that makes sense.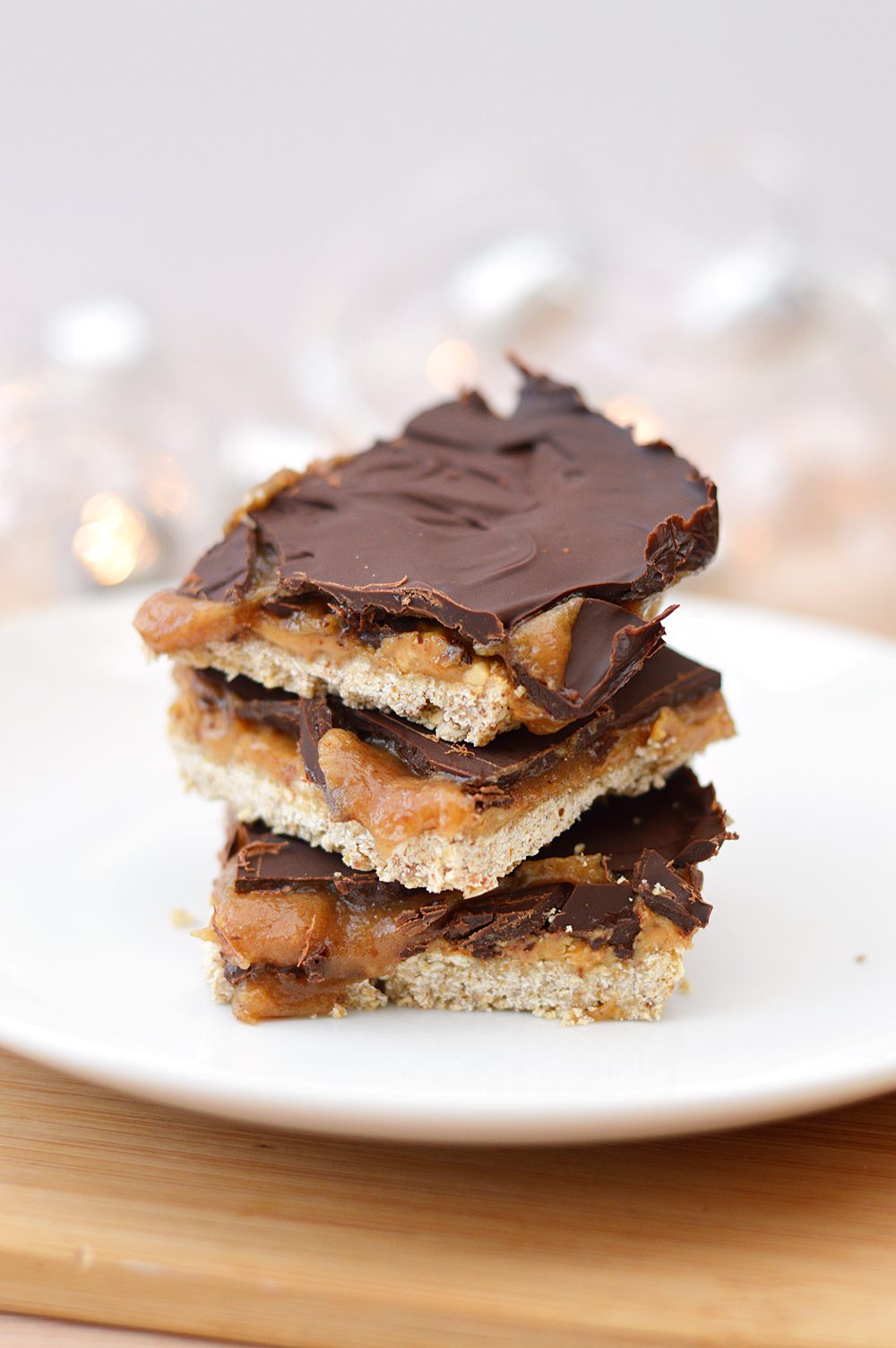 Salted Caramel Shortbread
2016-11-16 12:58:47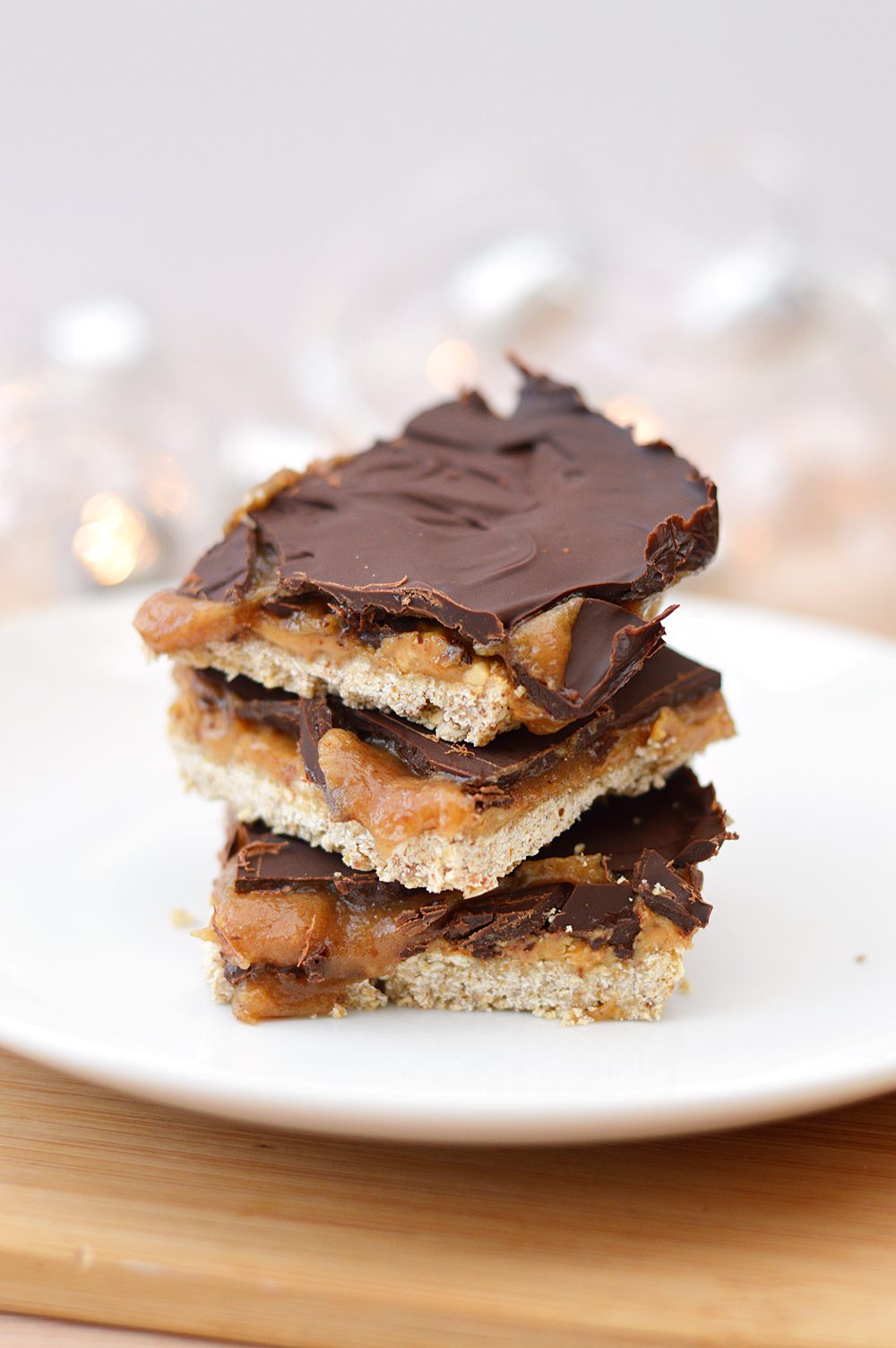 Ingredients
250g / 2 cups dates
1/4 teaspoon salt
160g / 2 cups porridge oats
2 tablespoons brown sugar or coconut sugar
6 tablespoons coconut oil
100g / 1/2 cup peanut butter
150g dark chocolate
Instructions
Line an 8x8 baking tray with cling film.
Place the dates in a bowl and cover with water. Leave to soak for at least an hour.
Place the porridge oats and sugar into a food processor or blender and pulse until it becomes a flour. Melt the coconut oil and mix with the oat flour and sugar. Transfer to the lined baking tray and press down to form the base. Refrigerate while the dates soak, until it's hardened.
Once the base is firm remove from the fridge and spread the peanut butter on top.
To make the salted date caramel drain the dates, reserving the soaking water, and add to a blender or food processor along with a few tablespoons of the soaking water. Process until a smooth caramel has formed, adding more soaking water as needed. Add the salt and mix again before spreading on top of the peanut butter.
Return to the fridge while you melt the chocolate. Once the chocolate has melted, carefully pour and spread over the top of the caramel.
Return to the fridge until the chocolate has set then cut into 9 squares and enjoy!
Notes
Will keep in the fridge for up to a week (if they don't get eaten first!)
Wholeheartedly Laura https://wholeheartedlylaura.com/
The date caramel in this healthy salted caramel slice is deliciously gooey and the chocolate will crack when you cut them up, but I just think that adds to their rustic charm!
Do you have a recipe you always make at this time of year? Do you think 'healthified' recipes taste as good as the traditional version?