Wowsas, this month has flown over! I'm feeling pretty unprepared for the festive season, I'm really going to have to get my arse in gear! It has been a lovely month though, after all the excitement and busyness of October it's been beautifully chilled out.
DOING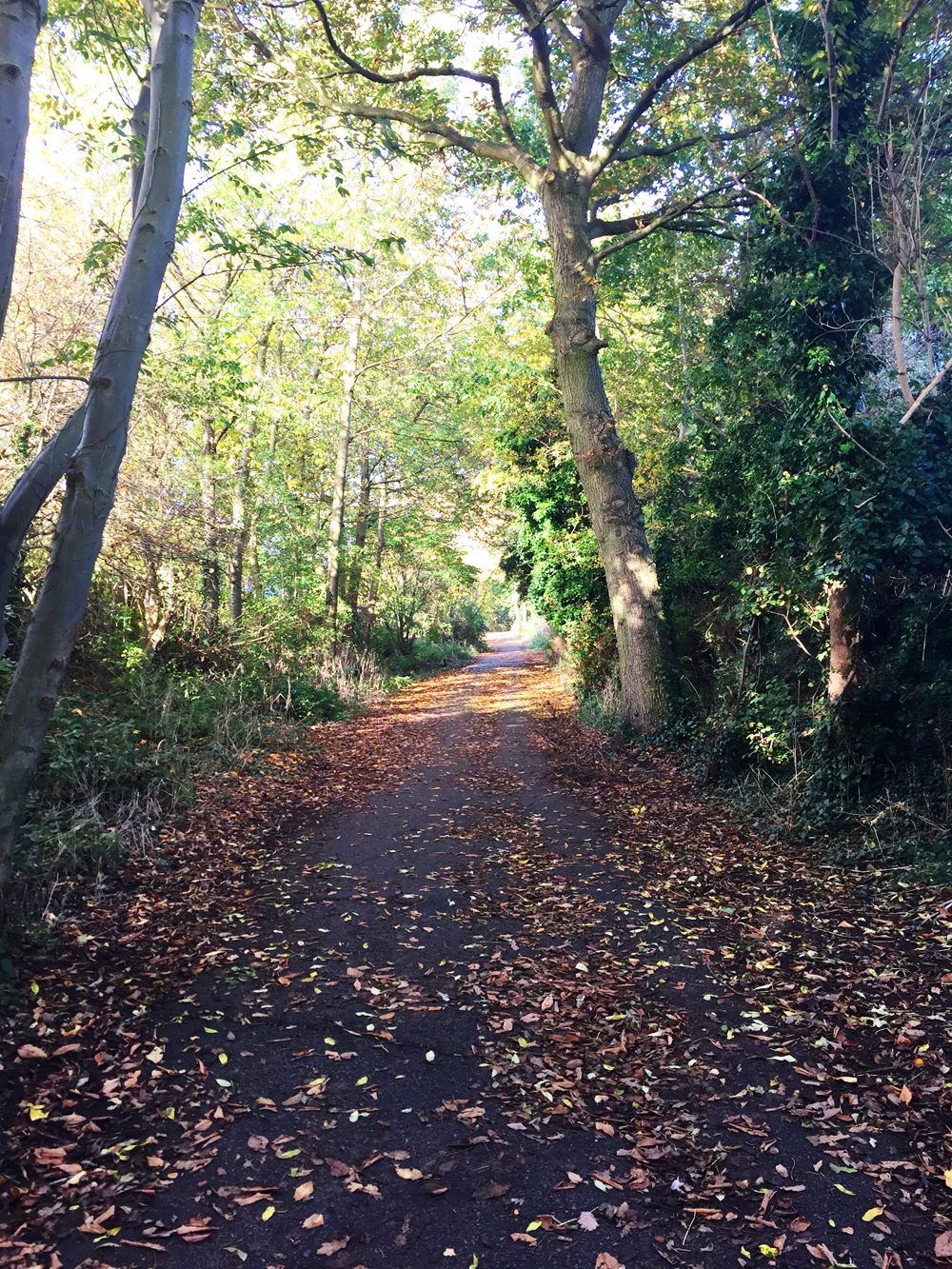 I've actually done very little this month which was much needed. I've been loving my beautiful autumn walks though, sometimes alone and sometimes with Finley on his trike. I find it so relaxing.
EATING
When I looked at my phone I realised I've hardly taken any pics of my food at all! I think because I've been in a nice groove, as well as creating exclusive Balance Club only recipes, I haven't been pulling my phone out as often. Here's a couple of things I did get: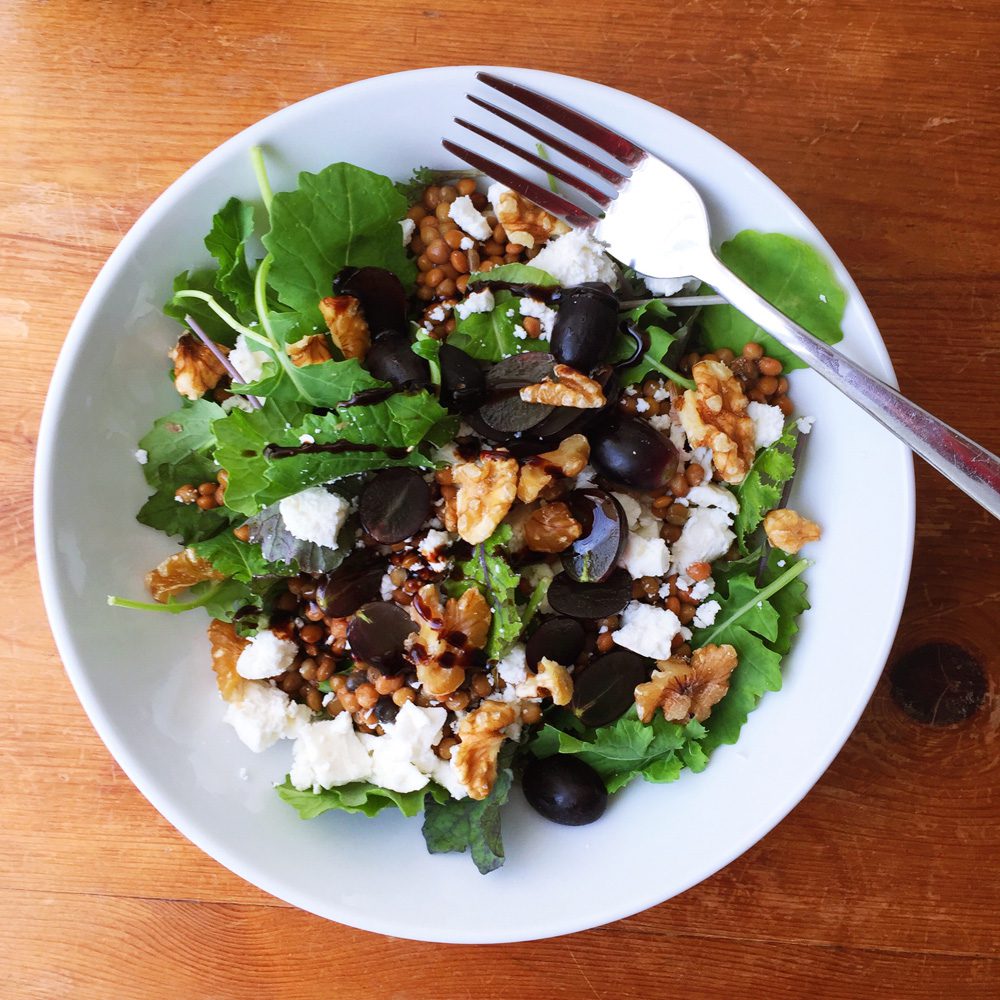 This salad was so good, with baby kale, lentils, feta, walnuts, grapes and balsamic! I've eaten quite a few salads like this when the weather hasn't been freezing. I've also been eating a lot of simple lentil soup!
One of my goals this month was to keep an eye on how much coffee I was drinking and I'm glad to report that most days I've just been having the one. This was an amazing flat white from Flat White Coffee in Durham.
REVIEWING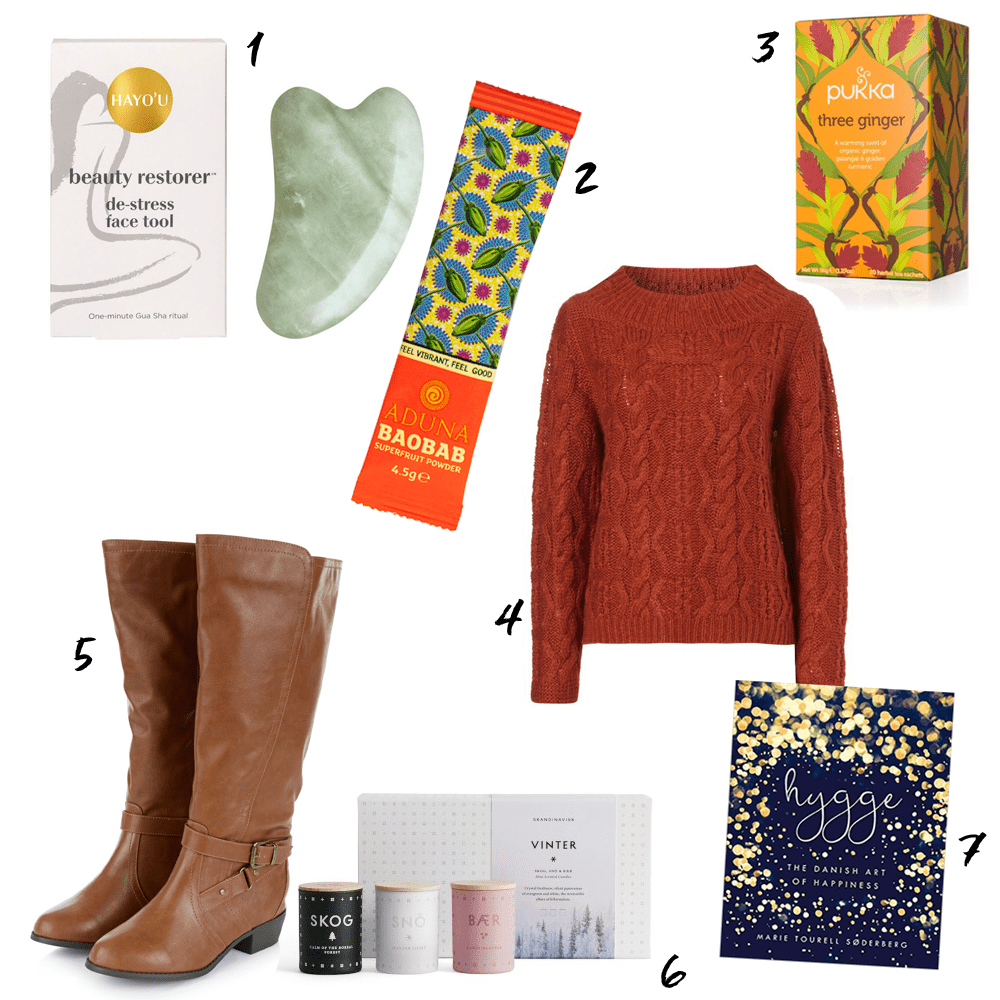 1. Hayo'u beauty restorer and face oil* – I was sent a selection of these products to try and I'm completely converted! The beauty restorer tool is used to massage your face to relieve stress, help the skin to process toxins and plump up. I use it every night now with some facial oil and my skin's never been better!
2. Aduna Baobab Powder* – while I'm not one for crazy superfood powders anymore, baobab has some impressive qualities for this time of year such as being high in vitamin C. I've been stirring it into my porridge for a boost.
3. Pukka Three Ginger Tea – I am just in love with this tea right now, it has such a sweet and mellow spicy taste.
4. Tu at Sainsbury's rust coloured jumper – I've been refreshing my wardrobe a little this month and picked up this cheap but cheerful winter jumper from Sainsbos. To be honest I almost returned it as I thought it might be too thick to get much wear out of. I couldn't have been more wrong! For days when it's really cold I've felt nice and snuggly warm wearing this jumper, plus I love the colour!
5. Tan leather boots New Look – My old boots (also from New Look!) got a hole in them so I ended up replacing them with these lovelies. I don't bother getting expensive boots because they usually end up getting scuffed up, plus I have freakishly wide size 8 feet and New Look has a great range of wide fitting footwear.
6. Vinter candle set from Trouva – My old scented candle burned out so I decided to treat myself to these beauties. I love all of the different scents as well as the packaging which is stunning. I've also just bought a few Christmas gifts and a wall hanging from Trouva as it has such a unique range of products.
7. Hygge: The Danish Art of Happiness – Obviously I'm hygge crazy at the moment and couldn't resist getting another book on the subject. This is a beautiful book which provides another angle (and more stunning pictures) on the trend of the moment, Danish hygge.
STRUGGLING
So at the start of the month we night weaned Finley which means I'm getting a little more sleep (he is still waking for cuddles) so my usual big struggle seems to be improving! But with that it's really highlighted that my energy isn't what it should be so I've had some blood tests done at the docs to identify anything obvious that might be going on like iron deficiency or thyroid issues.
LOVING
I bought myself some tarot cards which I am freaking in love with: The Starchild Tarot. They cost a pretty penny to ship over from Canada but as soon as I saw them I knew they'd be worth it. Each one is like a stunningly beautiful art print and I can see myself using these for years.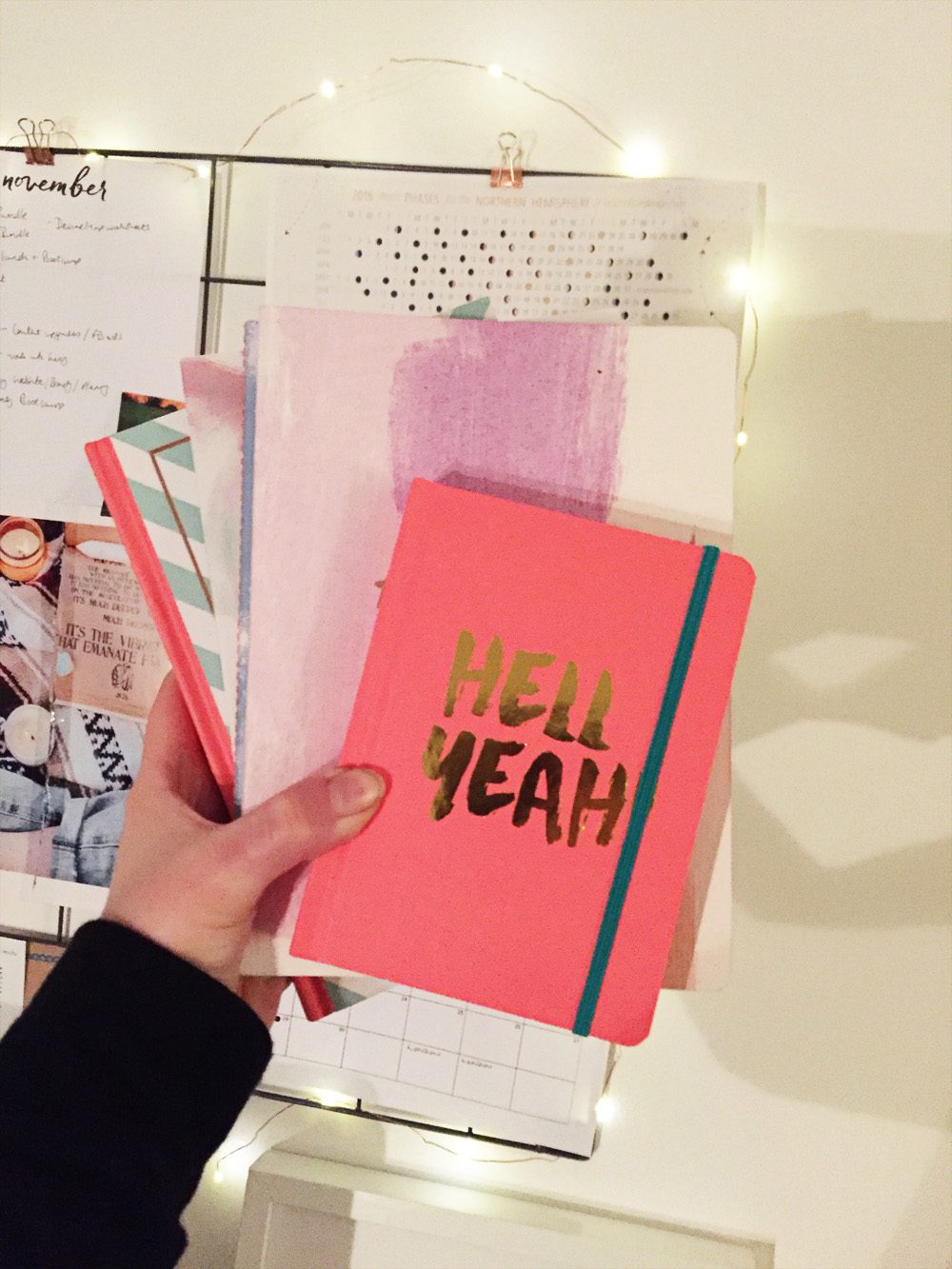 All the notebooks and journals! I spotted these when I was off and stocked up ready for the new year. Stationary porn at its best!
SHARING
My Self Care Routines and Rituals
Why You Need to Fix Your Energy Leaks
Chai Poached Pears with Creme Fraiche
PLANNING
So as it usually goes (well at least for me!) as we approach December I start getting my planning hat on and thinking about what I'd like to be working on in 2017 and what changes I need to make to reach my goals.
There's definitely going to be some changes coming and some big plans to be made. More on that to come soon!
For December my big intention is to really enjoy the festive season. Naturally I'd love a super hyggelit Christmas that feels cosy and relaxing. In line with that and to enable myself to properly prepare for January and plan for 2017 I'll be wrapping up the blog next week to return again in the New Year.
How would you like December and the festive season to feel for you? How was November?