Nairn's Gluten Free Flatbreads
Crispbreads and crackers that fall into the 'healthy' category don't have such a good reputation when it comes to tasting good. I can remember forcing down dry tasteless crispbreads that didn't taste all that satisfying no matter how much hummus I put on them!
However, sometimes you just can't beat a nice cracker with your lunch, and thankfully Nairn's have introduced a new range of Flatbreads to satisfy that cracker craving!
I've always loved Nairn's oatcakes but now they've brought out a new range of flatbreads that are gluten free and also really tasty – seriously they lasted less than a couple of days in our house!
The new range includes Original and Rosemary & Sea Salt, and as these are flatbreads they're bigger than the standard cracker – i.e. you have more room to load them up with delicious toppings!
Each box comes with a couple of packs of crackers so it's easy enough to grab a pack to take to work with you or to keep in the store cupboard. They're gluten free, and unlike many gluten free products these don't contain any less healthy fillers. The ingredients are surprisingly simple with wholegrain oats being the main ingredient.
The flatbreads are really versatile and could be eaten as an accompaniment to soup or salad (or even crunched up like croutons) and served with many different toppings. They're great for lunch or for a snack too and are a brilliant lighter alternative to bread.
Nairn's challenged me to come up with a couple of delicious flatbread toppings to give you some ideas and here's what I came up with:
Avocado, Lime and Chilli
3 Nairn's Original Flatbreads
1 avocado
1/2 lime
1 small red chilli
Pinch of salt
Mash the avocado and combine with the juice from the lime. Deseed the pepper and slice into fine pieces. Spread on top of the crackers and enjoy!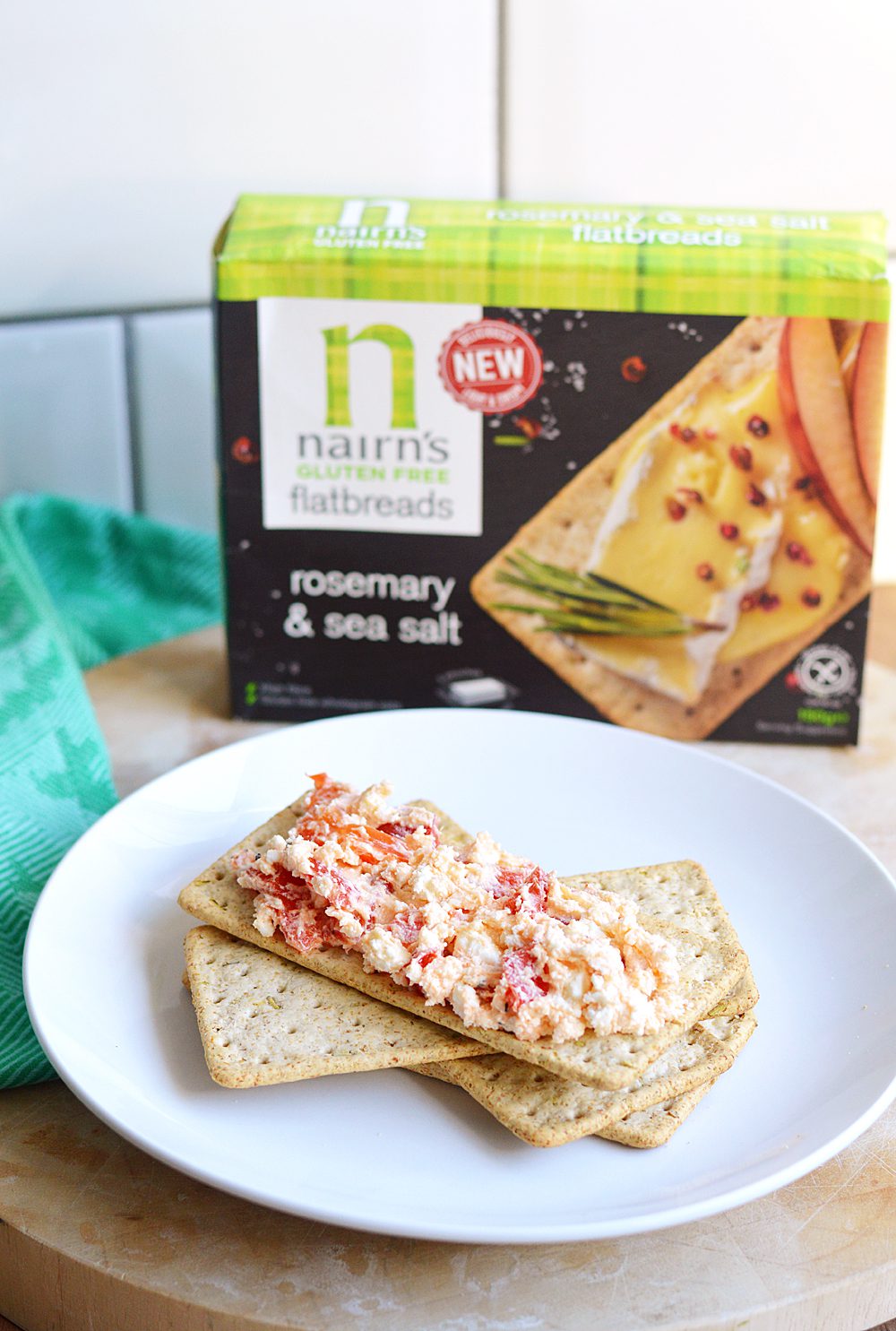 Roasted Red Pepper and Feta
3 Nairn's Rosemary and Sea & Salt Flatbreads
80g of feta cheese
2 large pieces of roasted red pepper from a jar
1/2 tablespoon of extra virgin olive oil
Crumble the feta cheese into a small bowl. Slice the roasted red pepper into small pieces and combine with the feta and olive oil. Spread on top of the crackers and enjoy!
Both of these toppings are so good – you can make up the topping and keep in a container to take to work with you if you're looking for a lunch option – just spread the topping on at work.
To give you a few other topping ideas the Original flavour would go well with peanut butter and banana or apple, cottage cheese, hummus, pate etc. The Rosemary & Sea Salt would go well with cream cheese, tahini, slices of chicken etc.
Whether you're gluten free or not, these are a really tasty option and we'll definitely be having a box or two in our cupboard. James is gluten free and really enjoyed these (although there was only two crackers left by the time he got to them!) Even Finley loved them and I'm always happy to have something like this on hand that he can have with some hummus and a bunch of chopped veggies or some mashed avocado.
For me, I'm always looking for different lunch and snack options to keep my energy levels stable throughout the day and these are a really great option for that!
Nairn's Original and Rosemary & Sea Salt are now available in Sainsbury's stores Nationwide retailing at £1.75.
What do you think of these toppings? How would you enjoy these flatbreads?
*post in collaboration with Nairn's