Hey everyone, it's been a while since I blogged more of a personal update on things but at 31 and a bit weeks pregnant I really wanted to share a bit more about this pregnancy, how it's been different to my first and our birth plans!
I blogged a lot when I was pregnant with Finley (as well as his birth story and first few months) – you can find those posts here if you're interested, you might want to scroll back a bit to find the older ones where I'm pregnant.
22 weeks pregnant
Getting pregnant the second time after hypothalamic amenorrhea
Just to quickly recap, I got pregnant with Finley after struggling with hypothalamic amenorrhea for 2 years. I was on Clomid to help me ovulate (despite having gained back quite a lot of weight) when I finally got pregnant.
I'm happy to say that getting pregnant this time was a whole lot easier. I'm a lot heavier that I was, much more free with food and exercising a lot less than I did in the time before I had Fin (that's what having a child can do!) so my periods returned 11 months after having Fin, and became very regular despite breast feeding him until he was 2 and a half. This time we conceived in 3 months of properly trying.
When I say 'properly trying' I mean it! I was using ovulation sticks and tracking my basal body temperature. At aged 36 (now 37) I was a little bit worried about being 'older' affecting our chances of conceiving and I'm also very impatient! In fact one of the best books I read was The Impatient Woman's Guide to Getting Pregnant (affiliate link) – it's excellent if you're a little older and perhaps have some ideas about time scales and when you'd like things to happen.
Why we decided on a 5 year + age gap
We went with a bigger age gap between our children for lots of reasons. Firstly, after the somewhat traumatic circumstances we faced after Fin was born (he needed open heart surgery for a hole in the heart and was born 5 weeks early) I honestly just needed a lot of time to come to come to terms with that and deal with it emotionally. Finley was also never the best sleeper, and for a long time I felt drained and tired. I felt like I needed a least a few years to get over that, and then have some time where things felt 'normal'
We also weren't 100% sure if we wanted to have another child. This was more James than me, but it meant that we certainly weren't going to rush it. Once Fin was coming round to school age we had more serious conversations about what we wanted and both agreed another child would be wonderful.
Another aspect was the financial considerations. Finley was deferred as a summer born child so that was an extra year in childcare with those associated costs. I also liked the idea of being able to really enjoy Finley on his own, then have him start school and have our second and be able to have more dedicated time with them while he was at school.
Basically for lots of different reasons this age gap was right for us and I'm really happy it's all worked out this way, Finley is so excited to meet his little sister!
This pregnancy so far
Being 5 years older and considerably heavier than I was back then, I was really worried I'd struggle in this pregnancy. I'm happy to say the opposite is true! Apart from some mild nausea in the first trimester and some tiredness and achiness now I'm further on, this pregnancy has been really enjoyable. In fact I feel like I've been less achy than I did the last time!
The biggest difference I've felt this time is in my mental health. I was very anxious last time about everything. This time, maybe because I'm more familiar with how pregnancy feels in my body, I've felt much more emotionally stable. We've also had extra scans to check this baby doesn't have any heart problems and that has really helped too and has been very reassuring.
I also seem to have a much bigger bump this time round too! I know that's often normal in second and subsequent pregnancies, last time I felt a bit paranoid that I was too big, and being even bigger now I surprising actually love it! I love that I look very visibly pregnant and have a big bump to hug!
With Finley being born at 35 weeks, we do have a slight increase in the chances of another preterm birth, but because that's potentially on the cards I think we've been better able to prepare for different possibilities and outcomes.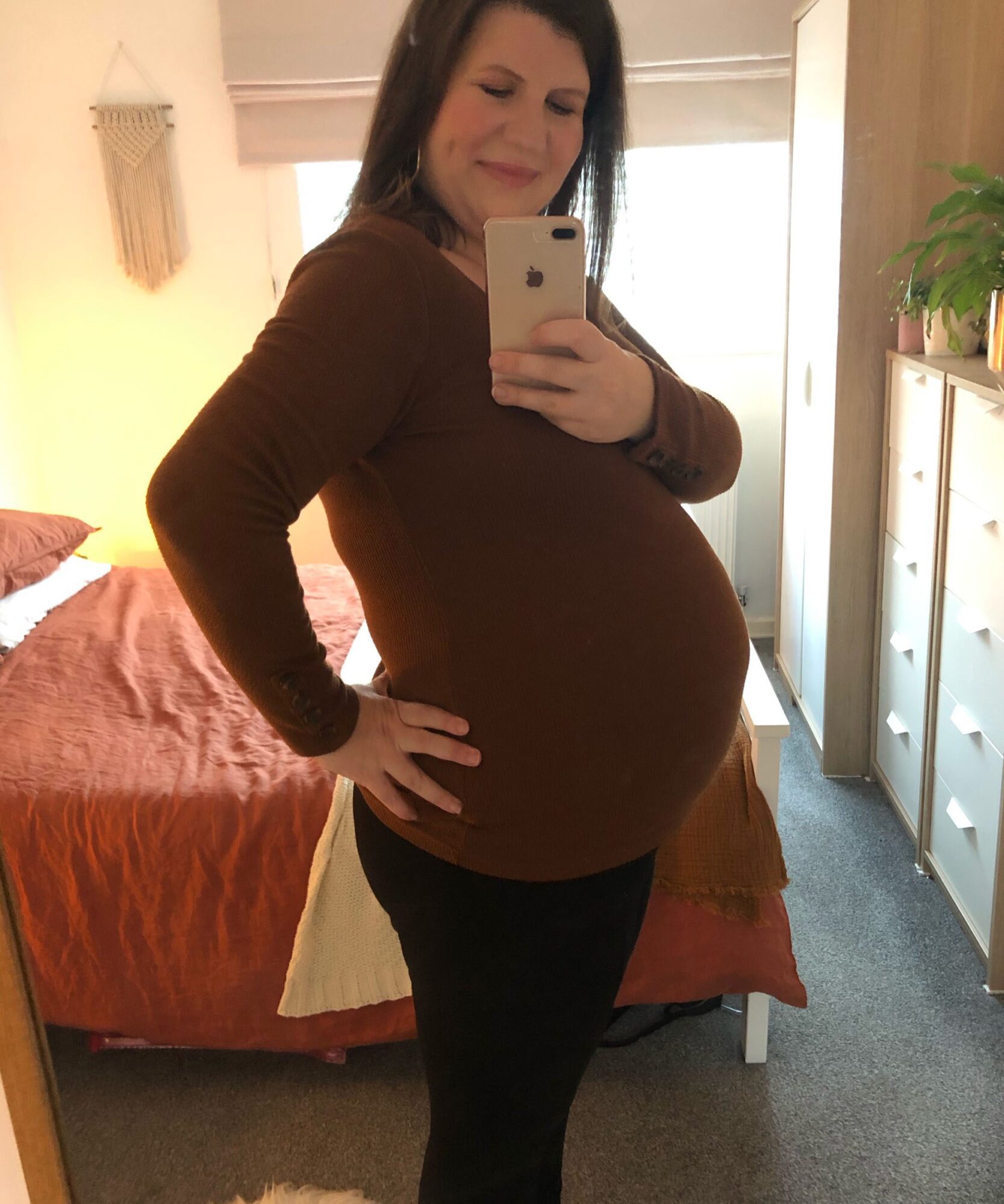 30 weeks pregnant
The Birth
If we do make it to full term, I am in discussions with the midwife about the option of having a home birth. After the last time, I'd be more than happy not to have to be in hospital at all! I am realistic of course, and know that a lot can change between now and when the baby arrives, but I would love to at least have the option of a home birth on the table. Then when I go into labour if something feels off I can still head into hospital.
Before I had Finley we did a hypnobirthing course, and this time I've done the Positive Birth Company's Digital Pack which I would 100% recommend, it's been absolutely brilliant and was what tipped me over into deciding to request a home birth. I'm also doing their PostPartum Pack now which is equally brilliant and a great refresher after such a long gap from last time!
Preparations
We sold on and let go of a lot of the baby equipment we had with Fin so this time we've had to find a lot of new stuff. I decided to invest in my dream pushchair, a Bugaboo Bee 5 which I love. I also bought a second hand Snuz Pod bedside crib. Most of everything else has been loaned from some of my amazing friends – car seats, moses baskets, loads and loads of girls clothes and more. We've kept some of Fins clothes to reuse and all of the slings I bought for him
Overall, this feels like a very different experience from last time. I don't know what to expect from the final weeks, the birth or the postpartum stage, but whatever happens I feel like I'm much better prepared to be able to go with the flow.
If you have a second or subsequent birth, how did your pregnancies feel different? Did you feel calmer, less anxious, more or less prepared?