Thinking about how you can start a coaching business from scratch? Well you're in luck, here's my simple tips for getting started and growing a successful coaching business:
Training
For most people seeking to start a coaching business it makes a lot of sense to take some kind of coaching training – and there's a lot of options out there! I started my online business career as a Health Coach and studied with the Institute of Integrative Nutrition. Think about the kind of work you'd like to do – is it helping people with their wellbeing, or supporting them to change careers? Look for a coaching qualification that will help you in that area.
Tip – If you're unsure what kind of coach you'd like to be, think about your own journey. What shift or transformation have you experienced yourself? Most people I know who become coaches have been through something themselves and feel a pull to help others in a similar area.
Market research
It can be easy to skip this step but I'd definitely recommend you do it as it's such a foundational element of your business. Market research at this stage is about delving into the area you'd like to coach in to find out more. It's finding out what problems your potential ideal clients are struggling with, what their hopes and dreams are, and ultimately its validating your idea for your business and the niche you'd like to coach in.
Tip – start working with clients now, even if it's for free to build up experience and testimonials, you don't have to wait to get a brand and website finished.
Get clear on your niche and message
Once you've done some market research it should be easier to become clearer on your niche and message – basically what it is you're going to be helping people with and in what way. I cover a lot of this in my Unboxed Guide to Niche and Messaging programme.
Business name, domain + social handles
Now it's time to decide your business name, purchase your domain name and get those social media handles claimed!
Tip – even if you don't feel 100% ready, if you have time to do so, I'd always recommend starting to post on social media even if you're website and brand isn't finished. The sooner you get started with social media the better, your brand and message can evolve as you go.
Administration
Depending on where in the world you're located this will differ, but in the UK I'd suggest you decide what legal structure your business needs, get a business bank account set up (I'd also suggest setting up a business PayPal account or Stripe – or both!) and check if you need to inform HMRC that you're intending to start trading – a good accountant should be able to advise you on this.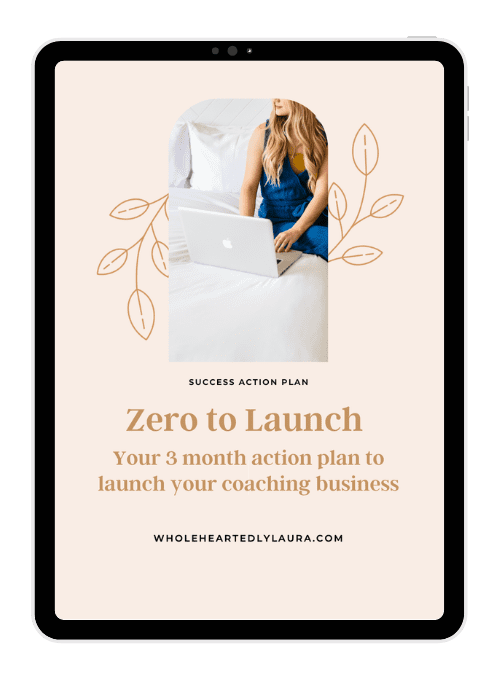 Zero to Launch – Your 3 Month Action Plan to Launch Your Biz
Grab your success action plan to guide you through everything you need to have in place to launch your business in just 3 months.
Branding
I looovvve branding! You can get really into this or you can just go lightly, what I will say is that given how visual our mediums are good branding can make a massive difference to your business. Branding isn't just pretty colours and logos but I tend to see branding as something that incorporates a lot of the niche and messaging stuff too. But what would be useful at this stage in going from scratch to successful business is having a colour palette and logo alongside getting your niche and message nailed.
Website
Now it's time to get your website designed and live! This includes writing the copy for your key pages – home (get my free homepage checklist here!), about and your coaching package page (see below). Again, like with branding you can really get into this and pay someone to create a really robust well designed site your theres various DIY options available.
Coaching package
Creating your coaching package is considering how you'd like this structured but it's also important to really think about the sales page for this because that's what's going to be selling it! Don't forget to focus on the outcomes of the coaching package – the transformation your clients will receive, not just the features of the package.
Email list
Alongside your website you're going to want to set up an email list. Check out my resources page for all my favourite online tools including what I suggest to manage your email list. Create some kind of free gift (such as a pdf guide) designed to help your idea client and use that to encourage people to sign up for your list
Launch!
Time to really get yourself out there! Decide on a simple strategy to market your business and be consistent. Review your progress every quarter and make adjustments if needed. Get support if you need it and enjoy your successful business!
Found these tips helpful? Then don't forget to get the whole action plan for Zero to Launch here >>>