Less than 8 weeks until my due date! Panic stations! Although to be honest I'm not panicking too much, I'm just about feeling prepared now, we have the cot, pushchair / car seat, plenty of baby clothes, hats and socks.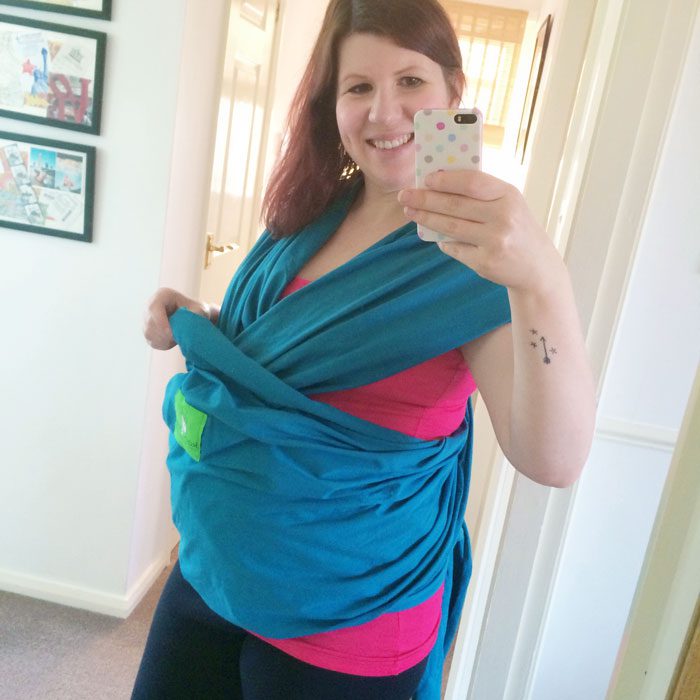 A couple of weeks ago I ordered my sling. In the end I decided to go for the Kari-Me which was recommended by a friend and fellow health coach. I know a lot of you recommended the Moby and this looked similar enough. What put me off the Moby was getting it via Amazon and seeing the reviews saying some of them were fakes. Either way, I'm really happy with the Kari-Me. Obviously I still need to try it with baby but I put it on and liked the feel of the material. Can't wait to have baby snuggles with this on!
I've also ordered some swaddling blankets, baby sleeping bags, a little health care pack with scissors etc, bath and room thermometer and a bouncy / vibrating seat from Mama's and Papas. I've got the Angel Care Monitor and have my eye on some blankets and sheets from John Lewis. Then I think it's just about getting my hospital bag sorted, buying some nappies, breast pads, more wipes, cotton wool, emergency formula and bottles and some little bibs. Oh and a changing mat and changing bag. A lovely company is sending me a breast pump to try out as well. I have plenty of skin care stuff already too:
I've been collecting bits and pieces over the last few months. I got a gift pack from Green People, the nappy cream and the natural nipple butter from iHerb. I thought I'd see what those Kinder by Nature wipes are like as well. I've also ordered a load of essential oils, more on that in a moment.
Some pretty things I'd love to get but might not have the budget to are:
The liberty print Monkey is from Dotty Monkey on Etsy and the Fox print is from Delivered By Dannielle on Etsy. So adorable! And how gorgeous is this nursery from Junkaholique? (new blog crush!)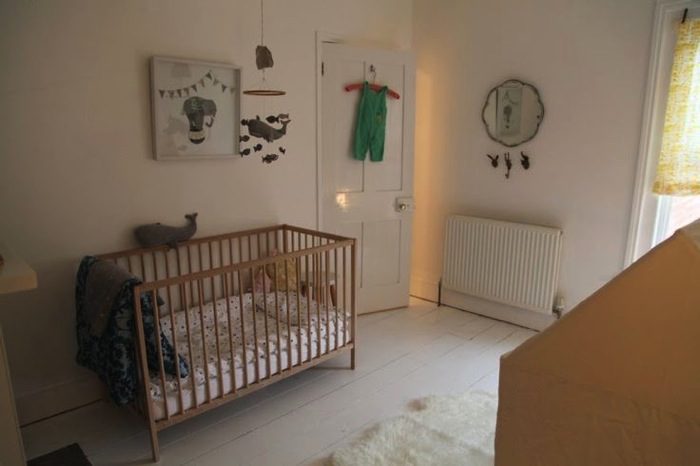 I would love a mobile like that whale one! I thought we might have a bit of a woodland theme but due to not actually having a nursery, as well as loving far too many things, I think it's going to be my usual eclectic style and miss mash of different themes, patterns and prints.
The Mamas and Papas and Mothercare lists have been useful in planning what to get, although I am aware that there's an awful lot of non essentials. I'm reminding myself that he won't be able to see much further than 10-12 inches for the first few weeks, so brightly coloured toys and mobiles are not really needed for a little while yet, although soft comforting toys are, so I'm on the look out for those!
In terms of my preparation for birth, we had the second Natal Hypnotherapy workshop which focused on labour. It was brilliant and we went through each stage of labour, what to expect and how to handle it. I've also finally started to listen to the accompanying CD which is wonderful and a good excuse for me to take some time out and chill. I'm feeling pretty much as prepared as I can be for labour now. The workshop did bring up a couple of things to add to my birth plan such as delayed cord clamping, and perhaps doing something with the placenta afterwards. Over all I do still hope to have the most natural birth I can but I'm reminding myself I just need to be flexible with it.
Something we discussed in the workshop was essential oils which I've wanted to get back into for a while. I've ordered some lavender, rose and peppermint and then jasmine and clary sage for the labour all from Amazon*. Those last two aren't recommended in pregnancy but are ok in labour from what my natal hypnotherapy practitioner told me.

I had another great Midwife appointment last week and all my bloods, blood pressure and measurements etc are looking good as well as a lovely strong baby heart beat! She did have some trouble identifying what position he was in and we both got poked a lot as she tried to find out! He did seem to be head down but I still think he's moving around a lot. However I have my doppler scan (an extra scan they are giving me after the medical intervention I had around my fertility which checks growth and blood flow from the placenta) in a couple of weeks which should obviously show where he is.
In terms of my wellbeing, I've started to notice a few stretch marks under my belly but no varicose veins etc and I've had no more swelling. My digestion has been wonderful, especially since I started up with the kefir again! Last weekend I had a case of really restless legs and they have been getting a little more achy. I've been taking magnesium for a while now as discussed in my pregnancy supplements post, but a few Twitter folk recommended magnesium spray oil as well. They haven't been too bad this week but I'll probably grab some spray or make some as Kezia posted about this week.
Something else I'm starting to pull together is a bit of a post birth 'kit'. I've got some extra supplements ready, some nourishing shampoo with b vitamins (as you can experience hair loss after birth, something I'm hoping to minimise), snack bars for breast feeding snack attacks etc.
Of course it goes without saying, thank you all so much for your kind words on Tuesday's post, I'm glad I'm not alone in feeling how I do occasionally and although I know it's natural that has been reassuring!
Pregnant or not, do you like looking at things like baby clothes and toys? I love shopping for myself, but I think I love shopping for the little man just as much, although I am really trying to reign in the spending!