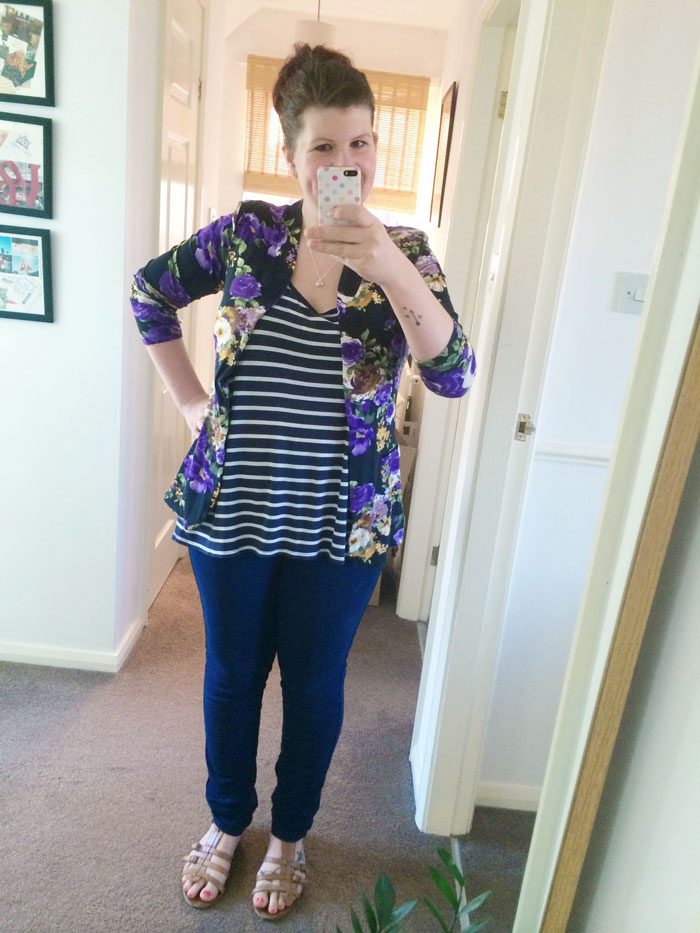 In non maternity clothes for our visit shopping trip out after birth!
I can't quite believe it's been over a month since I gave birth to Finley! It feels like forever ago and just yesterday at the same time. As I've said in other posts, having a baby has changed me in a lot of ways, both in my mind and body. Towards the end of my pregnancy I was starting to look forward to being able to get back into a more normal healthy living groove for me, but with Fin coming early that's kind of knocked me for six so I'm much happier to take a more gentle approach to it all!
Body
Obviously pregnancy takes it toll on your body and I was fully expecting to be a bit of a state after birth, however I was pleasantly surprised! I do have a soft belly with red stretch marks under my belly button but it's no where near as bad as I'd thought it would be. Of course you can't talk about post pregnancy bodies without mentioning the lady parts, and despite having second degree tears I am now fine down there. Those pelvic floor exercises have really been effective! I did sting a lot for the first week, but since then I've been fine and feel 'normal'.
As I said, I actually felt pretty good about my body and I certainly don't hate it when I look in the mirror. I love my bigger breast feeding boobs and curves, although I am looking forward to shedding some fat and building more muscle and tone once I start working out again.
Depression
I'm going to be very open here about how I've felt these first few weeks. I have probably never felt so low in my life. Fin coming early left me feeling guilty, confused and ill prepared. Add to that an extended stay in hospital, repeated issues with his jaundice, his heart condition and adjusting to lack of sleep and crazy hormones, and it's probably no wonder I was feeling like that. I just felt completely unable to cope with everything that had happened. There was of course moments of pure joy and happiness in amongst that, but at times I was seriously worried I was falling into proper post natal depression. James, my parents and my closest friends as well as hospital staff and my health visitor have been amazing, and I'm happy to say that now I feel pretty good having come through all of that, although I still have my moments. I feel an immense sadness at times that my first weeks as a mother haven't quite been what I dreamed they would be, but then I remember how blessed we are just to have Fin here with us and I focus on the positives. The birth itself was wonderful and I've been able to exclusively breast feed him for a number of weeks (although we are having to look at formula top ups to get the weight on him for his op). There is a constant under current of stress and worry about Fin's heart operation, but as I've said before, I'm not letting that rise to the surface and spoil what should be a happy time for us all. I mean for fucks sake I have a stunningly gorgeous little boy!
Stress
As noted above stress has been extremely high these past few weeks, not only connected to the problems Finley has been dealing with, but in terms of my expectations of myself. I am definitely a type A, goal orientated over achiever and I'm having to massively reassess what I can do. I keep reminding myself that Finley and me come first and cleaning, blogging, social media, business stuff etc comes second. The world doesn't stop when I'm not online after all! I keep coming back to my September pledge of prioritising and just doing what I can.
Weight loss
I weighed myself 1 week post partum and since then I've lost half a stone which I'm happy with. I do have a target size, as suppose to weight in mind, although I know that to get there I'm probably looking to lose about 21lbs. So after several years I'm back in on a weight loss journey, but its actually a process of transformation I'm looking forward too! I've taken 'before' pics and measurements and I'm all about walking my talk and following the same kind of approaches I advocate when coaching clients and in my 12 week programme (currently under review for a new launch in January I hope, although in line with my comments on stress above that may have to wait and see) with a few tweaks for breast feeding.
At the moment I have a nice routine of meals with breakfast, a decaf coconut oil coffee in the morning, then lunch, afternoon snack and dinner. Occasionally I'll have an evening snack and sometimes even a snack in the middle of the night. As I'm breast feeding I can't risk my supply by dropping calories too low, so the best rate of weight loss I'm looking at is 1 lb a week for a while at least.
For now I'm simply focusing on eating when I'm hungry, enjoying whole, clean foods as much as possible (which is easier said than done sometimes!) and supporting my body and breastfeeding by getting in as many nutrient dense foods as possible. I'm enjoying a good tablespoon of coconut oil a day and drinking some special breast feeding tea* then just generally eating well without stressing about it too much.
Exercise
I so miss exercising! I'm being sensible and waiting for my 6 week check before I do anything more strenuous even though I feel completely fine. I should really be doing more walking but these last few weeks it's been hard to find the time to fit it in. After I get the ok from the doc I plan to slowly increase my workouts starting with some yoga and then adding in short you tube workouts I can do while Fin naps, as well as maybe one session at the gym on a Sunday when James can watch him. Next year I will definitely be getting back into running as we will hopefully be doing the Great North Run to raise money for the Children's Heart Unit where Finley will be getting treated.
Self Care
A lot of self care has gone out the window, however I know what a huge impact it can have on my wellbeing, and therefore my ability to be the best mother I can be so I try and make time for it when I can. Before giving birth I pulled together a little post birth self care kit and have found it really helpful:
I was really worried that I would lose a lot of hair after birth as some women do with the change of hormones so I bought some Avalon Organics thickening B complex shampoo* and strengthening peppermint conditioner* which seem to have helped as I haven't noticed any changes in the thickness of my hair. I also ordered some E Boost* from iHerb after I read about it in The Little Book of Thin*. It does contain quite a bit of caffeine so I haven't had much of it so far, just using it after I've fed Fin when I need an energy boost. The Inner Me vitamins and other supplements were kept from the Latest in Beauty Hip and Healthy Box and have been brilliant, especially for taking in to hospital when I've been stuck in there. The Mama Mio cream I kept from a kit I bought a while ago and I was kindly sent the Melvita cream to review. When Tesco had their Food Fair on a few weeks ago I stocked up on a load more snack bars and they have been an absolute lifesaver for keeping me going and ensuring I make a 'healthier' choice when short on time.
In addition, a few weeks before I had Fin I decided to sign up for the monthly Love Lula Beauty Box*. All of the products are natural / organic and I was absolutely chuffed to bits with the contents of the September box: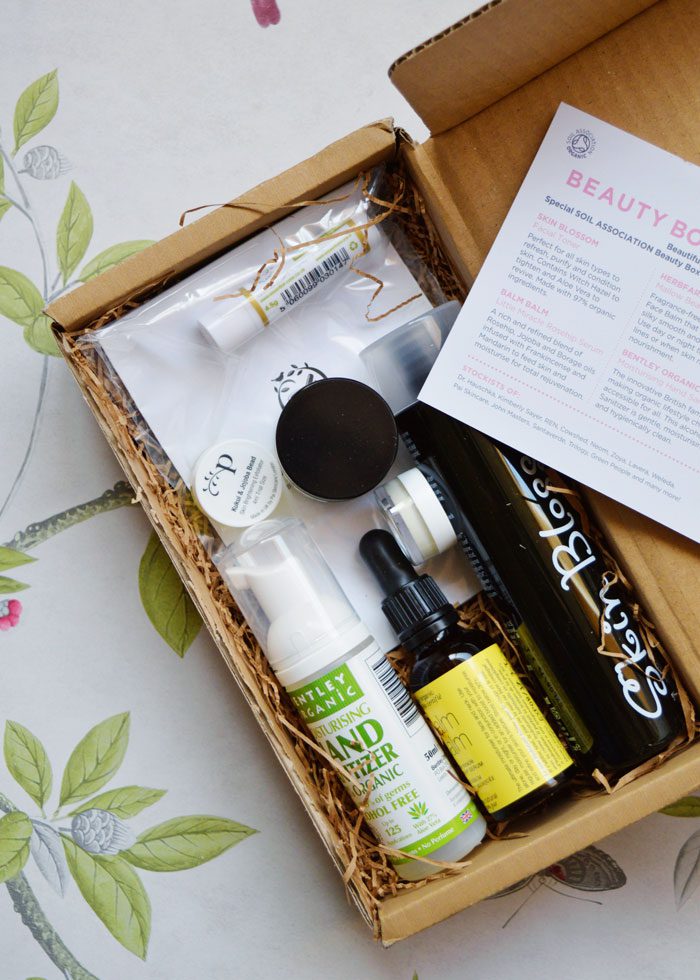 It included a few full size products as well as samples and seriously, for £12.50 it's an absolute bargain and a lovely treat!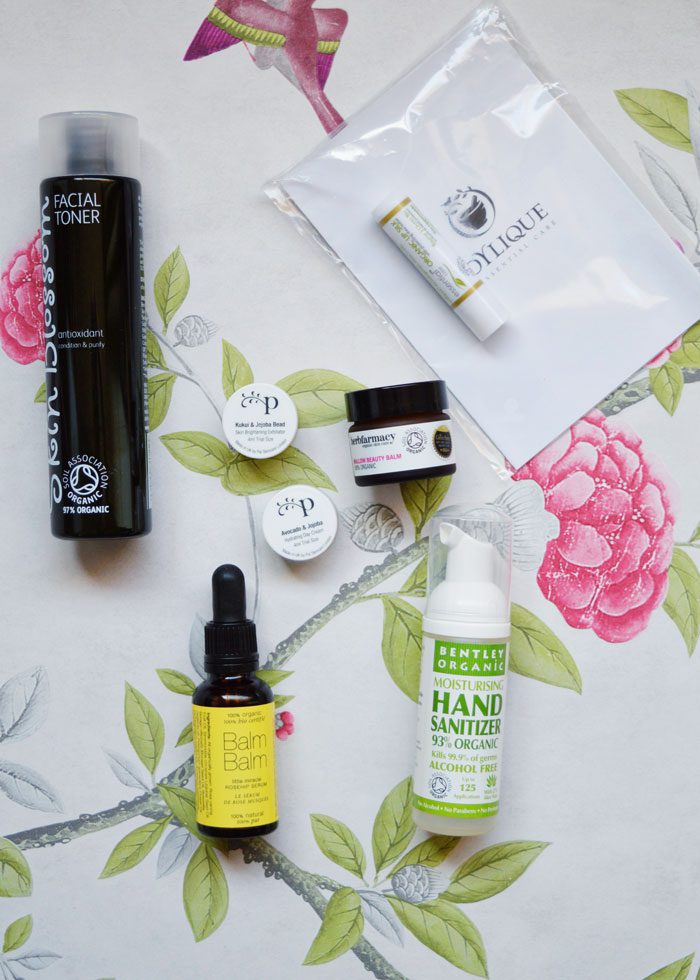 The toner is just wonderful and I've been using the facial oil added to my nighttime moisturiser with great results. The organic hand sanitiser has gone straight in the changing bag as it's so handy for keeping my hands clean after changing on the go. I already have a full size of the Herbfarmacy beauty balm, so this is handy for keeping in my handbag. I'm saving the other little samples for when I finally have the time for a bath! It's just a little thing, but has really helped me feel like 'me' again.
Slowly but surely I'm finding a groove for myself as a new mother, dealing with the stressful times we've had and have ahead of us, forgiving myself for a lot of things and starting to take better care of myself with healthy living practices.
If you've had a child, how did you feel after the birth? Do you have any self care practices? Do you subscribe to any beauty boxes?