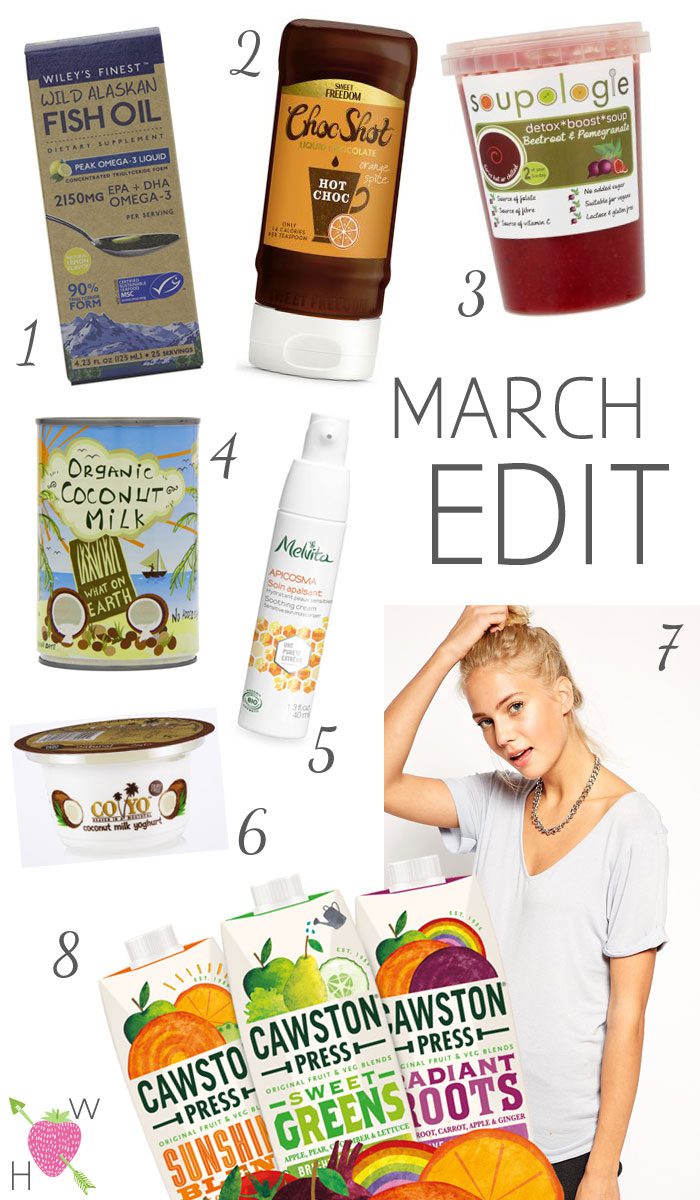 So spring is here, I hope the weather gets the memo soon! As usual, here is my edit of awesomeness from March…
1. Wileys Wild Alaskan Fish Oil* This great quality fish oil comes in liquid form with a lemon flavour. It's not the most pleasant to get down, but it is worth it for all the benefits that high quality fish oil offer. I keep my bottle in the fridge and take a couple of spoonfuls straight up!
2. Choc Shot Orange Spice* If plain Choc Shot wasn't delicious enough as it is, Sweet Freedom have gone and created a variation which basically tastes like liquid Green and Blacks Maya Gold. So. Good.
3. Soupologie* I've really fallen back in love with soups this month thanks to Soupologie. I tried a few of their variations and all were delicious and made me feel positively sparkling with health. Their range is all gluten and diary free.
4. What On Earth Organic Coconut Milk I bought a 6 pack of this via Amazon to mix into Finley's purees to add some good fats for maximum nutrient absorbion and added calories, as well as use for myself in curries etc. It's the purest coconut milk I've been able to find with no additives. It does have some guar gum in it, but far better than the usual stuff. It still has a lovely creamy texture too.
5. Melvita Soothing Cream* I love this cream, it feels so smooth on my skin and leaves it feeling really nourished. I use it as a night creme and it's fabulous!
6. Coyo natural Similar to the coconut milk, I've been purchasing a lot of Coyo this month to give to Finley for breakfast with mashed banana. Both of us love it as it's a great alternative to diary yoghurt until Finley's gut is a little more mature.
7. ASOS basics I am in LOVE with the basics tops I purchased from ASOS. They are excellent quality for the price and I've worn them every day since I bought them. Super value, great quality and a really versatile addition to my wardrobe as I can pair them with black pants, jeans, leggings and a statement necklace for an instant outfit.
8. Cawston Press Vegetable Blends* Usually I wouldn't be a fan of juices like this, but I feel Cawston have a good balance with these products. Obviously not as good as juices you make yourself, however these are nice and handy to have when you just want the boost of fruit and veg. The blends aren't overly fruit heavy and too sweet which tends to be the case with other vegetable blends I've had from mainstream shops. They still taste great though!
Have you tried any of these products? What would be in your March edit?
Items marked * are PR samples which I received with no obligation to feature

Enjoy this? Get me in your inbox! >>>
[mc4wp_form]