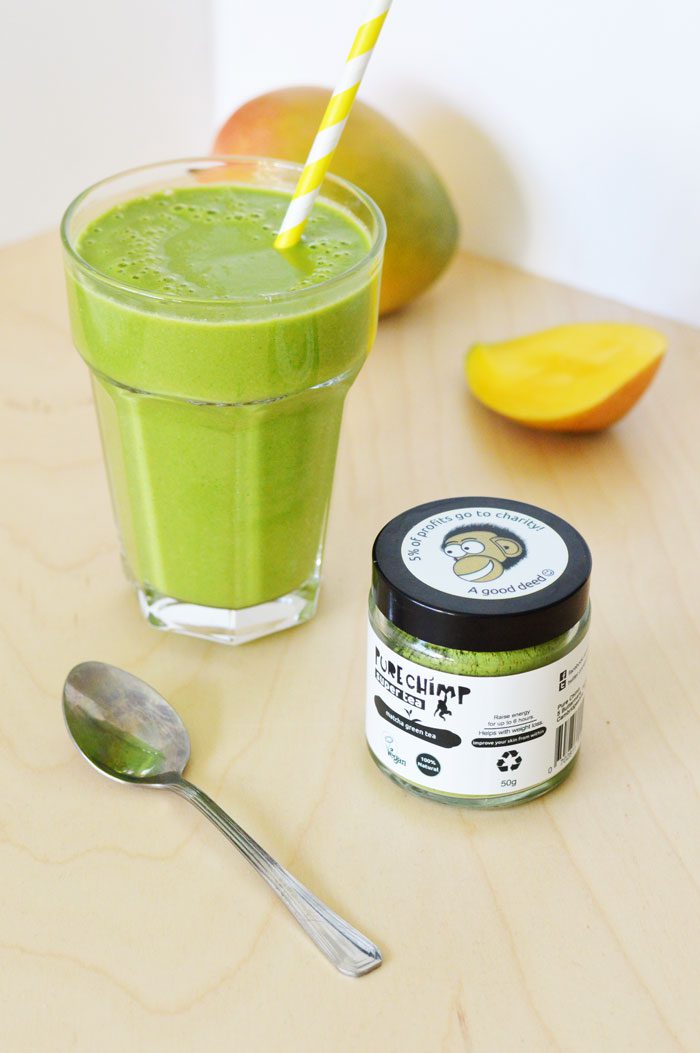 I know I'm not the only one feeling the effects of too much chocolate last weekend! Whenever I feel like I need to rebalance, I turn to trusty green smoothies for some much needed fruit and veg goodness.
Now that the sun is finally shining, it's a perfect time to add a few green smoothies to your routine. If you've never come across green smoothies make sure you grab your free green smoothie e guide as part of my free healthy living bundle.
One of the reasons I love green smoothies is that they are so versatile and the perfect vehicle for packing in as much goodness as possible. One of my favourite add ins is matcha green tea powder, and I've been loving the Pure Chimp Super Tea Matcha. Pure Chimp are a wonderful company who share 5% of their profits to charity. Their matcha is also of the highest ceremonial grade quality from Japan.
If you haven't experienced the benefits of green tea, here is a quick run through of them:
137 x the antioxidants of regular green tea
Equivalent to 10 cups of green tea in 1 serving
Can improve your skin from within
Offers a caffeine boost without the anxiety (35mg per serving)
Antioxidant content has anti-ageing properties
Weight loss: A US study found that consuming matcha green tea can increase thermogenesis from a normal 8%-10% of daily energy expenditure, to between 35% and 43% of daily energy.
Not bad eh!
Right now I'm using PureChimp matcha in my morning smoothies to give me an energy boost after sleepiness nights with baby Finley. A matcha powered green smoothie really sets me up for the day!
This recipe for my Mango Sesame Matcha Green Smoothie is just delicious. It's jam packed with health promoting ingredients and is suitably summery too…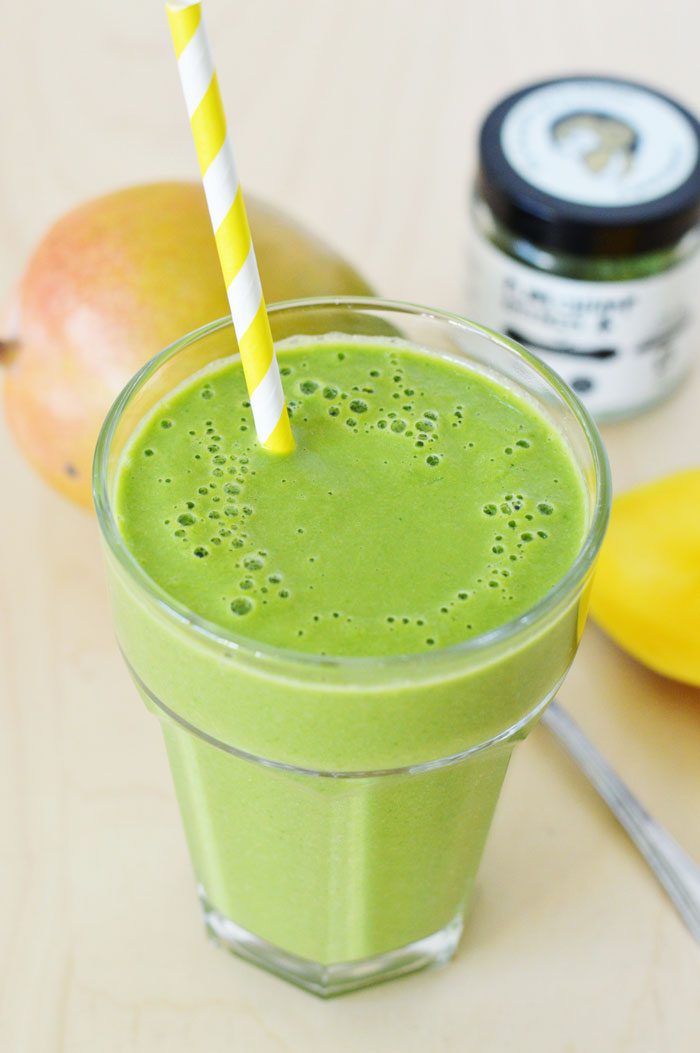 Mango Sesame Matcha Smoothie
2015-04-08 12:30:30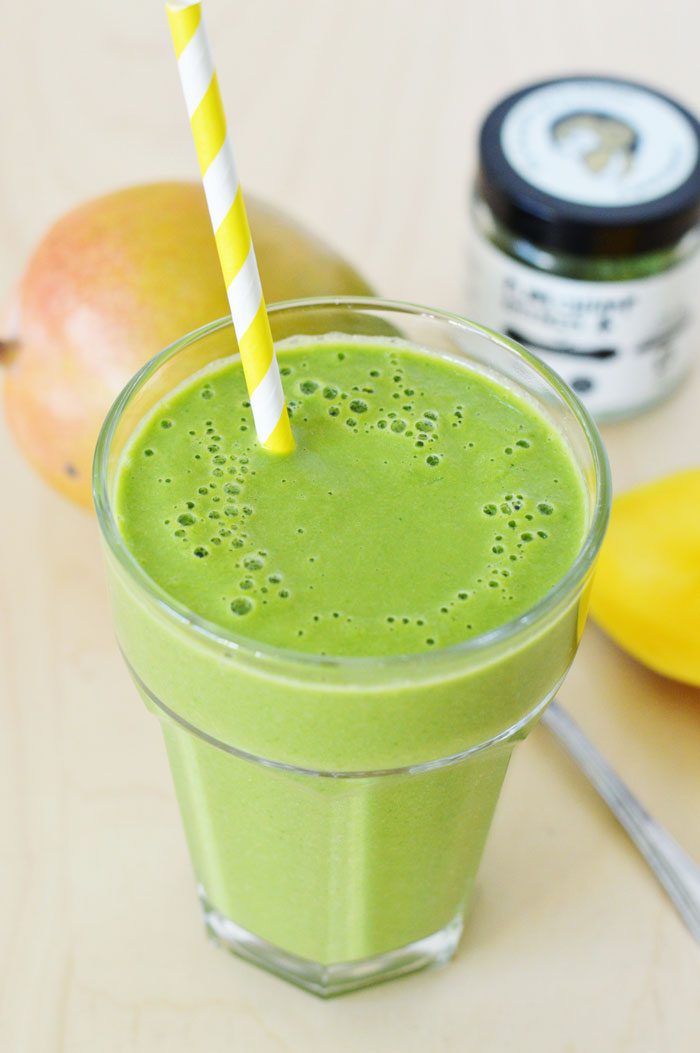 Serves 1
Ingredients
2 handfuls of spinach
1 small mango
1/2 banana
2 tbsp tahini sesame paste
1/2 tsp PureChimp Super Tea Matcha Powder
3-4 ice cubes
1 - 2 cups of coconut water (depending on how thick you'd like the smoothie to be)
Instructions
Cut the mango flesh away from the stone and add to a blender with all the other ingredients. Blend until smooth and serve.
Wholeheartedly Laura https://wholeheartedlylaura.com/
Feel free to change the recipe up with different fruit and nut butters, for example pineapple and cashew butter. You can also use dairy, or non diary milk in place of the coconut water if you prefer.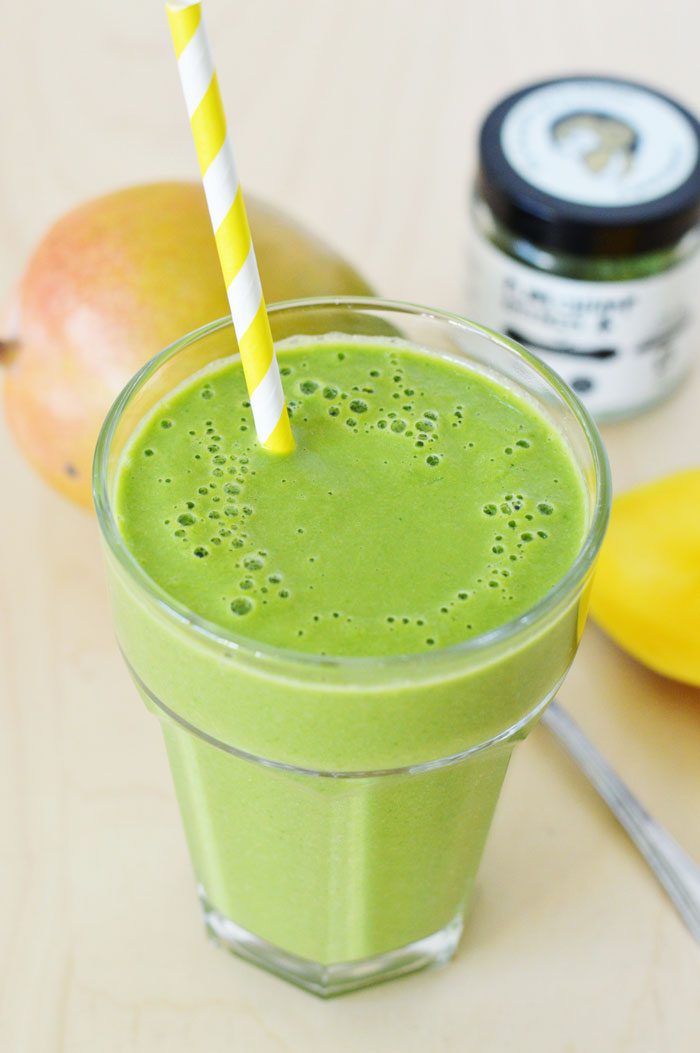 This smoothie really is the perfect way to start your day with a boost!
PureChimp are offering an exclusive discount on their Super Tea Matcha just use code WHOLE10 to get 10% off your purchase.
Have you tried matcha green tea before? What are your favourite green smoothie ingredients?
*post sponsored by PureChimp

Enjoy this? Get me in your inbox! >>>
[mc4wp_form]