It's been forever since I did a Day in the Life post, so get comfy while I tell you all about my day! This is what I got up to last Wednesday which was a fairly standard working day for me. I had a reasonably good night with Finley, he woke up a couple of times through the night but went back to sleep after a quick nurse and was up for the day at 6am. He's so funny when he wakes up, he lies there next to me blowing raspberries and saying 'dada' until James hears him and comes and gets him. James changes his nappy while I have an additional few minutes in bed. I made myself a hot water and lemon and had a think through what I had going on for the rest of the day. Then I made Finley's banana porridge with coconut oil and fed him, then James got him dressed while I threw on some clothes for the walk to nursery.
We always use the ergo carrier for the walk to nursery. I drop him off at 7.30 and walk home, then made breakfast:
Delicious creamy protein porridge with figs and almond butter. I also made myself a coffee.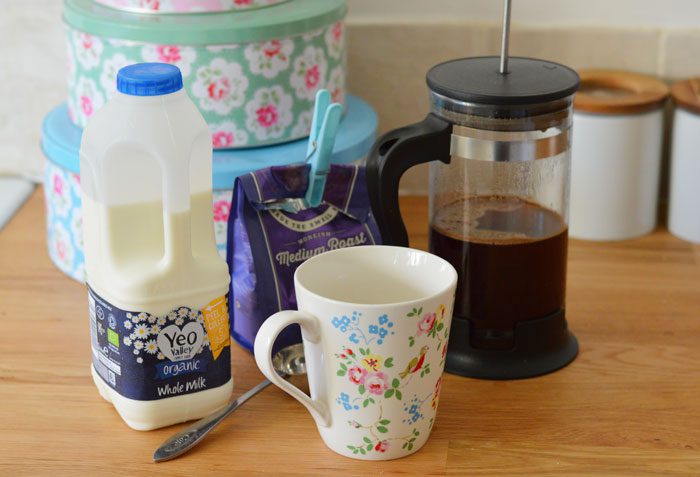 Then I sat down to answer emails and generally get started with my day. I love to light my scented candle and get myself in the zone! I also drank several cups of green tea.
The plan had been to head to a lunchtime Metafit class but unfortunately it was cancelled so I decided to do a quick kettlebell workout at home instead.
I did this Fitness Blender workout which was quite good, then finished with some abs exercises before jumping in the shower. After that it was lunch time and I had a big bowl of my Harissa Chicken and Lentil soup.
Then an apple.
I spent a couple of hours working on designing my new press and media kits with my new branding and then took a break. I had several very brown bananas so decided to quickly make some banana muffins. While they baked I drank a smoothie: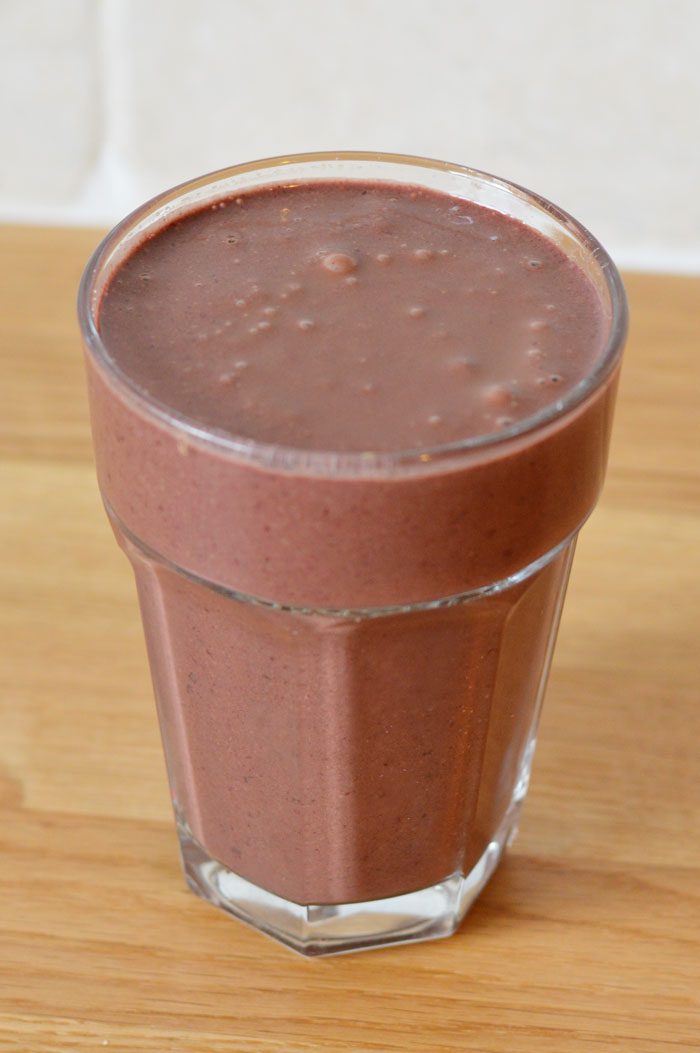 This was made with spinach, frozen cherries, PurePharma PR3 chocolate protein powder, Lean Greens, cacao powder, coconut milk and water. It was lush!
I made half the muffins plain banana and the other half with chocolate chips. I couldn't help try one out of the oven.
I used my grain free banana and blueberry bread recipe and just left out the blueberries. I must have gotten 20 mini muffins out of the mix.
After that I cleaned up and chopped some brussels for dinner and finished off a bit of work, then walked to collect Fin from nursery at 4.30. He enjoyed one of the plain banana muffins for supper.
James and I had farm shop gluten free lamb sausages with roast brussels sprouts and mashed sweet potato with a little GF gravy.
I usually keep things like sausages for the weekend, but this made a nice mid week treat.
Then it was time for Finley's bath, we tend to do this together, and then I dry him off and we get him into his pjs. Then we let him chill out in the living room with us until he was showing signs of tiredness. I took him into the dark bedroom, turned on Ewan the Sheep (love Ewan!) and nursed him to sleep. It's quite the battle getting him to let go of my boob so I can get him into the cot! He fell asleep at 7.15.
I had a little dessert, one piece of raw chocolate.
Then I was back on the computer as I had a live chat with my Fabulous YOU ladies!
Just as I was wrapping up the call I could hear Fin crying, which is quite unlike him at the moment. Even James couldn't settle him, but I eventually managed to get him back to sleep and back in the cot so I could get changed for bed. I went to bed at about 10, and didn't really have time for my usual routine so I think it took me a while to get to sleep. Fin woke up again about midnight then came in bed with us for the rest of the night. Although it's not great that he still wakes, I wouldn't give up co-sleeping for the world. I actually miss my baby snuggles when he's in the cot!
It was a very busy day, and I was glad that I was able to still make myself workout even when plans were changed!
As I said, that's a fairly standard working day for me at the moment. Do your days have a regular pattern? What time do you wake up and go to bed?
P.S You can see my other Day in the Life posts here, quite interesting to see how things have changed!