Hey petals, I hope you've all had a lovely month! I'm happy to say that April was a big improvement on some of the difficulties we had in March. I've been well and although Finley had chicken pox, it didn't bother him too much and he hasn't had any more seizures. Overall I'm feeling more like I have my shit together which is a good feeling indeed!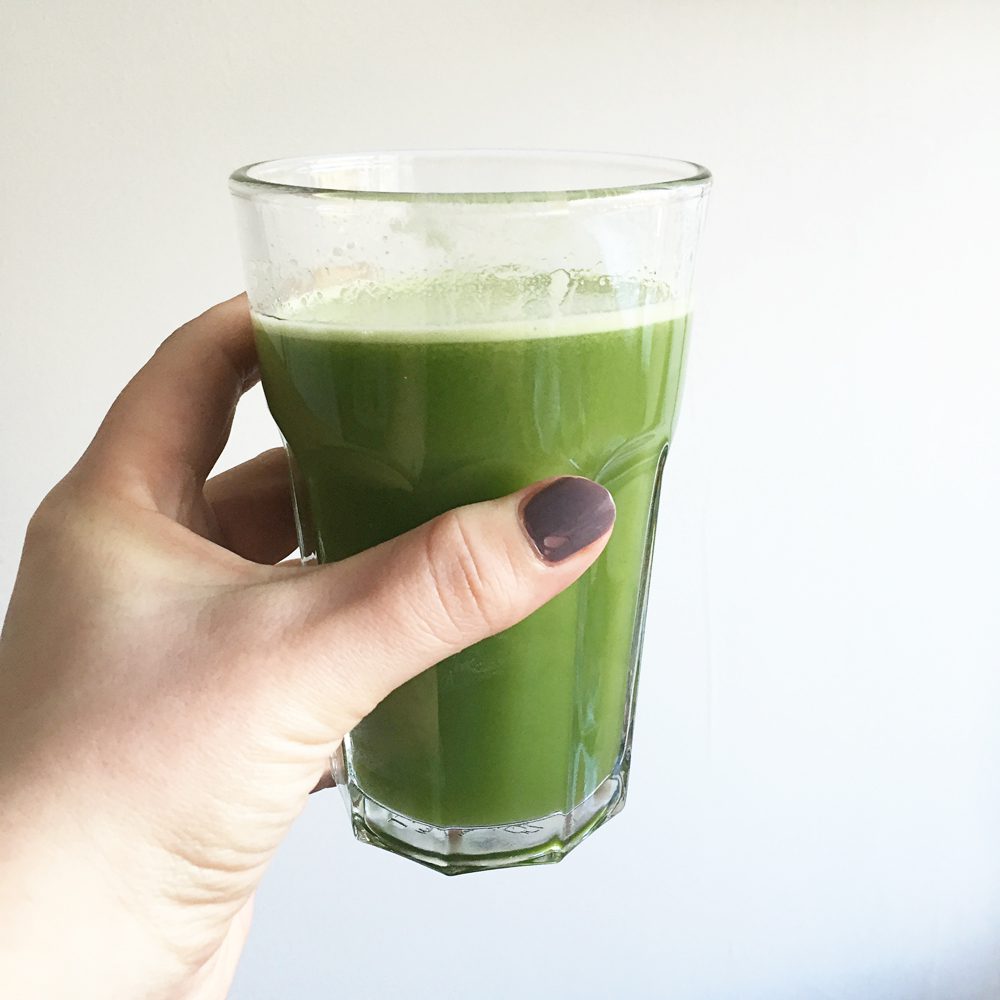 In my focus on nourishing myself and getting well I've had the juicer out. My fave combo at the moment is cucumber, celery, apple and mint. So refreshing! I've also been making bone broth and adding that to recipes like this delicious black bean soup.
Chicken stock has been lovely added to Thai green curries like this with a few soba noddles added: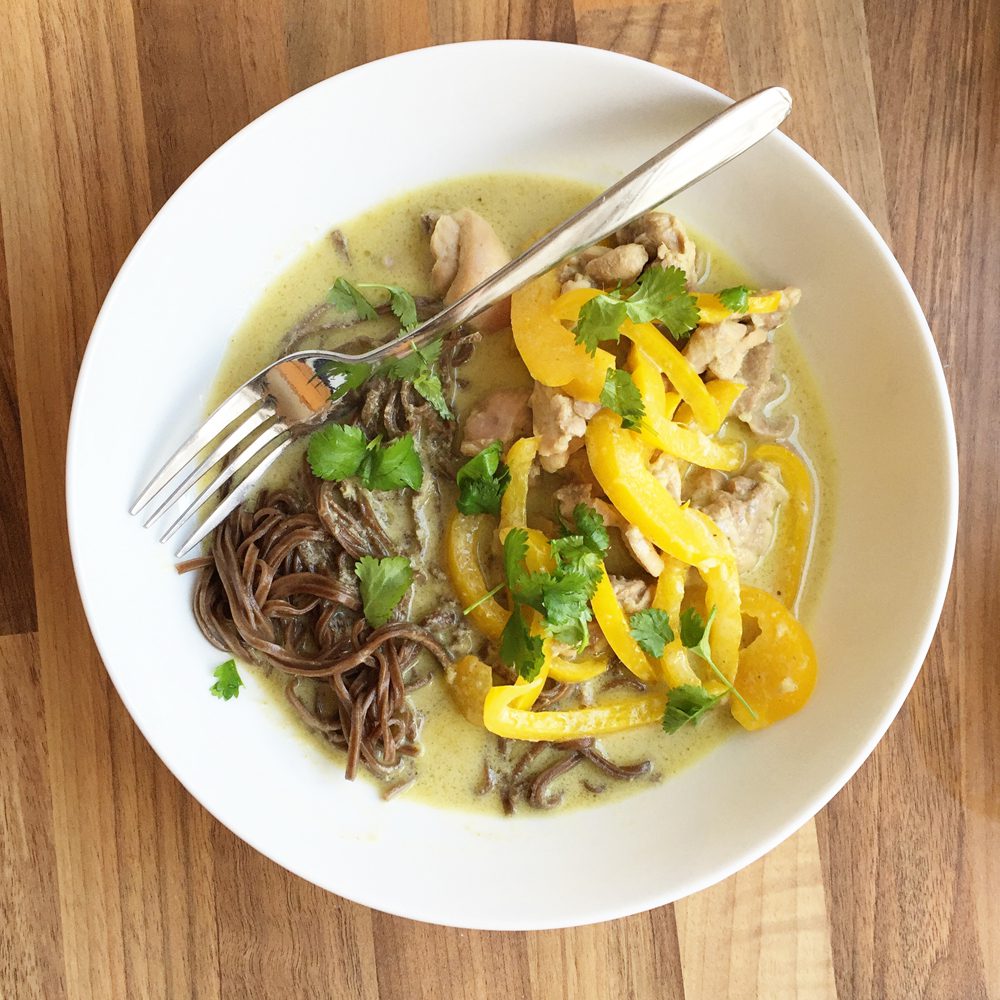 A couple of weekends ago I was kindly sent a recipe kit from the people at Propercorn to create the most delicious salad.
It included kale, spiralled sweet potato, fresh sweetcorn, loads of veggies and herbs and avocado. I can be pretty lazy with salads, but this reminded me how good it is to make the effort with a dressing. In general I've been adding a lot more herbs to my meals as they can be a great source of nutrients as well.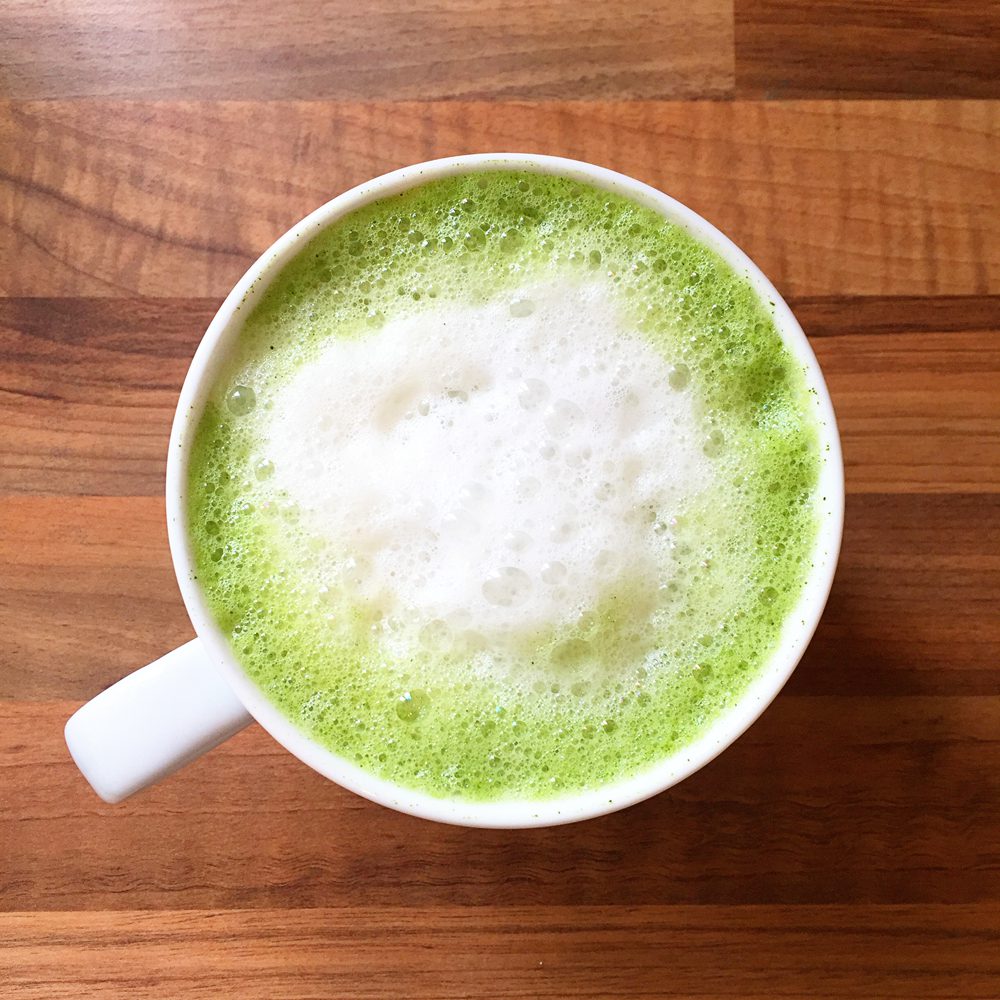 On the green theme, I've been loving my matcha lattes mid morning, after coffee first thing obvs!
It's been a pretty busy month, but I enjoyed a couple of lovely breakfast dates with James to Bill's in Durham where I had the avocado on toast with poached egg. So yummy!
After yoga I enjoyed this apple, goats cheese and hazelnut salad from Olive and Bean: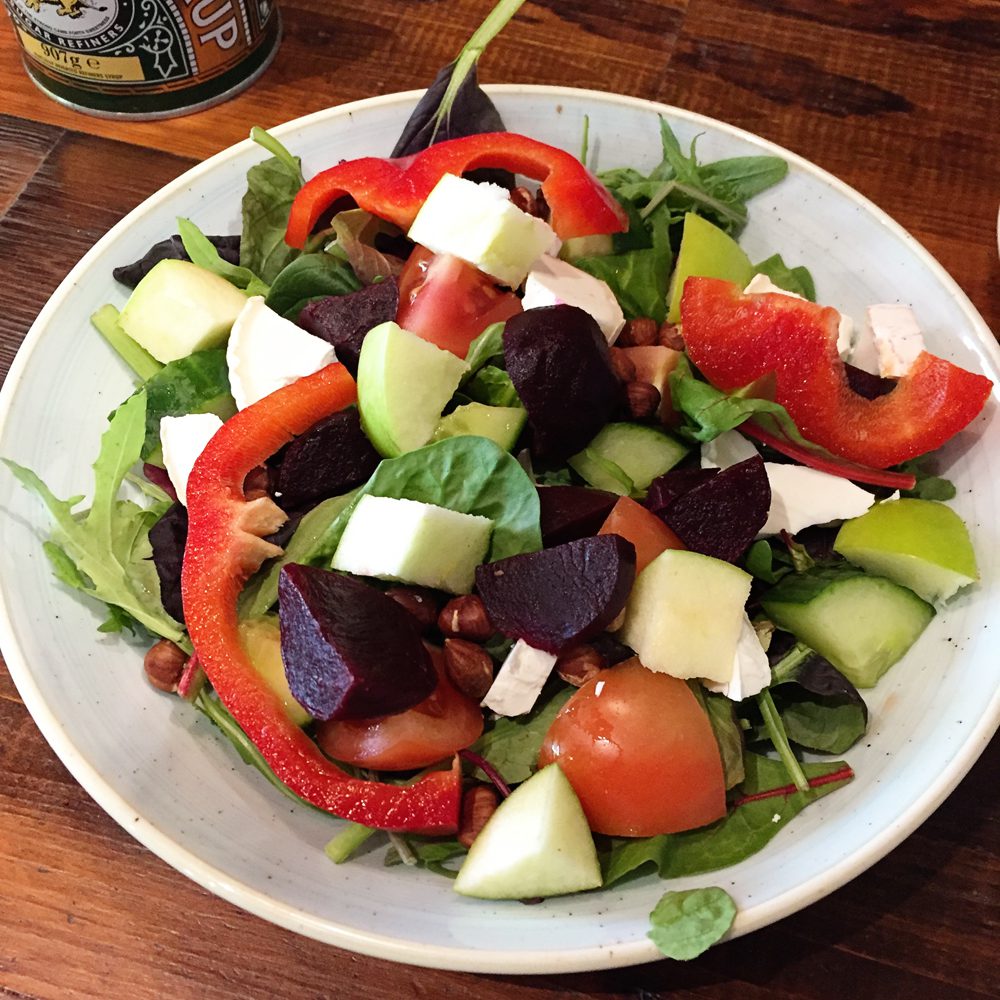 Their salads are huge! Speaking of yoga, I enjoyed a lovely class with Jo from Happy Yoga Newcastle.
I always feel so blissed out after a yoga class. My monthly class is definitely part of my non-negotiable self care practices! I've actually been pretty on top of my self care this month. I've started meditating for 5 minutes a day, which might not sound like much, but it has really made a difference. I've also been taking the time to read, which has probably been helped through having my new bookcase built and filled with my books that have been in storage for months!
I've even been out for a couple of very short runs and have enjoyed that too! Other than the week when Fin was off nursery with chicken pox I've been consistent with going to the gym as well.
Thankfully Fin has been in great health at the back end of the month. I bought a new sling, a Sakura Bloom Ring Sling, as he won't be carried tummy to tummy any more, and getting him on to my back on my own is too hard work. The ring sling is perfect for the 10 minute walk to nursery and back and so much easier than faffing with the pushchair. Of course I could let him walk but it would take us an hour to arrive!
#makeupfreecrazyhair
While I'm on the topic of Fin, here's a lovely little insight into the fun of our daily lives…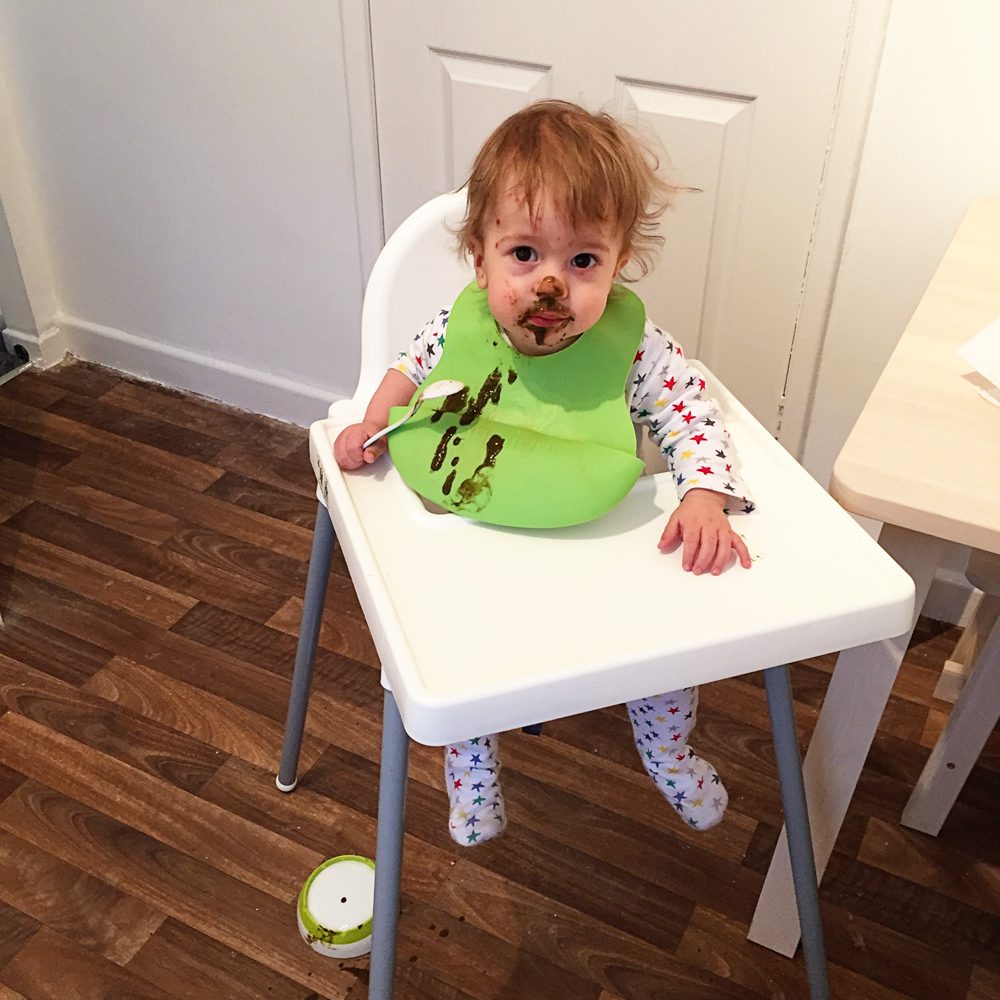 spot the chicken pox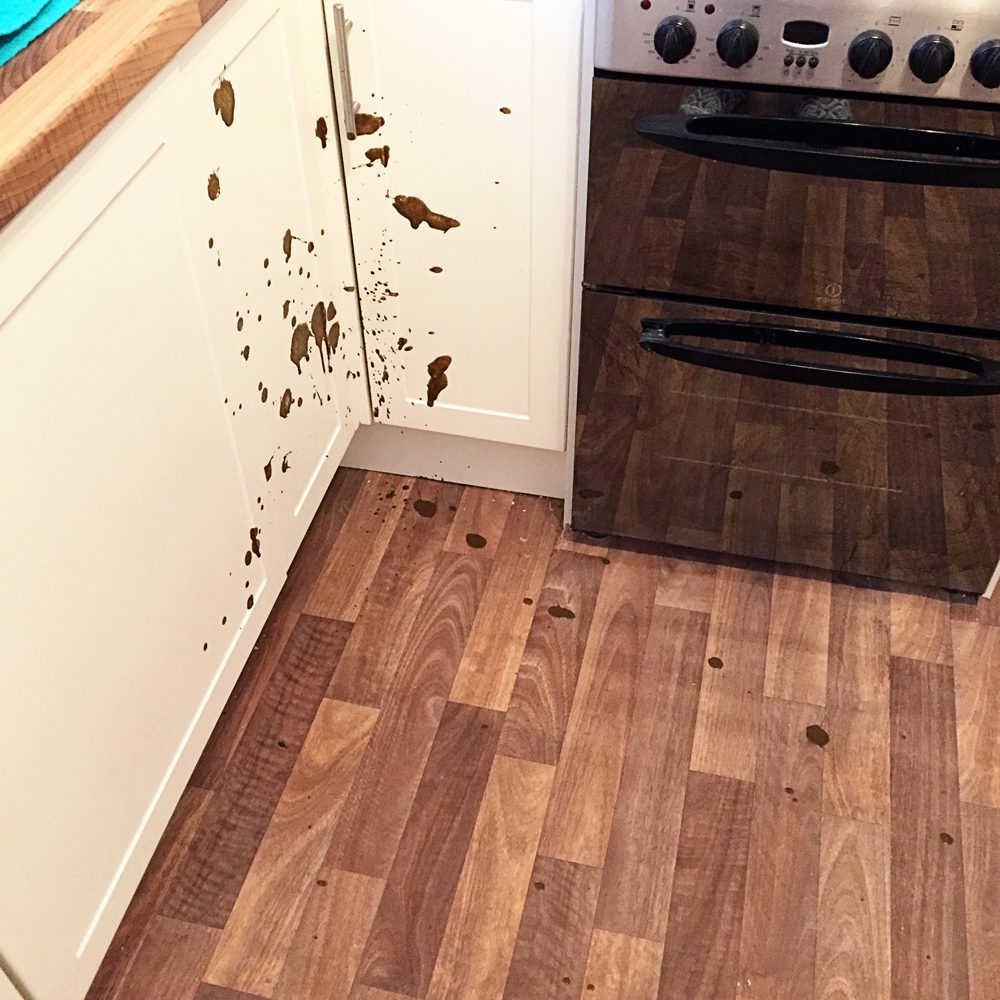 That was a banana, cherry and spinach smoothie in a bowl that was chucked onto the floor. Fun and games!
One of the nicest things this month has been the sunshine and I've made the most of enjoying our conservatory: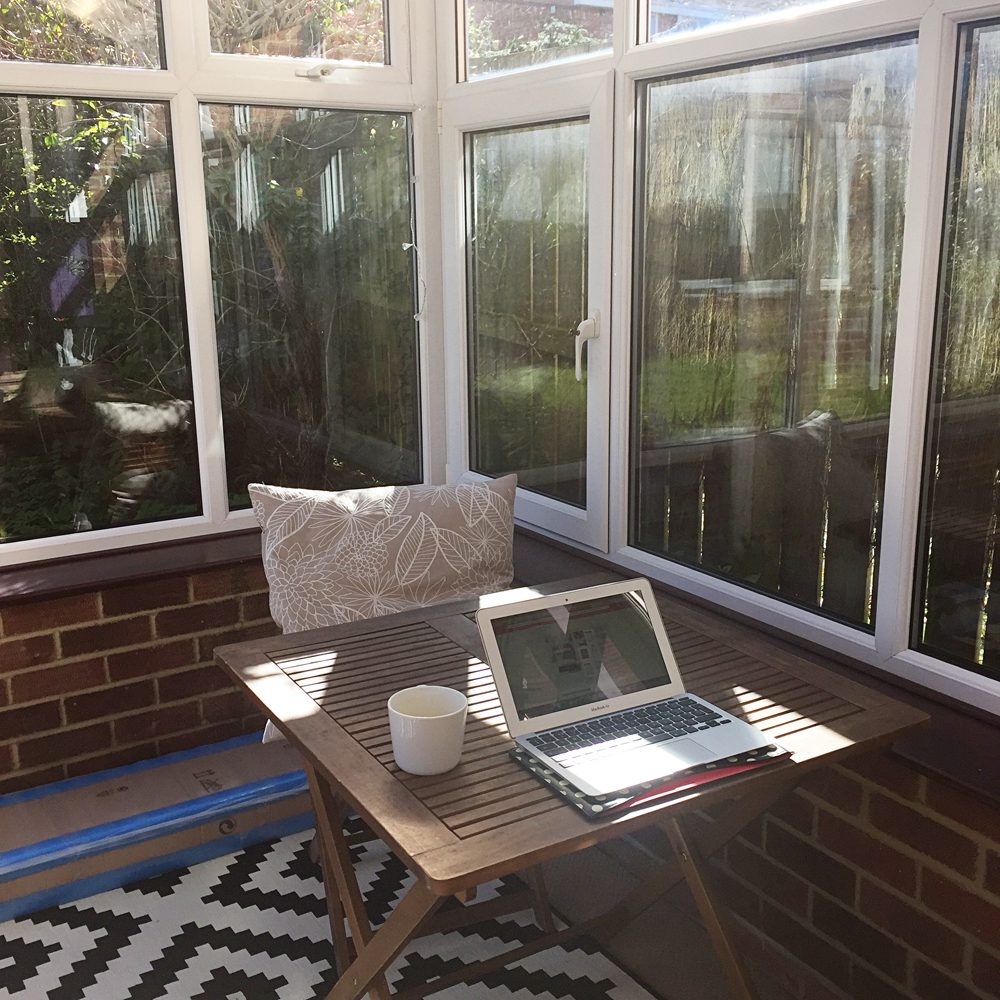 It's such a treat to sit in there for breakfast, work or doing yoga.
GOALS
At the end of last month my main goal was just nourishing myself back to full health and giving myself a real boost and I feel like I've achieved that pretty well, despite having my routine thrown off when Fin was poorly. May (anyone else amazed that it's May already?) is going to be a hectic one. I have the deadline for the book I'm writing and we're off to Brighton for a week. I know from similar periods I've had like this that it's very easy for my self care to plummet, so my goal is really to just keep up my non-negotiable self care practices including eating well and not sliding into eating more and more processed food and sugar. Stress management is going to be high on my agenda, so I'm going to be saying no more often, continuing meditation and also incorporating more EFT (emotional freedom technique, something I talk about in the Mindset Makeover Course) too.
How was April for you? What do you have planned for May?