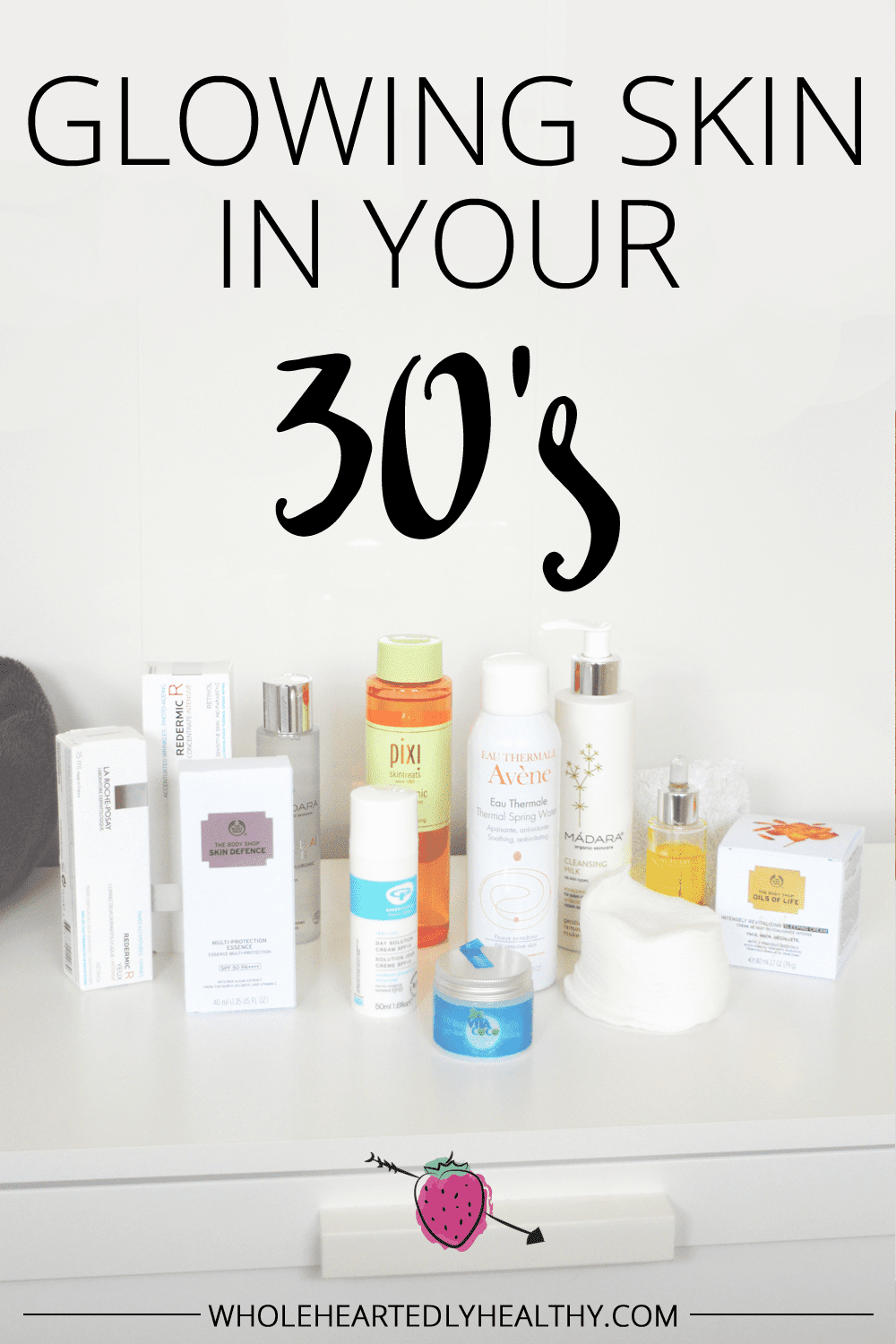 In August I turn 34, and while I have no issue with ageing, I do want to do everything I can to age well. Back when I was at university in my late teens I worked on the beauty counters of John Lewis. One day Donna Air (I've linked here as I'm sure some of you will be too young to remember her in Byker Grove etc!) came in to the store and I will never forget how amazing she looked. She glowed. Maybe she has a star quality, but I think it was her amazing skin that I noticed! Since then having glowing skin is something I've always wanted to achieve, and so far so good, I have been blessed with pretty good skin genetically and I don't have a lot of wrinkles yet.
I believe that it's in your thirties that you'll start to notice ageing and skin damage, I know I've seen more changes to my skin since having Finley, no doubt due to stress and sleep deprivation! However my biggest skincare concern is sun damage as I got burned a lot when I was younger. I also socially smoked for a couple of years and before I 'got healthy' my diet wasn't great. Now is really the time to start and upgrade your skincare as your skin will probably become less forgiving as you get older.
Obviously I'm big into treating your skin from the inside out and it's maybe the biggest reason I try and minimise refined sugar, as that really doesn't do your skin any favours. I could talk for ages about nutrition and skincare, but this post is more about what I've been putting on my skin rather than in my body.
Not so long ago I became an avid reader of Caroline Hirons blog and many of the new additions to my skincare routine can be attributed to the advice and tips she gives on her blog, especially her cheat sheet on routines.
My main focus and drive behind these changes are to really up-level my skincare as I approach my mid / late thirties and lay some good foundations for the future. I'm planning on living a long life and I'd like to look as good as I can without surgery or invasive treatments as they will never be an option for me, so I'd rather start getting things in place now with a good solid routine! Previously I'd been getting lazy using face wipes or *gasp* not even bothering to wash my face (in my defence, only on days when I didn't wear any makeup), so I knew that things needed to change.
Morning
I tend to shower every day or every other day but I don't use my skincare in the shower now as I found the products I was using were stripping my skin. Instead it goes like this:
♥ Shower
♥ Use Madara Micellar Water on a cotton pad to lightly cleanse
♥ Use water spray for added hydration, I use Avene
♥ Apply Green People Day Solution
♥ Once the moisturiser has absorbed, apply The Body Shop Skin Defence SPF50 right down on to my chest if I know I'm going to be out and about
♥ Follow with makeup (which for me is very light, just a tinted moisturiser if I'm going out, concealer, NARS orgasm blush, eyebrow pencil and mascara)
I first tried the Madara Micellar Water from a Love Lula box and fell in love with it. If you're not familiar with micellar water it's a soft water filled with tiny balls of cleansing oils. It feels like a toner but works like a cleanser. I love the Madara one as it also contains hyaluronic acid which supports hydration of the skin. The Avene water spray is so refreshing and has the added benefit of waking me up with its cool mist! As for the Green People Day Moisturiser, I've been using it for about 3 years and still love it! The Body Shop SPF is a new addition as I don't feel the SPF in the day moisturiser is enough, especially in the summer months. I don't want to be a sunscreen obsessive because I do believe that we all need some sun exposure for vitamin D, but I can get that on other parts of my body that won't be quite as damaged by the sun.
Evening
♥ Eye makeup off with Madara Micellar Water or Sanctuary Spa eye makeup remover depending on how heavy it is
♥ Cleanse with coconut oil or Madara Cleansing Milk and a soft cotton face cloth
♥ Pixi Glow Tonic with a cotton pad over face, neck and chest
♥ Every third night use La Roche-Posay Redermic R for face and the separate one for eye area
♥ Depending on how my skin is feeling I'll use The Body Shop Oils of Life Sleeping Cream or Sancutary Spa Therapist's Secret Facial Oil
I still love coconut oil for removing makeup, nothing beats it! Using the micellar water or Sanctuary eye makeup remover before on my eyes prevents me having to scrub them with the face cloth. I'm actually going to try and make my own coconut oil based cleansing balm. Sometimes I don't feel like using coconut oil and in that case I use the cleansing milk which is just a little lighter. Then it's time for Pixi Glow Tonic which is a real hero product. I've been using this for a while now and really noticed the difference in my skin. It contains glycolic acid which is an AHA (alpha hydroxy acid). Used at a high ratio for peels, at this lower concentration in the glow tonic it basically helps remove dead skin cells and promote more regular skin turnover.
The next stage is the real change for me which is starting to use retinol products. Retinol is a form of vitamin A and is the only ingredient that is proven to reverse the signs of ageing (so says Caroline Hiron and I believe her!) Retinol products can be super expensive, but looking at some of the recommendations from commenters on her blog, I decided to try La Roche-Posay Redermic R. It was 3 for 2 at Boots so it seemed like a good time to go for it! I'm only just using it now and have already noticed a difference. As I get older I might invest in a more pricey product but for now this seems like a good place to start.
Then it's either a face oil or The Body Shop Oils of Life Sleeping Cream which is fabulous! I still do love the Sanctuary facial oil but I'm about to give Ooh! Facial Oils a try too (Love Lula are running an offer at the moment where you get a free bottle of rosehip oil with one of these)
So there you have it, my current skincare routine and I have to say that 3 weeks in to this and I've noticed a huge difference. My skin is so soft and glowy and that has boosted my confidence as well! There's a big mix of more natural products and chemicals in that routine, but all products are paraben-free, even the retinol, so I feel this works well within my 10 commitment's 80/20 rule.
What's your current skincare routine like? Do you have a favourite product?