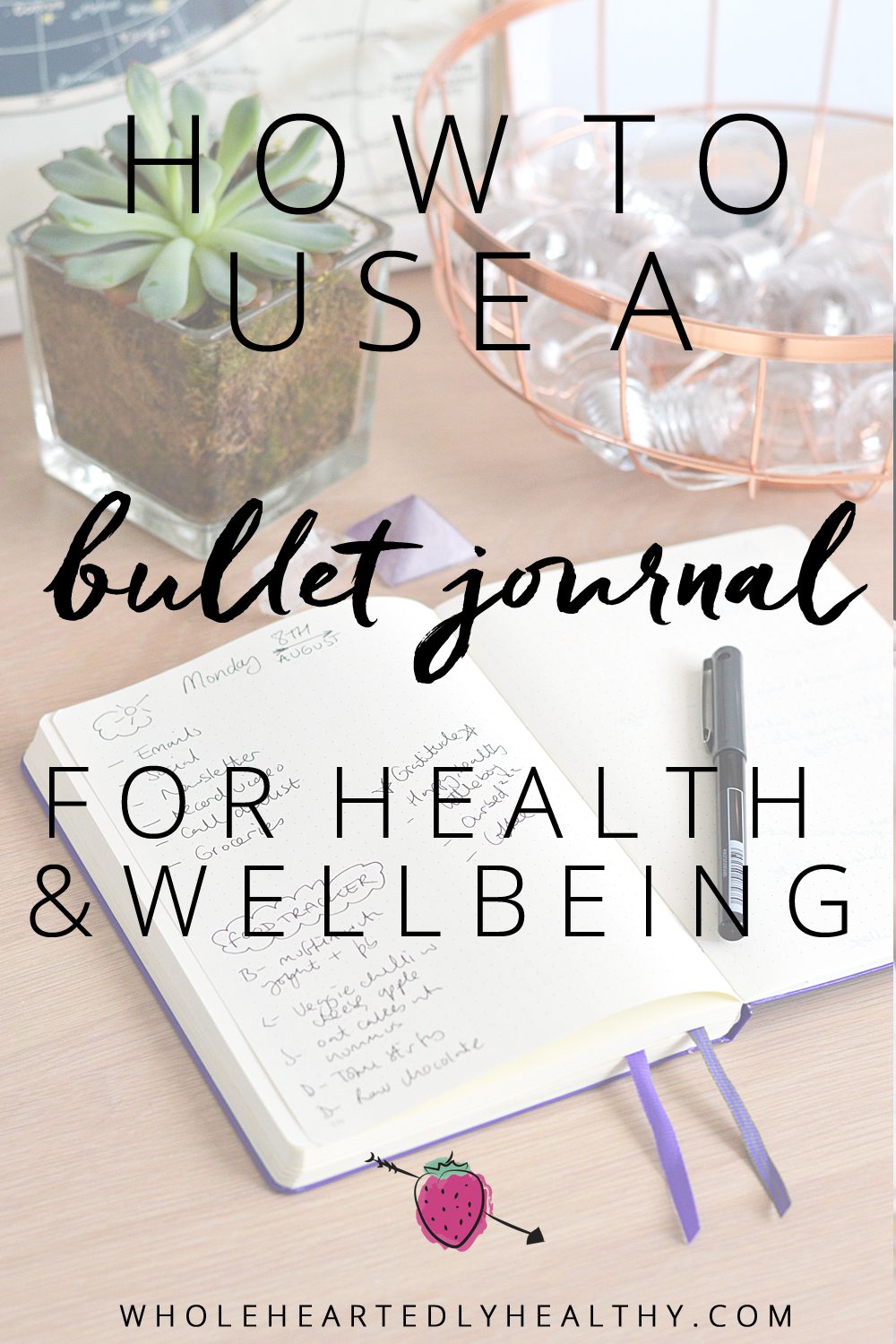 This blog post has been in the works for ages! I've spoken so many times about how much I love using my bullet journal and finally here is a post all about how I use it.
If you're not already familiar with what a bullet journal is, try checking out the official Bullet Journal website. To be honest, that version of bullet journalling didn't really inspire me and it wasn't until I started to see how creative people were getting with their journals that I decided to give it a try.
I'd always been more of a digital girl loving Evernote as a tool for keeping me organised. However, going back to pen and paper has been an experience, and now I can't imagine not using my journal daily! I use a LEUCHTTURM 1917 dotted notebook, at least for the moment. You can use any old notebook though!
*Apologies for my shocking handwriting!
So here is a breakdown of how I use my bullet journal, with specific tips on how I use it for my health and wellbeing:
Monthly Spread
I focus on goals and habits and create this spread anew each month. You'll see that I first start with a habit tracker, which is a graph with the days of the month down one axis and the things I'd like to track along another axis, in this case:
Moves (30 minutes movement)
Veggies (veggies with each main meal excl breakfast)
Protein (protein with each main meal)
Meditation
Joy time (basically doing something that brings me pure joy)
Supplements
Mindful eats (i.e. not overeating)
EFT (tapping)
Also: coffee, energy, mood and sleep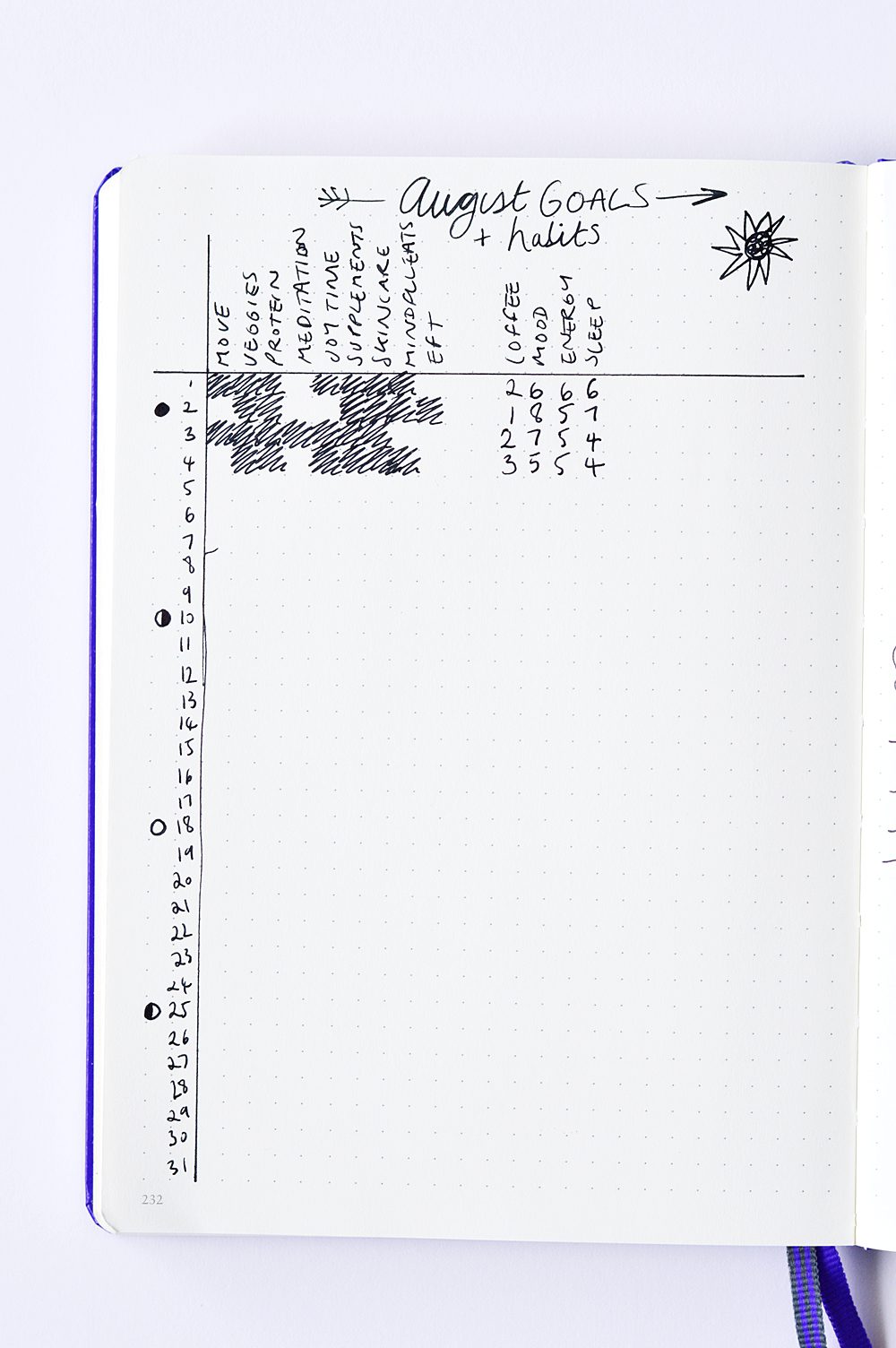 I also add the moon phases down the side next to the days of the month as I love staying in tune with the moon. I also mark when I have my period on that axis. When it comes to completing the tracker, I just shade in when I've completed a habit, and leave it blank when I haven't. Alternatively, as you'll see, I sometimes use a number (which is a scale of 1-10) to rate things like sleep, energy and mood. Coffee is simply the number of coffees I have! The reason I LOVE the habit tracker is that you can see at a glance what's not happening and adjust things very quickly. You're also able to see a picture of how balanced you are, as well as being able to spot patterns. There is, of course, a great satisfaction in shading all of your boxes!
If you like the look of this style of habit tracking grid, just sign up below to get a printable template!
Get your free Bullet Journal style habit tracking printable
The habits / things you track can be completely bespoke to you, so try thinking about your non-negotiable habits that have a really positive knock-on effect on your wellbeing.
The other half of the monthly spread is a list of intentions / goals, etc.
I usually break things down into overall intentions, biz goals, wish list and things to do, and often I'm much more detailed than this, but hopefully you get the gist! Basically I use this page to get super intentional about how I want my month to look.
Daily Spread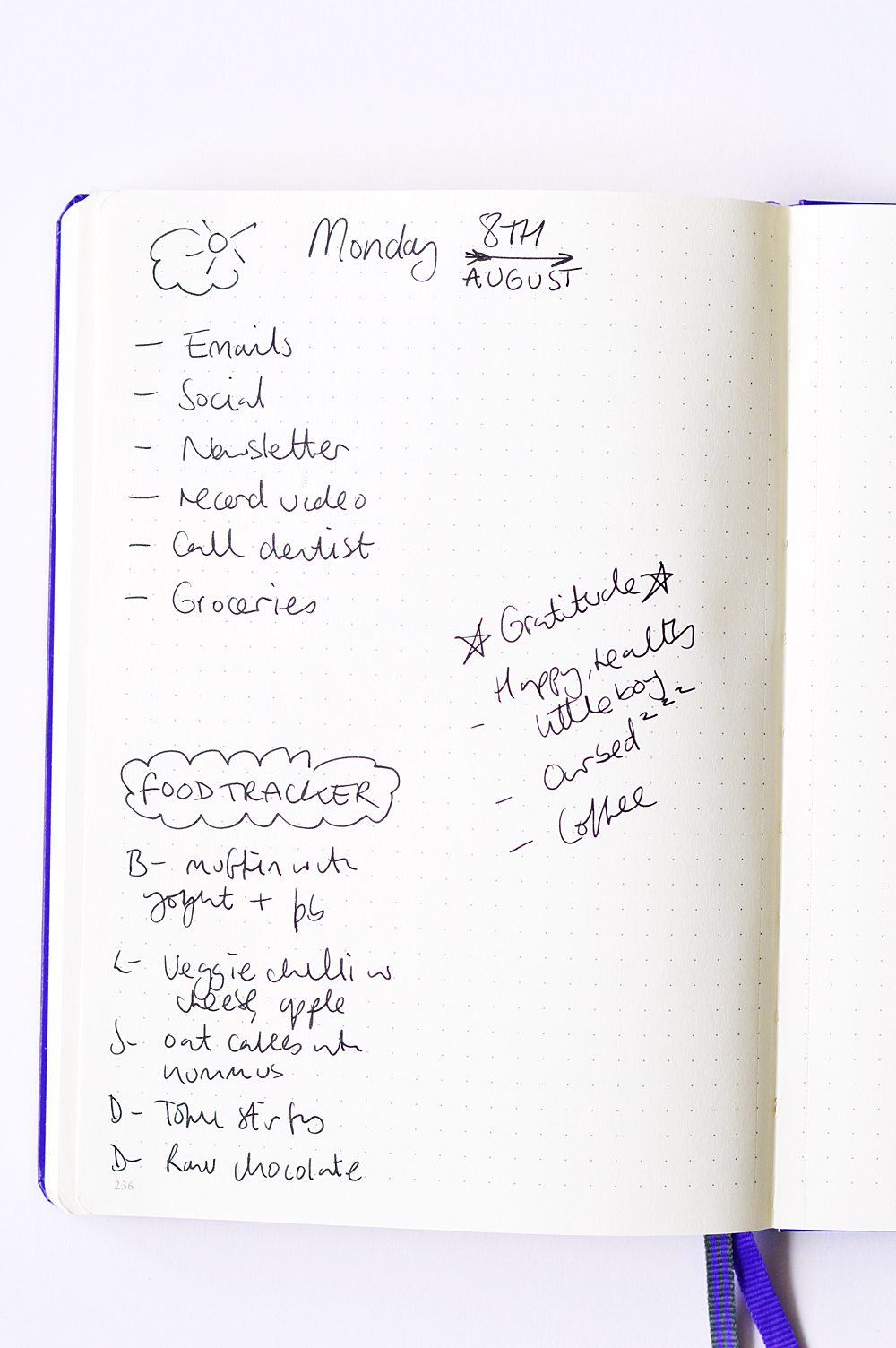 Some people also do a weekly spread, I simply list out all that week's 'to-dos' and also add in an oracle card I draw for the week. But let's jump straight into the daily spread.
I start with a list of what needs doing that day, and cross it off as I go. I also use it as a basic food journal so I list out what I've eaten in the bottom corner. Then comes gratitude, each day I like to write down 3 things I'm grateful for. To finish off, I add a little symbol to indicate what the weather has been like. I think it's a simple thing that will be nice to look back on and also helpful for noticing patterns when matched up with the habit tracker.
Extras
In the back of my bullet journal I have listed out simple meal ideas and meal variations for breakfast, lunch, snacks, dinner and dessert so I always have ideas. I've also used it to list out items in my capsule wardrobe, reminders of things for joy time and my treat smart list.
My bullet journal is pretty lo-fi, but if you have the time it can turn into a real art project. Take a look at my bullet journal board on Pinterest for lots of inspiration!
The beauty of the bullet journal is that it adapts to you. My problem with other planners is that they never seemed to fit exactly what I needed from them, so the bullet journal was a welcome alternative. Although I use a notebook now, I am wondering if the system I use would translate into a prettier desk planner like the Ban.do Agenda.
Don't forget, if you like this style of tracking grab my free printable below!
Get your free Bullet Journal style habit tracking printable
Would you try the bullet journal style of habit tracking?