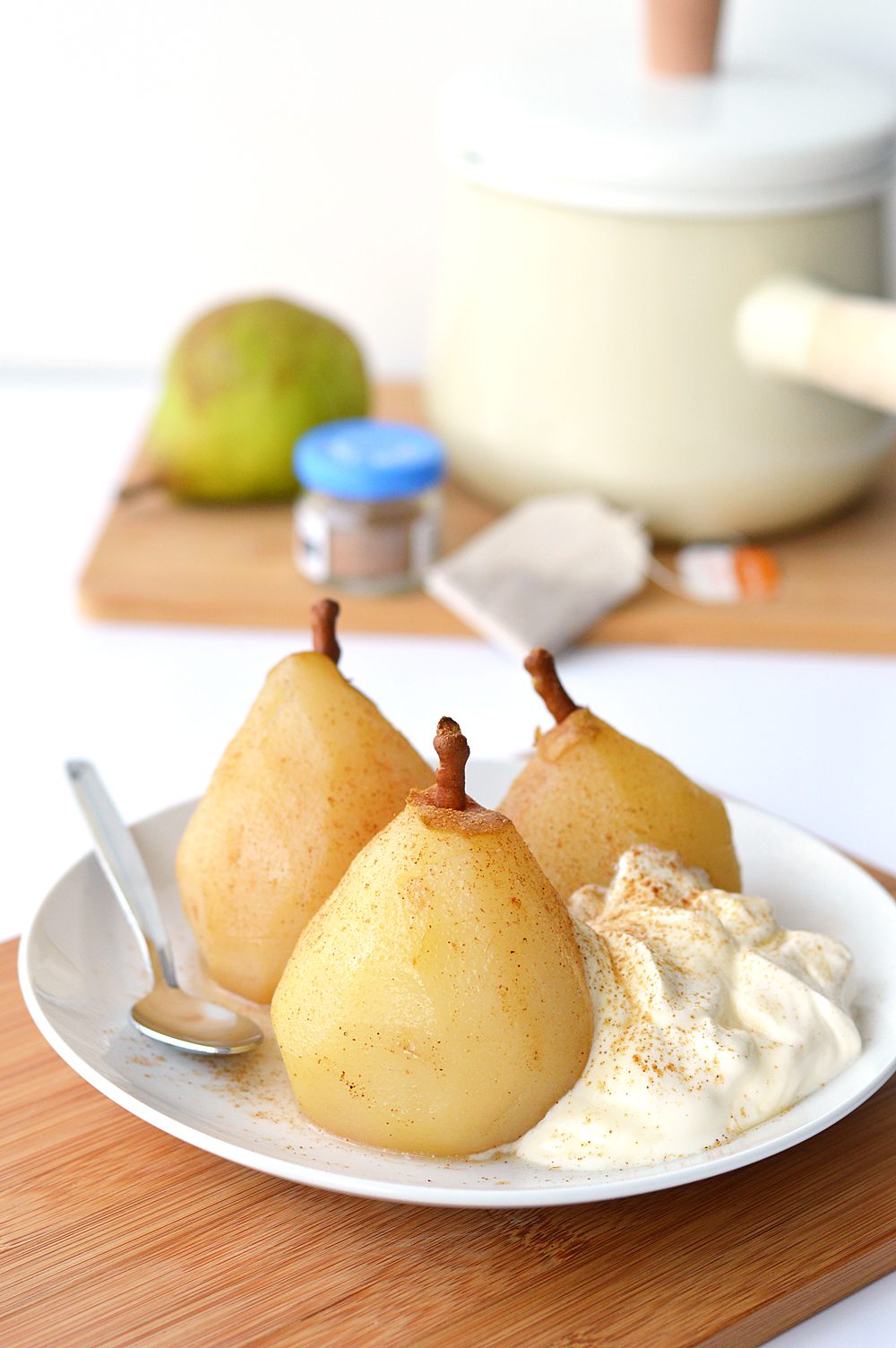 As Christmas approaches I start getting more interested in cooking and baking again, well fancy cooking and baking that is. I love thinking about which new recipes I'd love to try, and which old favourites I'll be enjoying.
I'm hoping that this festive season we'll have more of our friends and family over for food, and with that kind of occasion in mind I thought of this poached pear recipe.
I've really enjoyed other versions of poached pear before – I've had it poached in red wine which was just delicious. This version is actually pretty simple with just a handful of ingredients, but would really impress any guests you had. I've gone for a lovely combination of pear and chai spices which makes it suitably Christmassy.
Of course, it's a pretty healthy dessert with only a small amount of sugar from the honey, delicious fresh fruit and chai tea. I always go for full fat organic creme fraiche for its rich creaminess. It could easily be swapped for coconut yoghurt to make this dairy-free and a delicious vegan recipe, or even just plain greek yoghurt would be amazing.
Chai Poached Pears with Creme Fraiche
2016-11-14 15:24:13
Serves 4
Ingredients
4 ripe but firm dessert pears
4 vanilla chai tea bags (I used Pukka Vanilla Chai)
1/4 cup / 60g of honey
Creme fraiche to serve
Ground cinnamon to serve
Instructions
Place the tea bags into a large pan (wide and deep enough to place the pears) along with freshly boiled water and the honey. Bring to a boil and reduce to a simmer. Let the tea bags steep for at least 7 minutes.
Peel the pears and remove the core from the bottom. Leave the stem in place. Pop the pears into the pan, adding more water if needed to cover them up to the stem. Leave to simmer for around 30-40 minutes until tender (this will depend on the ripeness of the pears).
Remove from the cooking liquor with a slotted spoon and rest on kitchen paper to drain.
Bring the remaining liquid to a rapid boil for 10 minutes or until it has reduced to a syrupy consistency.
Serve the pears immediately, drizzled with the syrup and a generous spoonful of creme fraiche dusted with cinnamon.
Wholeheartedly Laura https://wholeheartedlylaura.com/
Have you ever tried a dessert like this? What's your favourite fruit based dessert?