If you follow me on social media you might have seen me get way too excited about the Tesco Lifestyle Food Fair which they have running in some larger stores from now until the end of August. A Twitter friend had tweeted about it and I was glad I popped up for a look! They have a whole aisle of gluten / wheat / sugar free type stuff including a lot of things you would otherwise have to get from the States. It's not all super healthy stuff, although a lot of it is (they also had things like coconut flour, chia seeds etc) as some products are processed. However I see them as treats rather than diet staples. Some of the highlights for me were Kind Bars which I've wanted to try for ages, high protein nut butters, Earth Balance coconut peanut butter and some un pictured bounce balls which I added straight to my stash because I am obsessed with them. All of this was on 4 for 3 deals, in fact I think the whole aisle was 4 for 3. I thought I'd might as well stock up ready for when the baby comes. Things like Kind Bars should be useful for breastfeeding snack attacks and the biscuits will be good for baby visitors, and of course me!
Another lovely treat this week was a delivery from Freego Foods* who specialise in gluten free products. I'll be doing a full review but I have to say I was very impressed indeed! You can get £10 off your first order over £20 using this link*. Can't wait to try the Rebel Kitchen drinks!
Eat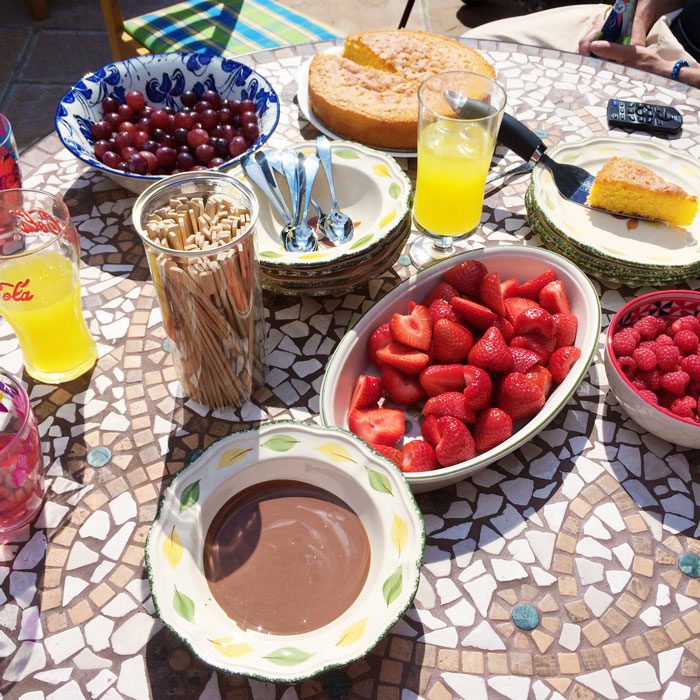 Rewinding to last Saturday, we had a BBQ at my Mam and Dads which finished off with this for dessert, lemon polenta cake and fruit with melted chocolate! More regular eats have included…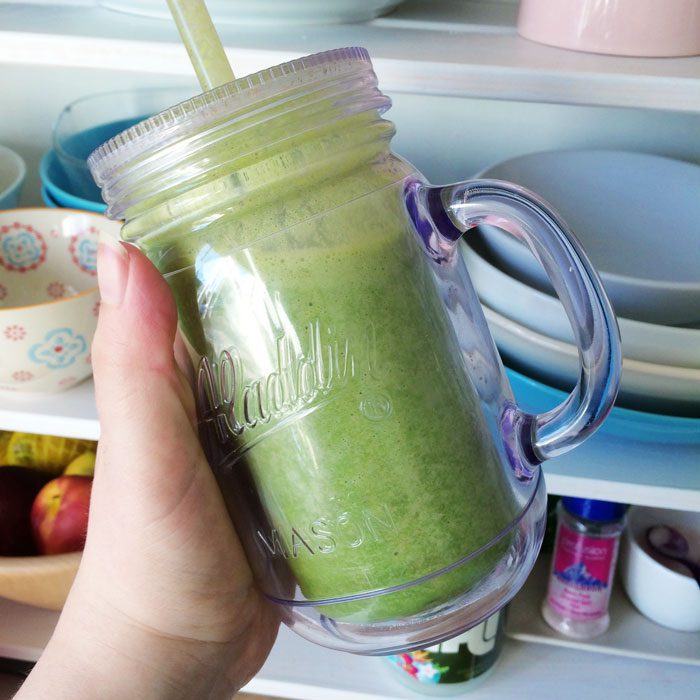 Green smoothie with spinach, apple and peanut butter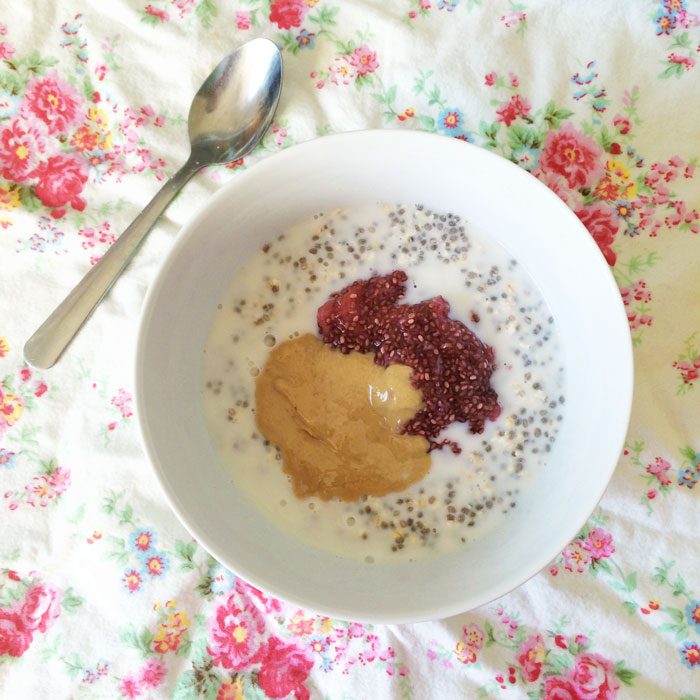 Overnight oats with chia seeds, strawberry chia jam (recipe coming!) and tahini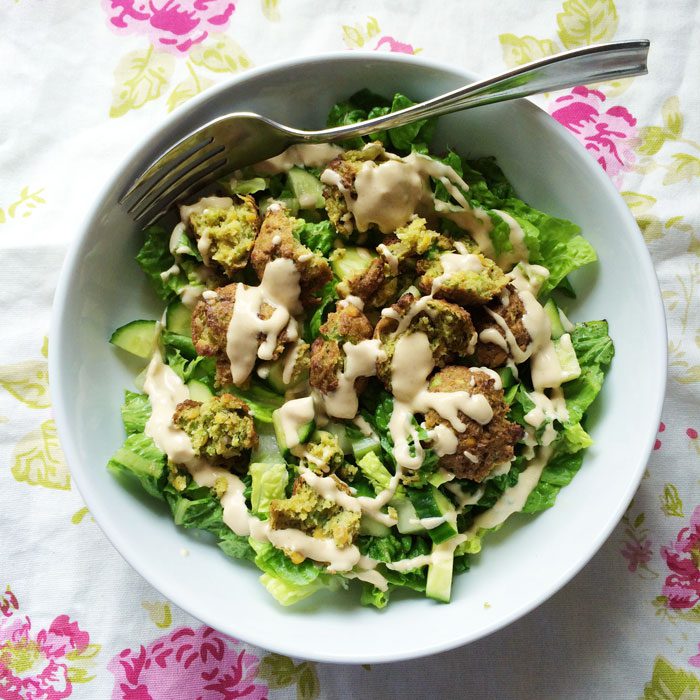 Salad with Great Food mint and broad bean falafel and tahini sauce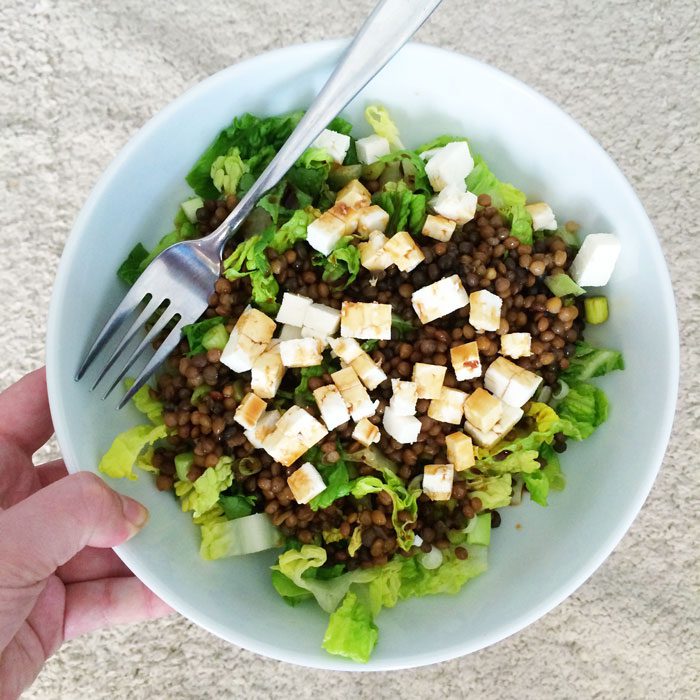 Salad with spring onions, lentils, feta and balsamic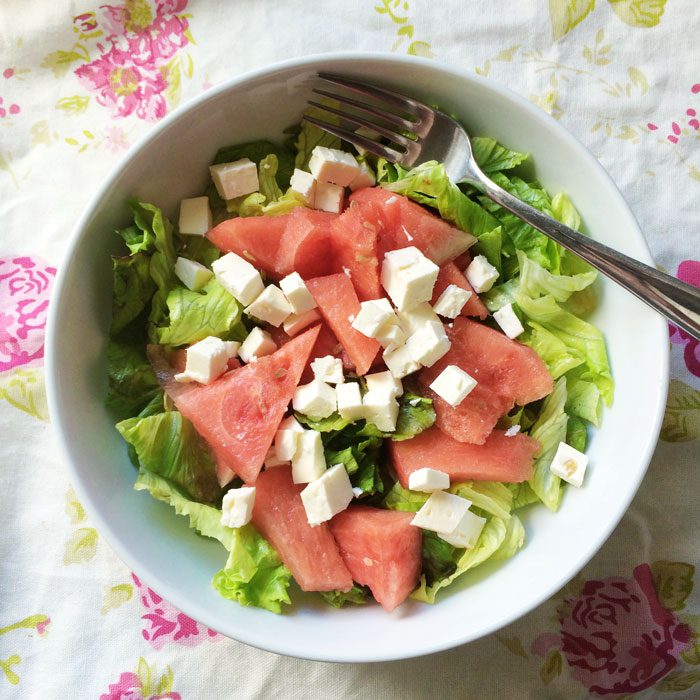 Watermelon and feta salad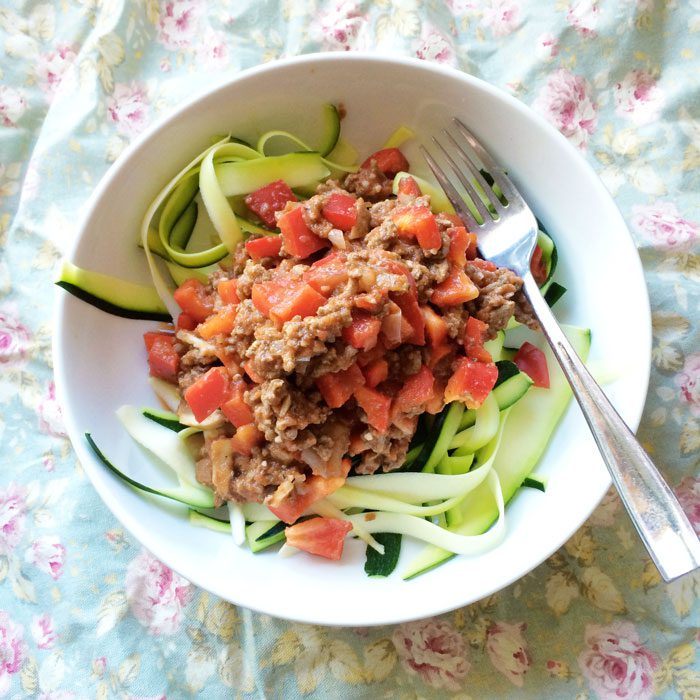 Beef ragu with added organic red pepper for max iron absorption and courgette ribbons (because I was too lazy to use the spiraliser!)
As well as eating all the salads this week I've been getting back into making water kefir. I made the most delicious raspberry batch and then a nectarine batch. So delicious and my digestion certainly seems to be benefitting! Un pictured has been a Chinese meal on Friday night, Quest chocolate peanut bars (I placed a cheeky iHerb order!) and plenty of Lindt 90% dark choc.
Move
Workouts this week:
Monday – Gym – 10 minutes step machine, 10 minutes bike, strength exercises including squats etc
Tuesday – Rest
Wednesday – Gym – 10 minutes step machine, 10 minutes bike, strength exercises including squats etc
Thursday – Walk / grocery shopping
Friday – 10 minutes step machine, 10 minutes bike, strength exercises including squats etc
Saturday – Rest / cleaning
Sunday – a walk later if the weather picks up or perhaps some yoga
I've been a gym bunny this week, I do like the little routine I have going and although the workouts are repetitive that works for me right now. I just pop on a podcast and get a little sweat on. This week I dropped down the level I was working out at on the step machine as I was getting a little too puffed out of breath which is fair enough when you are 32 weeks pregnant!
Wear
Necklace: H&M, white vest: H&M, white shirt: Primark, belt: Dorothy Perkins, pink satchel bag: H&M, leggings: New Look maternity.
Well I don't know what happened to the weather, but having to dress for rain and it being warm at the same time was hard! This is what I wore out on Friday with some un pictured ankle boots and a cream rain jacket. I was boiling hot and my legs and feet did not like the boots at all!
Love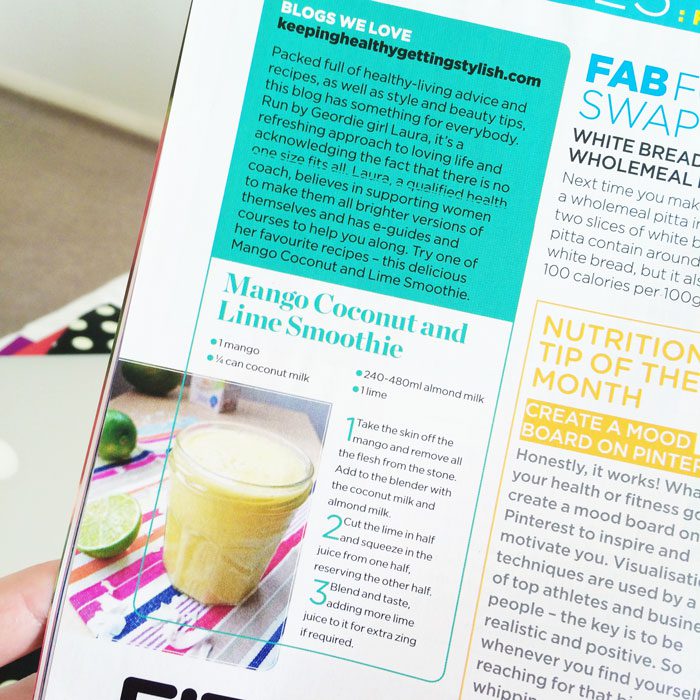 Last Sunday I realised I was in Women's Fitness Magazine! I had been contacted several months ago and asked to be featured. I'd bought the magazine at the start of the month, flicked though and missed it then rediscovered it when I actually had the time to sit and read it properly! Super chuffed to be featured though and very seasonally appropriate to be sharing my mango coconut lime smoothie! Also…
Picking up some gorgeous body suits, hats, socks and a cushion for the baby // finishing the recipe testing for the book I'm contributing to and getting my first look at some of the photo layouts! // catching up with my family at the weekend // hearing the heartbeat at by midwife appointment // only 8 weeks till he's due! // oqibo hydrating cream moisturiser // getting into some new podcasts // getting some new illustrations done for lauraagarwilson.com can't wait to work on getting all that pulled together! // our natal hypnotherapy workshop last weekend, feeling prepared for labour now // new notebooks
Link
So here we are in lovely August, as I said in my month pledge post it's my birthday next weekend which I'm really looking forward to. I have some nice things planned for this week. Can't believe it will be my last baby free birthday!
How was your week? When was the last time you did a health food type shopping haul? What's your favourite salad?