It's been ages since I wrote my last Day in the Life post, I quite enjoyed reading that one back as things are so much better with Finley's feeding and sleeping now. This DITL is from last Monday which was a horrible dull and rainy day, but still very packed out and busy for me. I technically started the day at just after midnight when Finley woke for a feed, and then again at 4am and again at 5.30am when he decided he didn't want to go back to sleep! James took him for a while and changed his nappy while I got myself out of bed at around 6.30.
I always start my days with warm water with some spices and honey which I feel really sets me up for the day. I made that and prepared Finley's breakfast which was some apple puree.
He's really getting the hang of feeding himself! I also made myself a coffee blended with coconut oil.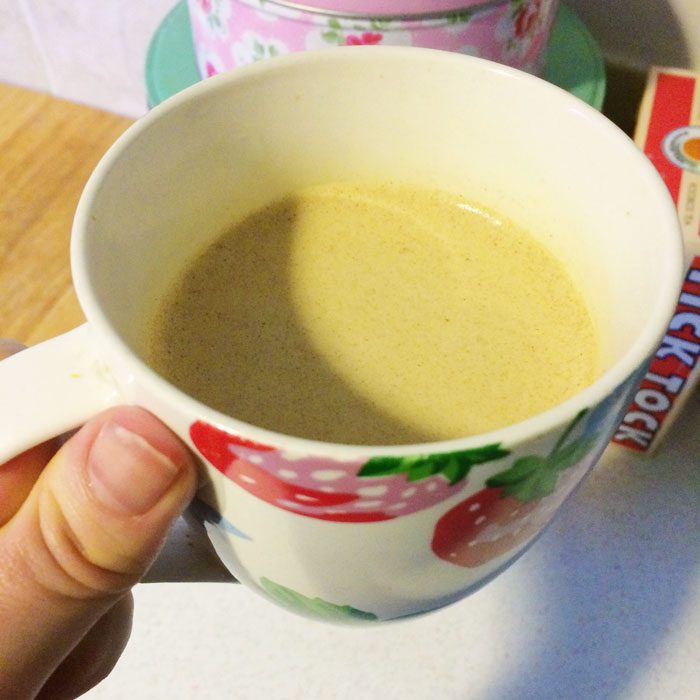 After that we got Finley dressed, I nursed him and then we set off on the walk to nursery! I'm so chuffed that it's within easy walking distance as Finley loves being in the wrap.
I dropped him off about 7.40, made sure he was settled in and then briskly walked to the gym where I did 10 minutes on the step machine followed by some weights and core exercises.
I have to say, I really don't mind my body that much at all right now, I don't feel too bad considering I had a baby 6 months ago! I walked home from the gym, jumped in the shower and made myself a smoothie.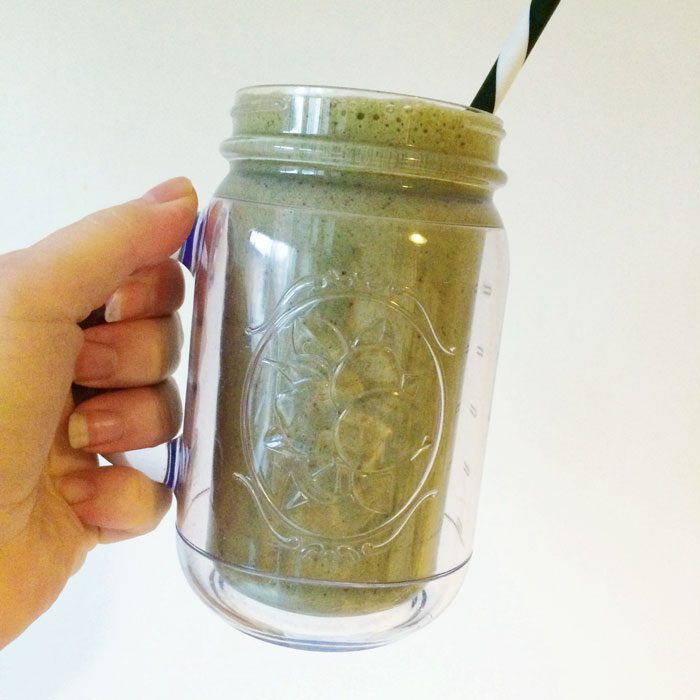 This was spinach, blueberries, peanut butter protein powder, coconut water, moringa powder and maca. I was at my desk for 9am sorting through emails and stuff then at about 9.30 I expressed my milk off. At 10am it was Skype time with Kezia!
We chatted for ages and then recorded the Happy Health Chat podcast that went live last week. I was definitely in a random mood that morning! I love chatting to Kezia, such a great way to start the week!
After that I had lunch, a slice of courgette, red onion and feta crustless quiche with spinach. I made another green tea (I drank about 2 cups in the morning, and while the kettle is boiling I do my squats for the squat challenge!) and made up a snack bowl of tamari roasted nuts and seeds, goji berries and cacao nibs which I snacked on for the rest of the afternoon, with one refill! I also expressed my milk off again then spend some time working on a blog post.
At 2pm I expressed again, and then got ready for my community session. It's a long 45 minute drive so I made myself a rooibos tea with almond milk to drink in the car and keep me warm!
I got to my session for 3pm where I was working with 6 young women making smoothies. It was my first session with this group and a bit of an eye opener for me. They all have massive sugar cravings and found the smoothies weren't sweet enough, but we talked though that and how they can transition to more natural sweet foods. The biggest success of the afternoon was a mango smoothie so thick it was like sorbet made with milk, yoghurt, banana, frozen mango and honey.
I drank about a glass worth of smoothies before packing up and going back on my way home. I popped to the shops to get some milk for James, then picked up Finley from nursery at just after 4.30. We got home, I popped some foil wrapped salmon in the oven, then we nursed, where he fell asleep on the boob. James got home at 5.30 and took Finley off me still asleep while I made dinner, a big ginger salmon stir fry.
I reserved a little salmon to add to Finley's lunch the next day. He's not yet on evening meals, but in the next few days we'll be adding that in and seeing how he goes. After dinner I cleaned up, got the bedroom ready for Finley's bedtime and pulled out his clothes for the next day. At 6.30 we bathed him together, then James jumped in the bath while I took Finley into the bedroom, nursed him and then lay with him while his light projector was on, nursing him on and off until he fell asleep just after 7pm.
Then I made myself a bowl of semi frozen cherries with full fat yoghurt for a little dessert. I added some almond butter after I took the pic as I realised I really fancied some! Then I chilled out with James where we watched The Blacklist, I faffed online for a bit then got washed my face etc and joined Finley in bed just after 8.30. He stirred at 9pm so I nursed him and after that he didn't wake again until after 12, then again at 4 and then at 6.30, so much better than the previous night!
And that was my day! Busy and jam packed but loving every minute.
What time do you get up and what time do you go to bed? Do you get the chance to walk outdoors as part of your day?

Enjoy this? Get me in your inbox! >>>
[mc4wp_form]