Unless you've been living under a rock I'm sure that since the day after Boxing Day you've noticed an increase in the amount of information geared up towards diets, detoxes, fitness, food etc. You can't move for Veganuary aisles in the supermarket and Dry January mocktails.
And while to a certain extent there's nothing wrong with those things if they have a positive impact on you, I'm sure for many of you (I'm including myself in this) they have a pretty negative impact – especially the sheer volume of information and content.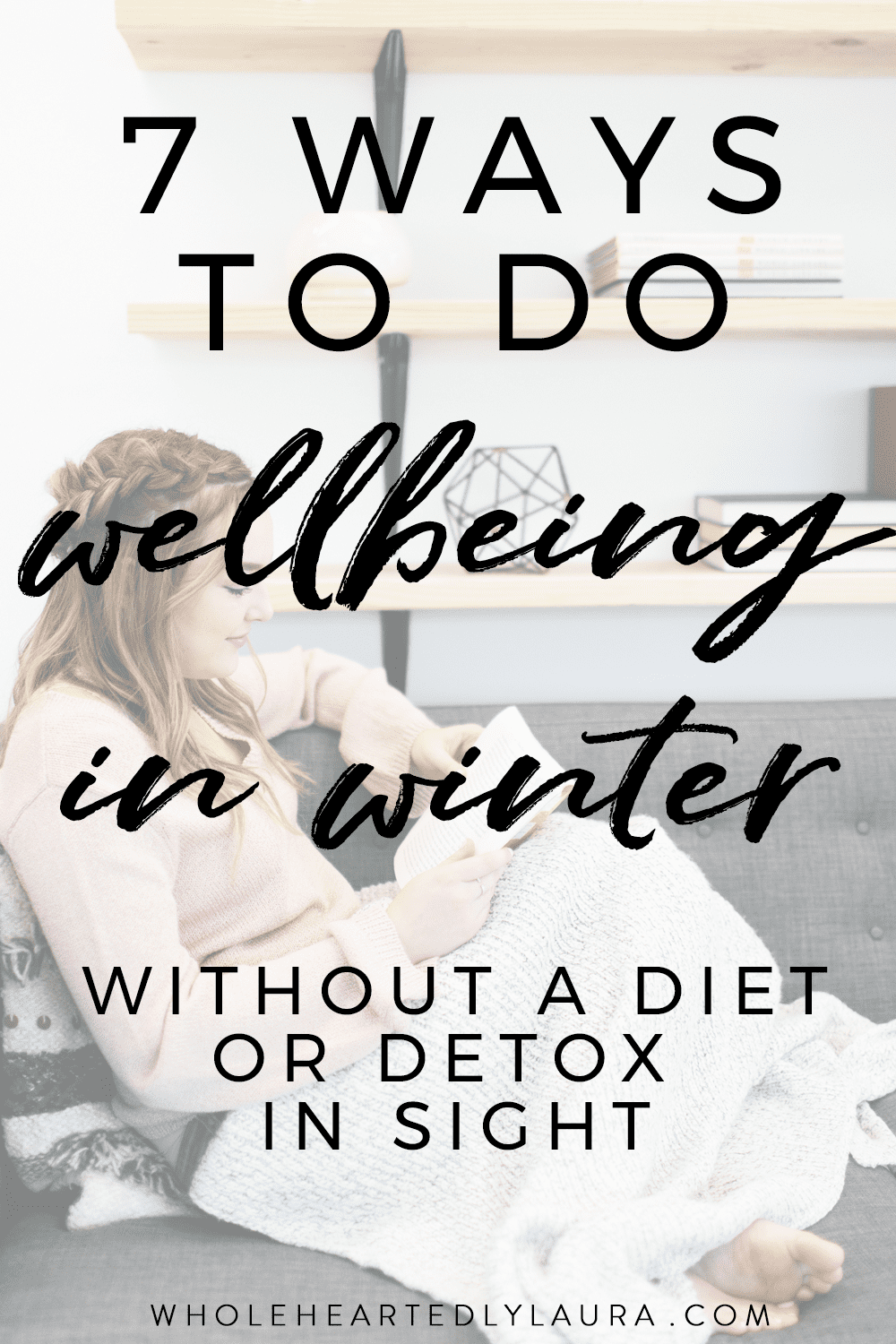 One of the things I really struggle with is the fact that winter is just not the season most conductive to the stuff so many of us are made to feel we need to be doing at the start of the year.
Winter energy is about rest and replenishment, and one of the reasons I believe so many people struggle with maintaining that 'new year new you' vibe is that winter is literally the hardest time to do any of it.
But, if you're anything like me, you still want to feel like you're taking some actions towards supporting your wellbeing. It's just about using that energy in a way that works with the season we're in rather than against it.
Here's 10 ways you can do wellbeing better in Winter:
Sort out your sleep
Could there literally be a better time to focus on sorting out your sleep than winter? If you aren't getting a good solid 8 hours a night, now's the perfect time to make that a focus. Start off with looking at your bedtime routine and ditching any screens in the hour before bed.
Read
If there's any self help or wellbeing books you'd like to read, cuddling up with a blanket and a candle on and your book is a great way to work on your wellbeing without actually doing anything physical! Just remember to make a note of anything from the book you'd like to put into practice come spring.
Start tracking your menstrual cycle
If you're not already tracking your cycle then it's time to get on it! Download an app like Clue and start tracking your period and getting familiar with your own changes throughout your cycle. It's been one of the most transformative things I've ever done – thanks to tracking I know that 5 days before my period I get emotional and more anxious than normal – and because I know it's my cycle I know it will pass. I know the best times to work out and the time I need to rest, it's magic.
Related post – How to enjoy your period
Bake
If there's one time of year when baking is the most fun it's winter – having a slow afternoon in the kitchen baking something sweet and delicious is just lovely. It doesn't necessarily have to be unhealthy – you can always scour Pinterest or my recipe archives for a healthy baked treat.
Reconnect with your friends
Social interaction with people who make us feel good is one of the best things for our wellbeing. Loneliness can be a real issue, especially in winter. So make sure that you're reconnecting with your friends over winter if you haven't spent time with them in a while.
Get organised for the year ahead
One of my self care themes is organisation – when I'm not organised it kind of spills over into all other areas of life making everything else I do that little bit harder and impacting my wellbeing. So why not spend some time getting organised. Maybe that's sorting out your household paperwork, adding everyone's birthdays and celebrations to your diary along with a week in advance reminder, stock up on greetings cards, plan out a master grocery list etc
Focus on your mindset
Now is the perfect time to focus on some of that inner work and since your mindset is one of the most important things when it comes to your wellbeing, doing some of that work now in winter means that any efforts you put in come spring will have 100% more chance of sticking!
Why not check out my totally free Transform Your Mindset Course below, it's 5 days of info on how to understand how your brain works, how to stop self sabotaging and really understanding how to shift your mindset for you. Check it out below.
I'd love to know what your thoughts are about wellbeing in winter – do you like taking a seasonal approach to your self care?