It's wonderful that self care is becoming more of a thing these days, more of us are becoming aware of the benefits of self care and are making a conscious effort to find out how to practise self care in our lives, which is fantastic. However, self care for some of us is just another to-do on an endless list of things that don't get prioritised over taking care of the kids, cooking dinner and keeping on top of general household stuff.
I get how hard it can be to incorporate more self care into your life, it's something I still struggle with. So many evenings are spent scrolling through Facebook on my phone and before I know it an hours gone and I'm knackered and ready for bed. I started keeping a Bullet Journal at the end of May to track certain habits and I was alarmed to see that my joy and meditation columns of my habit tracker looked especially empty. The great thing about the habit tracker system in Bullet Journals is that you're quickly alerted when you see those blank squares and then it's time to adjust. Check out my post on How to use a Bullet Journal for Health and Wellbeing here!
Now, first of all let's get clear on what self care really is: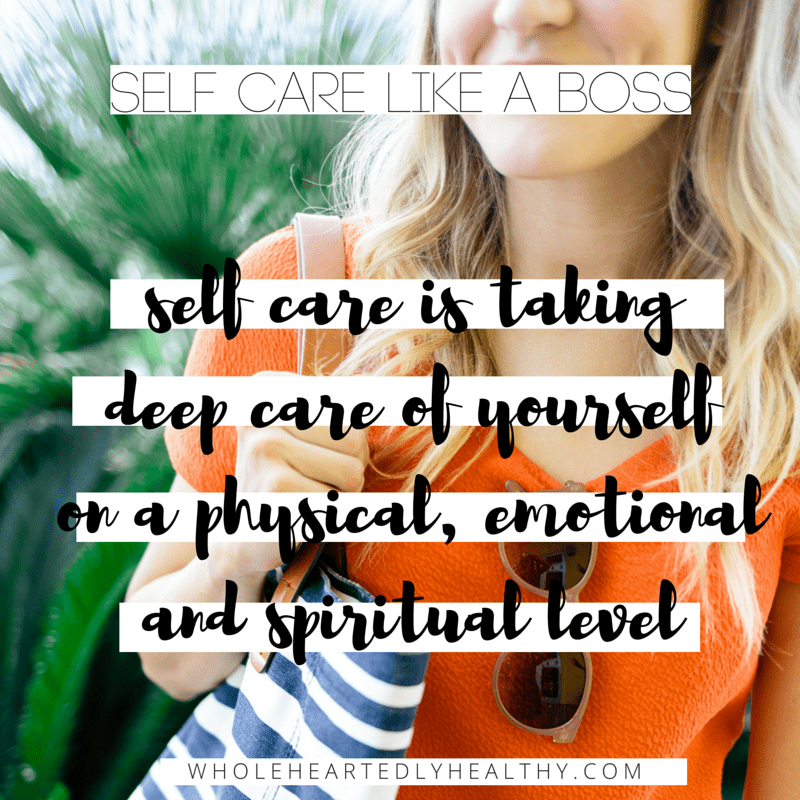 Something that I've seen happen with some women in my Facebook group is that because they see exercise and healthy eating as self care but forget that too much focus on either of those things can become negative, and that there needs to be other forms of self care in the mix to create balance. Self care really is a layer above the simple eat well and move stuff that if you're looking to truly practise self care like a boss, you need to think about. And I say like a boss, because it's that boss energy of taking something seriously and becoming the CEO of your own life that we really need to start channelling!
So are you ready to learn how to practise self care in a boss-like way?
Commit to taking the time to go through this process
I know you don't have any time, but I bet you can find 10 – 20 minutes to go through this process if you skip watching that show on Netflix or scrolling through Facebook. Ultimately, like with anything in life, you have to start with a commitment to yourself to do. the. work. If for some reason you find yourself putting it off again and again, it might be that you're self sabotaging. You need to believe that you're worth the time and effort of self care and sweetheart let me tell you, if you have a pulse, you're worthy of self care! If self sabotaging is a habit, you might fancy taking a peek at my Mindset Makeover Course.
Get honest about what's not working
The first step might be one of the hardest but it will feel so good when you've done it and started making changes.
Sit down for at least 10 minutes and write what isn't working for you right now. You have permission to be negative here, this is about being honest with yourself about what's not working in your life. Do remember though, this is about what feels like it's not working for you, not your best friend or your mum. Sometimes we're actually unhappy, but the expectation on the situation from others is that we should be happy, for example doing a certain kind of job. Listen to your heart when doing this exercise and see what comes up.
Flip the list
Ok so we've allowed ourselves to be negative, now's the time to flip that list and look at what it's telling us we need. It can be as simple as 'not getting enough sleep' to 'I need to get more sleep'. Flip each point on your list to say what it is you need more of. At this point you might start feeling a little overwhelmed which is natural. Instead of feeling like you have to tackle the list at once, choose the 3 things you feel will have the most positive impact in your life.
Ask for help
Ok I lied when I said the first step was the hardest, this probably is if you're anything like me! Take that list and see if there are any areas where getting help from someone else would help. That might be your partner, friends, parents or childcare provider. An example from my life was asking my husband to take care of Finley on a weekend morning so I could catch up on sleep and have a lie in.
Create a budget for self care
Even if it's a fiver a month, give yourself a budget to dedicate to self care. This isn't to be spent on essential items like shampoo, etc. Think of that list of 3 things, what can you spend it on to help bring more of that into your life? If budget is really tight, this viral post from Yes and Yes with ways to treat yo self for free is essential reading.
Create a time for self care each day
Take an honest look at how you spend your time. How much of it is doing the equivalent of my scrolling through Facebook each evening? Maybe you can carve out a 10-minute slot each day, hopefully longer. How can you spend that time doing something to fill you up and recharge?
I talk more about my daily self care routines and rituals in this post
Subscribe and automate
There are so many things you can subscribe to nowadays and effectively automate to come into your life. Think online exercise subscriptions like Barre3, magazine subscriptions, healthy snack box subscriptions like Life Box or natural beauty boxes like Love Lula. Once you've signed up for something, getting that email / thing in the post each month or week is your prompt to do some self care activities. I've just ordered a subscription for Oh Comely Magazine because it looks so beautiful and will remind me to go out for a coffee and chill while I read it. I can also pull out the beautiful images for my inspiration board.
Where you can, double up
You might find that some self care activities can be doubled up. Think simultaneously catching up with a friend while doing an exercise class, painting your nails while watching Netflix, going for a run at the beach while enjoying the calm sea air, getting me time while going to the pool for a swim.
Make it happen
Now comes the action, so get your diary or calendar out and schedule that shit in! You might also find that being accountable might help, if so buddy up with a friend (why not forward this blog post to them or share on Facebook?)
Want a handy fillable pdf worksheet of this process plus a list of 50 self care ideas? Pop your email in at the end of this post to get the free worksheet!
How do you do self care like a boss? What do you most struggle with when it comes to incorporating self care?