Hey lovelies, well today I'm trying out a new style of post in line with the changes I spoke about at the start of the month. I thought I'd combine my usual Edit posts with an 'edit' of everything else in my world from that month. I hope you enjoy!
Doing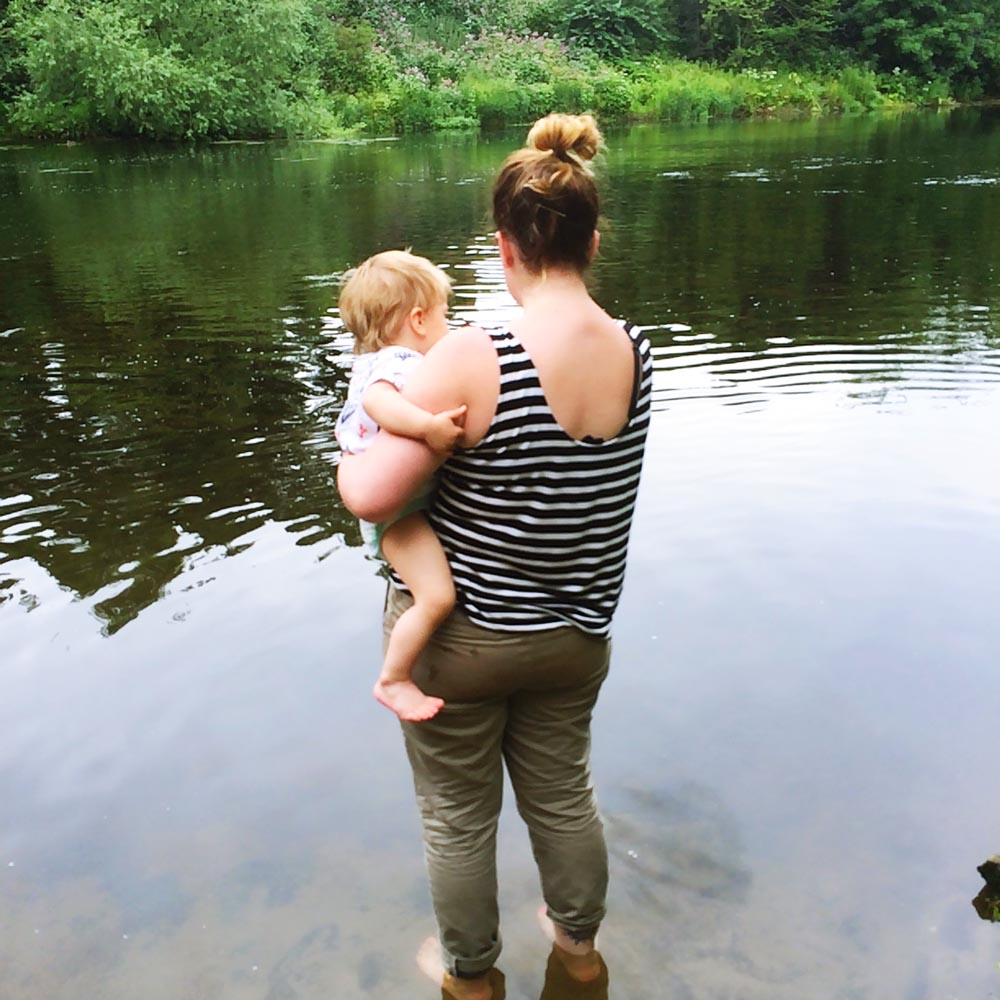 This past month we've done more exploring than we've done in the past ten years! Something I really wanted to invite into my life was more family days out and in July we:
♥ enjoyed a walk around our extended neighbourhood
♥ spectated at the Great North 10K while James ran it, and then did the Toddler dash with Finley for CHUF
♥ visited the close by Finchale Priory and dipped a toe in the River Wear
♥ enjoyed the Playground exhibition at The Baltic and ate Venezuelan street food from the Quayside market
♥ went to Tynemouth for a look at the Metro Station market and a play on the beach
♥ had a day at South Shields beach, just me and Fin
♥ I also had afternoon tea and fun with my friends at Crook Hall and Gardens.
It's been really lovely to be more active as a family and enjoy everything the amazing North East has to offer, especially as we've had such lovely weather!
Eating
Totally loving Mexican-inspired meals as I usually do in the summer. Also I've been trying out some meals from Gousto which have been delicious. Other than that it's been the usual stuff, although one busy week had me living off avocado on toast! Also Greggs Healthy Salads have become a handy go to when I haven't been very organised.
Listening
♥ Kate Bush
♥ Bat for Lashes, The Bride
♥ Spotify Monday Motivation Playlist
Reviewing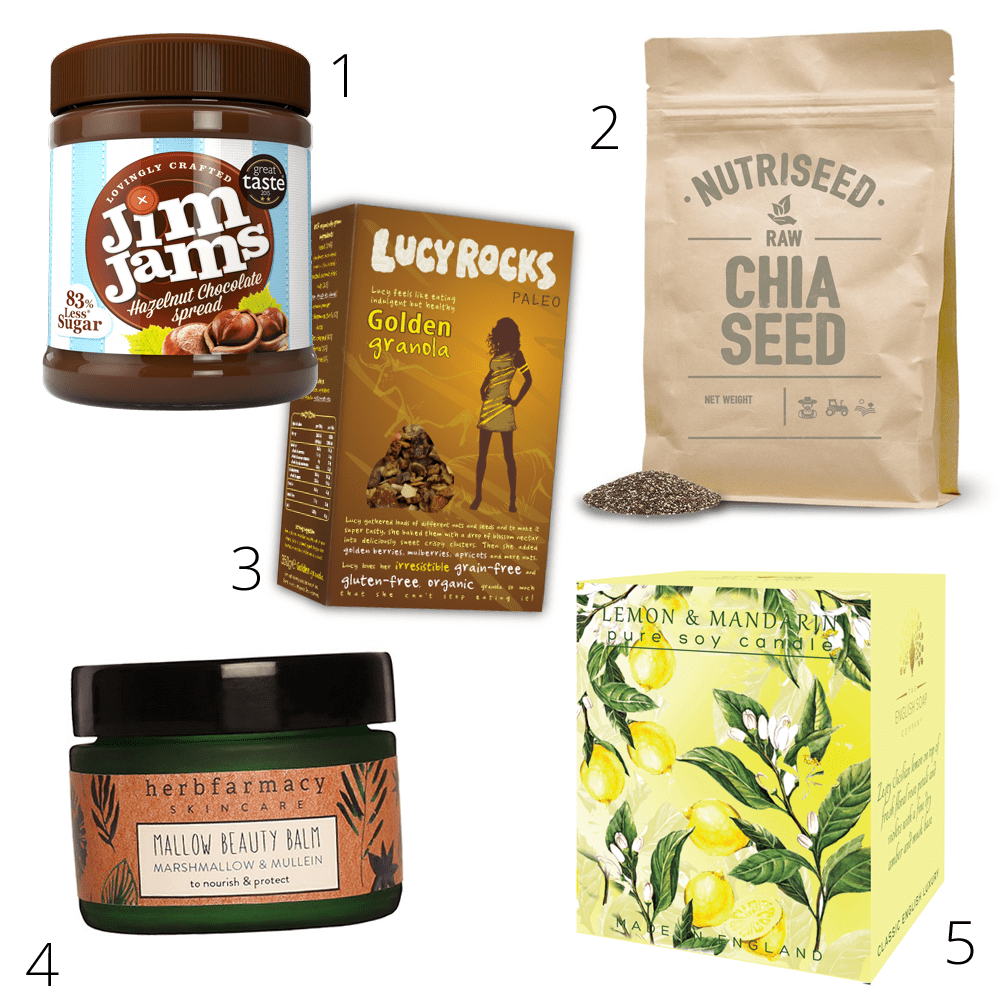 I was kindly sent a few goodies to try out this month, my favourites being:
1. Jim Jams Chocolate Hazelnut Spread* – this stuff is like crack! Seriously amazing, a healthier alternative to Nutella with an amazing texture. Just buy with caution as I'm sure it won't last long!
2. Nutriseed Chia Seed* – I'm having a chia seed moment, loving them in all sorts of meals right now. Also very impressed with the Nutriseed site and all of their products.
3. Lucy Rocks Granola* – a very tasty paleo-friendly granola that is super filing. Being paleo, it's dairy and gluten free too. I've been loving it on top of smoothie bowls.
4. Mallow Beauty Balm from Herbfarmacy* – I was already a fan of this product before being sent some of it to try in its new branding. I love it for deep cleansing, it leaves my skin soft and smooth.
5. Lemon and mandarin soy candle* – A delicious smelling candle, lovely for gently scenting the room.
Wearing
I had a wonderful style consultation with Styled by Susie which has changed my life! I went shopping this month and bought some new items in line with what was suggested by Susie:
♥ a pair of bootcut jeans
♥ white trainers
♥ a khaki vest top
I'd totally recommend a consultation with Susie, it's really changed how I dress for my shape and skin tone and I feel a lot more confident. My wardrobe was getting pretty bland and now it's getting more colourful again!
Struggling
We had about 10 really bad nights with Fin as he was teething, and I found the lack of sleep tough. Also struggling with sticking to regular exercise – when work gets busy it's usually the first thing to drop off the to-do list, which in some ways is ok as that's just what I need to do to get through a busy phase.
Loving
♥ This quote:
The new lights in our bedroom:
Sharing
Favourite posts here on Wholeheartedly Healthy include:
♥ 10 ways to bring more balance into your life
♥ Peanut and seed breakfast bars
♥ Healthy 3 ingredient chocolate sauce
Over on lauraagarwilson.com I posted:
♥ Brexit
♥ My favourite online homeware stores
I've also been loving Instagram more than ever, and I continue to try and use Snapchat (I'm lauraagarwilson) when I remember which is usually in the middle of a breastfeed!
Planning
Very excited about August! Here are my plans and intentions:
♥ Enjoy a brilliant 34th Birthday
♥ Throw a great 2nd birthday bash for Finley
♥ Get The Balance Club ready for September!
♥ Finish my third book (!)
♥ Enjoy what's left of the summer with more trips to the beach and doing other summer things.
How was July for you? What are your July-ings? Do you have any intentions for August?
*products were gifted in exchange for honest review with no obligation to be featured